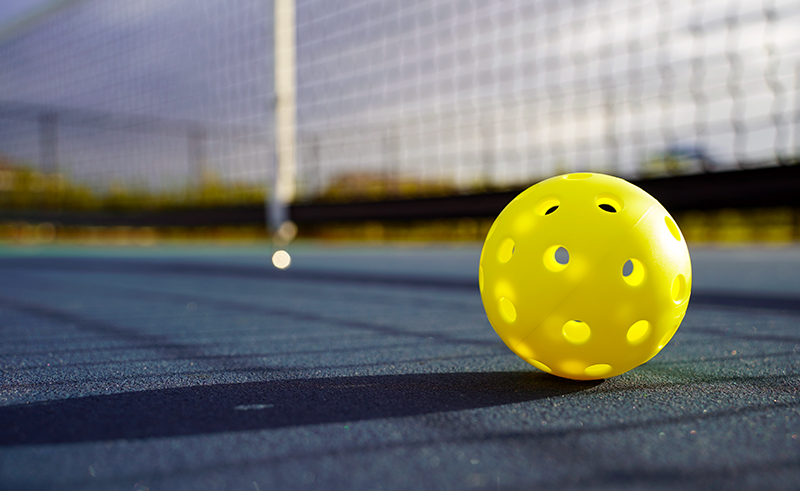 In April, Overland Park was named the Most Pickleball Obsessed City in the U.S.—a title won from a recent study that analyzed internet search patterns about pickleball. 
If you've never tried it, the sport can be played in singles or doubles and combines elements of tennis, badminton, and ping-pong using a paddle and a plastic ball with holes. As the weather gets warmer, now is a great time to start playing.
Across the metro, you'll find over a dozen courts dedicated to Pickleball at local parks, plus many public tennis courts that feature pickleball lines. To keep up with all of the Pickleball court options closest to you, we'd recommend checking out Pickleball KC, a resource launched in 2022 that keeps an ongoing list of local places to play pickleball.
Looking to upgrade your pickleball experience? There are several spots you can go to around the metro where you can play pickleball before or after enjoying eats and drinks:
54th Street Bar & Grill 7200 NW 86th Ter., Kansas City
Unique to Zona Rosa's 54th Street restaurant location, there are two pickleball courts you can reserve in one-hour increments for $15-20 per hour.
Chicken N Pickle Locations in Overland Park and North Kansas City
Depending on the location, there are eight to ten pickleball courts available for reservation at Chicken N Pickle, which features a menu filled with chicken, pulled pork, burgers, creative salads, and sides.
Serv 9051 Metcalf Ave., Overland Park
You'll find six indoor and two outdoor pickleball courts at Serv available for reservation, plus six food and drink concepts that feature burgers, sandwiches, pizza, Kansas City barbecue, tacos, vegan menus, breakfast options, and more.
The Sandbox 509 NW Barry Rd., Kansas City
There are five pickleball courts to choose from here, plus six sand volleyball courts, a rooftop deck, and a full kitchen and bar with 25 beers on tap.