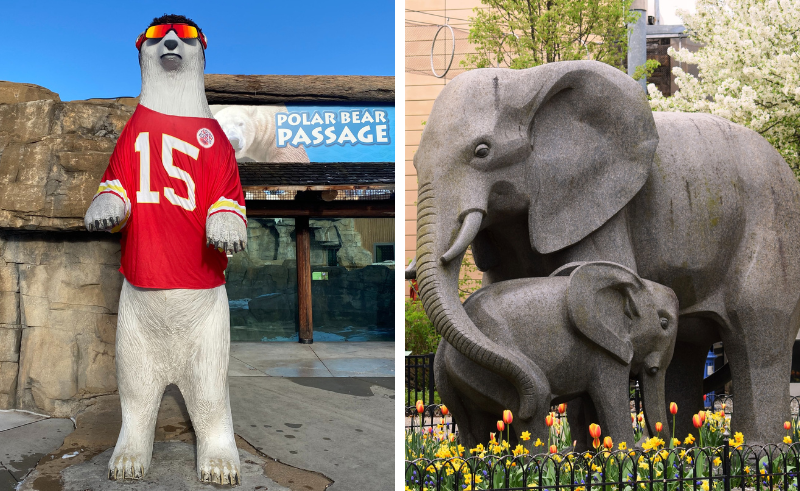 As Kansas City gears up for a (hopefully) crushing victory during Sunday's Super Bowl game against the Philadelphia Eagles, wagers are being made across the Red Kingdom.
The Nelson-Atkins Museum of Art shook hands with The Philadelphia Museum of Art, agreeing that the losing city museum will send one of its masterworks to the winning city on loan. Neither museum has revealed which piece they would send over, but Julian Zugazagoitia, director of Nelson-Atkins, has said he's offering Philly representatives, "something they'll long remember after the Chiefs make short work of the Eagles."
On the other side of town, the Kansas City Zoo made a deal with the Philadelphia Zoo, agreeing that if the Eagles win, Polar Mahomes has to sport some Eagles gear. If the Chiefs win, the Philly Zoo will dress up their iconic elephant statue with Chiefs spirit.
Meanwhile, the master builders at Legoland's Kansas City and Plymouth Meeting discovery centers have agreed to construct a themed build for the winning team to display at their football stadium.
Bets are going beyond iconic institutions too. The Heartland Men's Chorus made a bet with the Philadelphia Gay Men's Chorus, and the losing team's choir will have to perform a song of the winner's choice and share it online.
Widening the scope, the Missouri Chamber of Commerce is stepping onto the field with a wager against the Pennsylvania Chamber of Business Industry. If the Chiefs win, the Missouri Chamber will receive Yuengling beer, Hershey's Chocolate, Peeps marshmallow candies, and Giorgi mushrooms. If the Eagles win, the Missouri Chamber will send Budweiser beer, Jack Stack's barbecue, Burger's Smokehouse ham and sausages, and Cherry Mash candies.