The Kansas City Chiefs are heading back to Arrowhead after wrapping the 2022 season's three-week training camp at Missouri Western University in St. Joseph. 
At their Thursday press conference on the last day of training camp, both head coach Andy Reid and quarterback Patrick Mahomes assessed this year's camp as a success, bringing a stronger team to the field this NFL season.
"I think I challenged the guys, which was important," Reid says. "That bonding becomes important, and you bond when you have to do something tough. They answered the bell every day. I appreciated the effort that went into it, that foundation will pay off for them down the road."
Over the last few weeks, Reid says he saw great competition between offense and defense.
"They challenge each other, and that's all you can ask for as a coach," he says.
"I thought it was great for the young guys to see that and feel that you have to come out here every day with the right mindset, and you have to challenge every play. If you get beat, you have to learn from it, erase it, and get onto the next play."
Reid also applauded the team leadership from Mahomes and other veteran team members.
"This camp went really fast," he says. "Not a lot of distractions, guys coming in working hard, new bodies in here wanting to learn, and Patrick and his attitude. It's a positive attitude from your leadership group every day and he tries to get better every day. Kelcie tries to get better every day. Chris Jones tries to get better every day. They're all in there battling like crazy, and that becomes contagious and presents with a good camp when it's all said and done."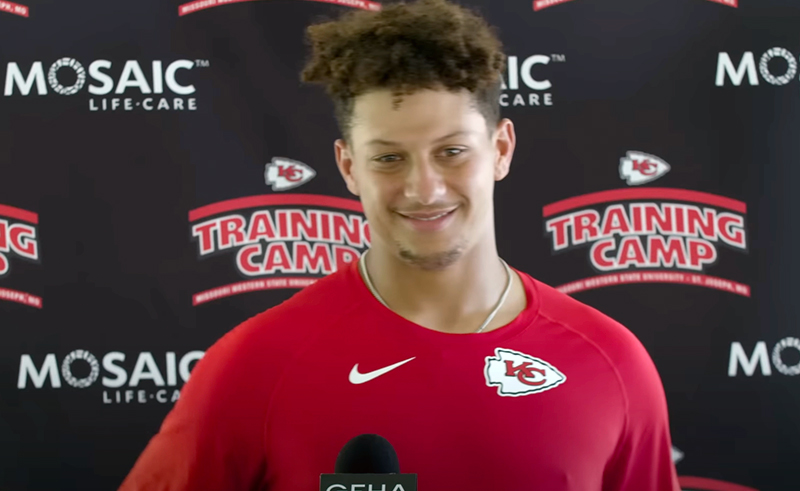 On the last day of camp, Mahomes reflected on which players caught his attention.
"Chris Jones," Mahomes says. "He was dominant, and he's the first one I think of. The biggest thing from Chris this year was the run and the pass. He was down there dominating stuff, making tackles on run game just as much as he was getting back to the quarterback and getting around me and affecting how I threw the ball."
Mahomes highlighted a few receivers that caught his eye as well.
"I thought Noah Gray had a great camp making stuff happen," he says. "I thought Jody [Fortson], up until the injury, he was making a great camp and bouncing back. A lot of guys had great camps out here. You expect guys like Chris, Travis, all of them to have a great camp, but seeing other guys have great camps is always a good thing." 
Overall, Mahomes says the team took giant steps at camp for the upcoming season.
"We have some guys that are really fast, and they'll go up and make catches," he says. "We saw that with Watson in the end zone yesterday and today with Marquez in between two defenders going up and making a high point in the ball. You have guys that are big and can make those tough contested catches. It shows how versatile they are and attests that we're going to come from everywhere. It's not going to be just one guy; everybody is going to put their blueprint on this offense, and I'm excited for it. We're making the adjustments and not making the same mistakes twice."
Now it's back to Arrowhead for a few more preseason games and then the 2022 season. Can we get a Goooo Chiefs? It looks like this season will be another one for the books.
"We're going to continue to work hard," Reid says. "We're going to be more on a normal schedule and get the guys in the swing of that and get it in the groove of what they'll be doing during the season."