Comedian Marsha Warfield wants you to know that she is "the world's oldest rookie." After a successful stint appearing in countless TV shows over the years—including a six-year run as the caustic bailiff Roz on Night Court—Warfield is going back to her roots in stand-up comedy. "I started doing stand-up in 1974 in Chicago where I'm from," says Warfield. "I was away from the stage for quite a few years. Now everything is new and fresh. I do it because I really enjoy it."

Even when she was busy shooting Night Court in the late '80s, it wasn't uncommon for Warfield to grab a red-eye out of LA to do stand-up shows on the weekends. Comedy was an itch she needed to scratch, so—once again—she's taking her act on the road. "I always wanted to get back into it, but the circumstances didn't allow it for a number of years," she says. "When the opportunity arose to give it another shot, I did. I started from scratch working bars and clubs."
When asked what kind of comedy to expect this go-around, Warfield laughs, "Mine! I don't categorize myself. I try not to watch or be influenced by other comedians. Whatever comes out of my brain—that's what it is."
Warfield—who came out publicly a couple years ago—says getting back into the swing of things gave her plenty of new material. "Everything is a new experience now. It's almost like I've never done it before," she says. "So I'm looking forward to a whole new experience. I'm a whole new person."
Among other things, Warfield will explore her coming-out experience including "talking about who I am and how I got here. The whole finding myself and coming out and standing in my truth is a big part of my act." She does so with sincerity and snark. "It's either a stand-up show or it's a Ted talk," she laughs.
When asked if she had any advice for kids who are struggling with gender norms, she minced no words. "If I had to give advice, I'd say go for it. Go for the path that will make you happy. Ultimately, you're going to through things anyway, so you might as well go through things to get to a positive result."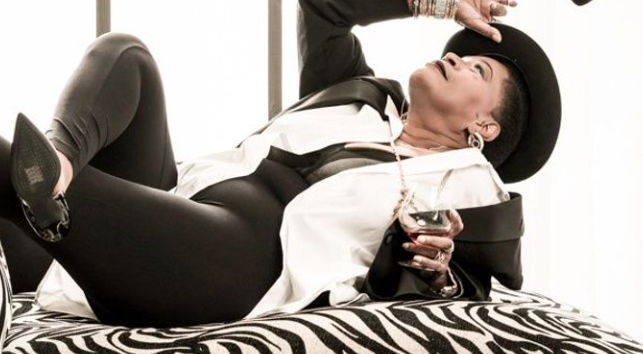 Reviews of Warfield's shows have been well-received in LA, Vegas, and her hometown of Chicago, where she's been unveiling her new material. Warfield is also a self-proclaimed "talent whore"—she's a huge fan of running in to celebs. "It's a huge turn-on. I get tickled just like any other fan," says Warfield. She's even more enamored when celebs recognize her. "Just to have Richard Pryor, Smoky Robinson, and others literally know my name was huge."
Warfield says it's been a long time since she's stumbled into KC, and she's looking forward to getting to know our fair city. "I'm looking forward to it," says Warfield. When we mentioned the litany of good barbecue joints in town, she took note. "Thanks for the tips! I've been known to put away a few slabs," she laughs.
Warfield is performing at the Comedy Club of Kansas City April 25-27th. Great tickets are still available. "Give it a listen. It's not for the squeamish. You gotta be willing to be challenged," she says. "I come from a legacy of a lot of great comedians—Pryor, Carlin, they've been my biggest influence."