The inaugural Thundergong!, held in November 2017,  set the bar high for its successor.
Last year's music/comedy revue, hosted by actor and former Saturday Night Live cast member Jason Sudeikis, featured an array of celebrities, including Wynona Judd, two other SNL alums, Will Forte and Fred Armisen, and Kansas City rapper Tech N9ne.
By night's end, the event had raised more than $150,000 for Steps of Faith Foundation, which helps provides prosthetic limbs to people who otherwise could not afford them.
Steps of Faith was co-founded by Billy Brimblecom Jr., a Kansas City musician whose cancerous left leg was amputated in 2005. Brimblecom is close friends with Sudeikis, whose hometown is Overland Park (they met in the mid-1990s while in a local sketch comedy troupe).

The second annual Thundergong! was held Saturday night, again at the Uptown Theater, drawing a crowd that looked close to capacity and larger than last year's.
This year's event made big waves weeks ago when Sudeikis announced on The Ellen DeGeneres Show that Chance the Rapper, one of hip-hop's brightest stars, had agreed to perform.
Then late last week, Brimblecom announced that Ben Harper also would perform—so late that Harper's name did not make it into the official program. Also on the bill: actor/comedian Sam Richardson (Veep), who was in good voice all night.
This year's event was orchestrated much like last year's: The house band was Summer Breeze, a seven-piece soft-rock/"yacht-rock" band from Kansas City for which Brimblecom is the drummer. They were joined by Jason Barnes, a drummer from Atlanta with a prosthetic right arm, and two other Kansas City musicians, Chris Tolle and Ed Goodman.
For more than three hours, the large crowd was entertained by the celebrities in the house. Sudeikis and Forte opened the night with covers of Lionel Richie's All Night Long and Christopher Cross' yacht-rock classic, Ride Like the Wind, then REO Speedwagon's power ballad Can't Fight This Feeling.
Later, there were covers of Toto's Africa (featuring Richardson, whose mother is from Ghana, trying valiantly to navigate the song's challenging vocal), Prince's Little Red Corvette (with Richardson again starring on lead vocals, shirtless this time), Ozzy Osbourne's Crazy Train and Paul McCartney's Maybe I'm Amazed—all well-known songs that prompted happy, widespread sing-alongs.
Ultimate Fakebook, a trio from Manhattan, Kan., performed a short set of energetic power-pop tunes. As he introduced them, Sudeikis asked whether anyone from Manhattan was in attendance.  After the cheers had subsided, Sudeikis (an avid Kansas basketball fan) wisecracked: "I hope you found a nice place to park your tractors."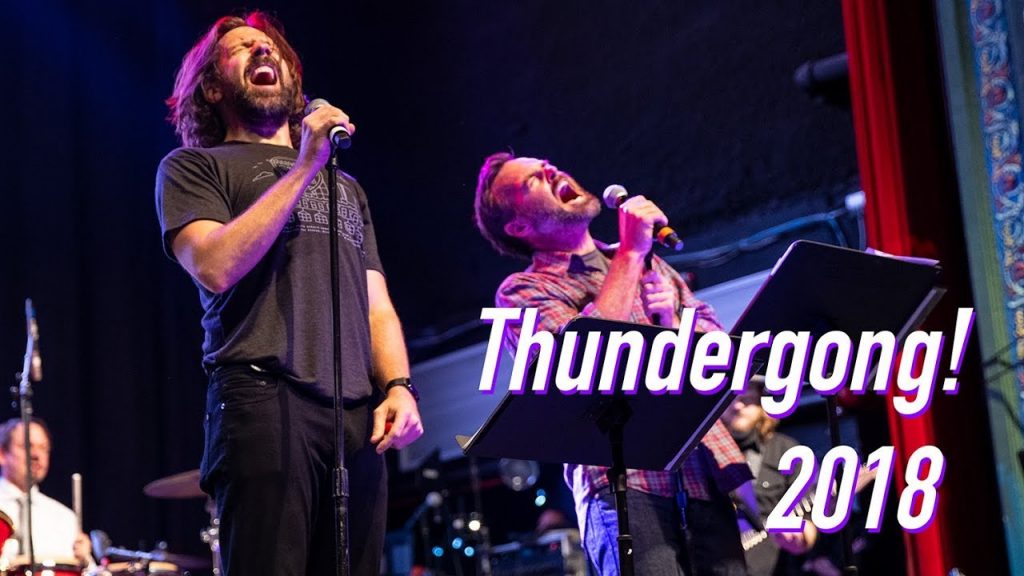 As they did last year, Sudeikis and Forte conducted an auction: to the highest-bidder went a performance of and the handwritten lyrics to a song re-written by their "opposite band," Jon Bovi. As an example of what they would produce, they reprised the parody Dying on a Curse (the opposite of Bon Jovi's Livin' on a Prayer).
Last year's auction winner bid several thousand dollars and selected Purple Rain as their song, which Jon Bovi recast as Yellow Snow. This year's winner bid a whopping $20,000—you read that correctly—and selected Tom Petty's Free Fallin', which, within the self-imposed, eight-minute time limit, was recast into Expensive Climbing.
Rob Zabrecky, a comedian/magician, also performed. His best sleight-of-hand: snipping with a pair of scissors seemingly random shapes from a folded piece of paper, then unfolding the paper to unveil the Thundergong! logo.
The entire evening was put into perspective with a video that told the story of J.P. Phillips, who lost part of a leg in a motorcycle accident. Phillips talked about how the loss of limb profoundly affected his life and his role as a husband and father and how the help from Steps of Faith turned his life back around.
After the video, Phillips walked on stage to express, in person, his gratitude, telling the crowd that the loss of his leg took him to "some dark places. But Steps of Faith wants you to stand up and be the man or woman you were meant to be."
.The headliners performed in the last third of the show. Harper and his lap steel sat in with the band and unleashed a great cover of When the Levee Breaks and one of his own, Amen Omen. He also jumped in with Sudeikis and Forte on the finger-snapping cover of Under Pressure.
Chance the Rapper raised the ante, igniting a raucous response as he took the stage, then performing Work Out, Blessings and No Problem for a thrilled crowd that seemed very familiar with each.
I'd say his set drew the loudest ovation of the night, but that was saved for another moment: when it was announced that this year's Thundergong! had raised nearly $280,000, almost double last year's—setting the bar even higher for Thundergong! III.
Everyone gathered on stage for the finale, which should be the official Thundergong! theme song: the Beatles' With A Little Help From My Friends, turning it into an evocative choir-like gospel/soul anthem (more Joe Cocker than Ringo).
It was the perfect valediction to an evening of fellowship, friendship, generosity, and goodwill—and a refreshing respite from the real world.