Chef Anita Moore is no stranger to a service-centered heart. Her first prep kitchen was her grandmother's loving home where she helped chop, mince, bake, sauté, and serve. It is no wonder that when it came time to illuminate the true joy of Christmas, Moore, executive chef of Soirée Steak & Oyster, teamed with Santa himself to bring the Soul of Santa to the 18th & Vine District.
Tucker Lott, the district's Santa, had a vision 22 years ago that there should be no children left behind at Christmas time. Moore had only intended to place a tree on the patio outside the doors of Soirée, but then she learned of his mission. Why just put up a tree when you can light up the District?

The latest festive event, with The Soul of Santa's very First Christmas Tree and Street Lighting ceremony, starts tonight at 6 p.m.—and includes a concert, and an after-party celebration at Soirée, at the historic 18th & Vine District. The 20 ft. Balsam tree from Wisconsin, will brighten the northeast corner of 18th Street and Paseo, Kansas City, Missouri.
Following at 7:00 p.m. is The Soul of Santa Christmas Concert at the Gem Theater, produced by Grammy-nominated songwriter, Jo Blaq. Tickets can be purchased at Soiree or Eventbrite.

Faithful exultation doesn't end there. Christmas is synonymous with good tidings, good cheer, gift giving, and food. Soirée Steak & Oyster House hosts its Soul of Santa happy hour from 9:30 to 11:00 p.m.
Wake up and do it again. Saturday morning, Santa will be at the Negro Leagues Baseball Museum reading to children, delivering gifts, and much more.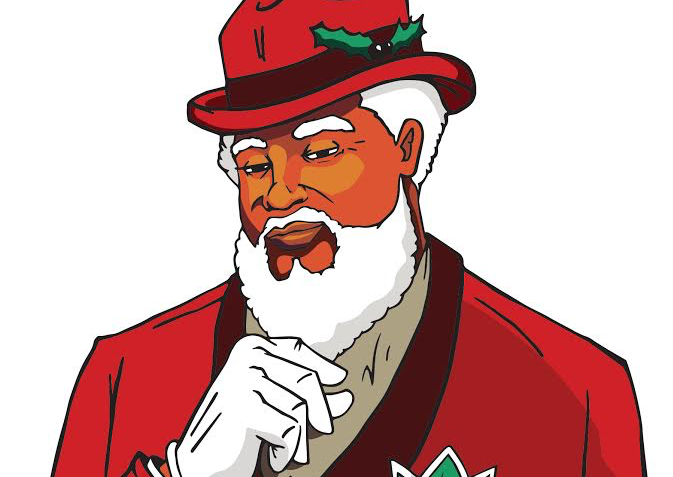 This Soul of Santa event is a culmination of how Moore strives to bring jubilation to the District every day. From the hearty menu that features Southern lobster rolls, chicharrons, and steak sliders to events that create platforms for athletes and artists of all ages to express themselves, she is a wonderful example of what makes Christmas such a miracle.
Thoughtfulness, generosity, togetherness and, again, food. If Tucker Lott is our Soul of Santa, then Anita Moore and Soirée are surely its spirit.
Please feel comfortable donating toys and coats for families at Soirée Steak & Oyster House this Christmas.