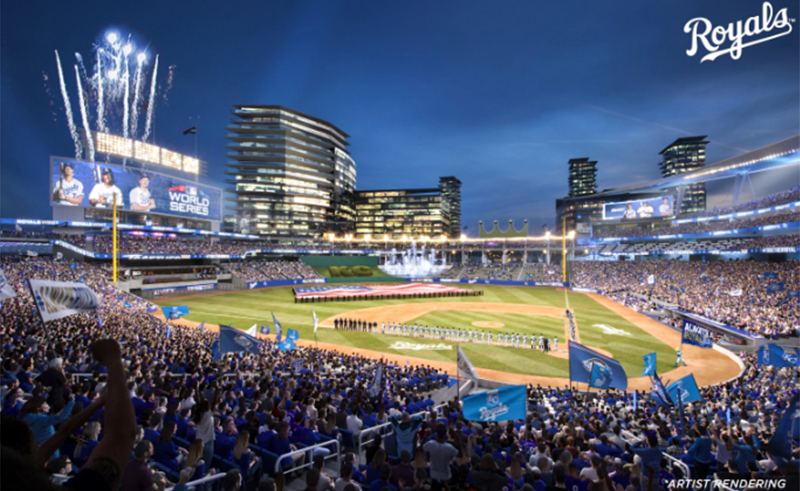 While talk of a new downtown stadium for the Kansas City Royals has been buzzing about for years now, John Sherman, the team's chairman and CEO, revealed plans the team is working on for a $2 billion ballpark in downtown Kansas City—the largest public-private development project in Kansas City history.
On November 15, Sherman penned a letter to fans detailing the plan moving forward. Here are the highlights:
We have enjoyed many exciting moments together at the Truman Sports Complex over the years. In the spirit of Ewing Kauffman, our current mission is to look ahead to ensure that Major League Baseball and the Kansas City Royals will thrive in this region for decades to come.
Following Mr. K's original vision for the franchise, we also want to ensure that we have a world-class ballpark that stays competitive with our peers nationwide and best serves our community to the fullest. Kansas City is evolving into a leading sports destination – demonstrated by the NFL Draft, the KC Current's new stadium, the World Cup – and much more yet ahead. These developments, along with a new KCI airport terminal, are transforming our region.
As you may already know, it's become challenging to maintain The K. When its current lease with Jackson County concludes at the end of this decade, it will be 60 years old. The renovations required at The K to achieve our objectives would cost as much or more than the price tag to develop a new ballpark. A new home would be a far better investment, both for local taxpayer dollars already supporting our facility, and for the Kansas City community.
…
We are excited to now share that we have several leading locations under close consideration, both in downtown Kansas City and close to it. Each site offers unique opportunities. We look forward to seeking input from the public over the coming months about our vision to best serve our residents and build on the momentum our city is experiencing. To accomplish this move, our plans will be contingent on continuing our public-private partnership and investment with multiple local jurisdictions and the State of Missouri.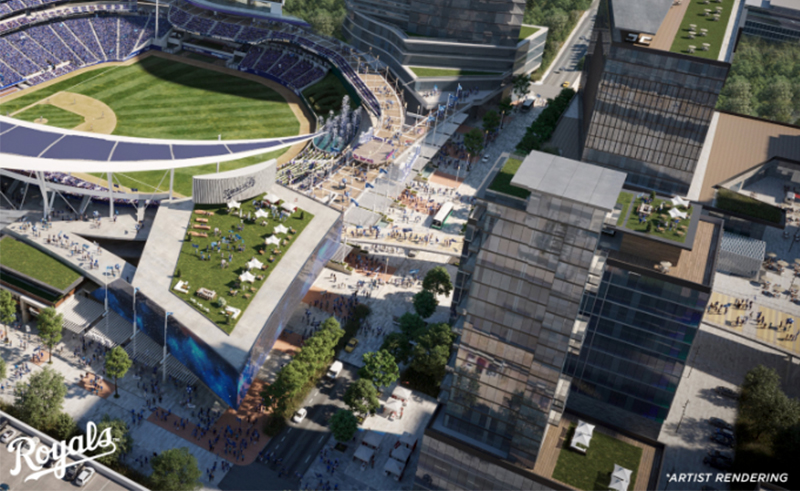 Sherman added that the team does not plan on asking Jackson County residents to contribute any additional tax dollars, and there will be a listening tour to discuss plans with Kansas Citians—who already have strong opinions. 
Here are a few comments we've seen on Twitter and Reddit from Royals fans:
Won't attend another game once they move…attended 3 last year

— Terri Geis (@TGeis73) November 15, 2022
HOW HAS RENOVATIONS BECOME DIFFICULT TO MAINTAIN??? The stadium is consistently ranked among the top 10 best in baseball. This is just a shameless cash grab. Mr and Mrs Kauffman would NOT approve.

— 𝐌𝐉‼️ (@racketeergod) November 15, 2022
I'm already in love! Let's get it done baby!!!

— Devin Wagner (@ginxin_) November 15, 2022
Downtown baseball is not the move, the K is the crown jewel of the MLB. Sad day for the K

— Zac Saleski (@ZacSaleski) November 15, 2022
1. Traffic in Kc isn't that bad
2. They can make parking
3. Grab a beer at one of the 50 resturants or bars by the stadium

— Richard Barone (@BaroneRichard09) November 15, 2022