Sponsored post:
Given that Kansas City is famous for its sultry-smooth jazz vibe, it's no wonder that the Raphael Hotel's Chaz on the Plaza remains a venerable stomping ground for talented performers. Chaz's plush, mahogany-and-manhattans ambience is perfectly suited for guests to enjoy a drink and hear music nightly by some of Kansas City's most well-known musicians (and the occasional ingenue). "What brings our guests back night after night? Talent and atmosphere," says Jordan Carver, the Raphael's director of food and beverage. "The Chaz Lounge provides the optimum setting for enjoying music. With dim lights and candles, romantic alcoves, and expansive views of the Country Club Plaza, it's relaxed yet refined."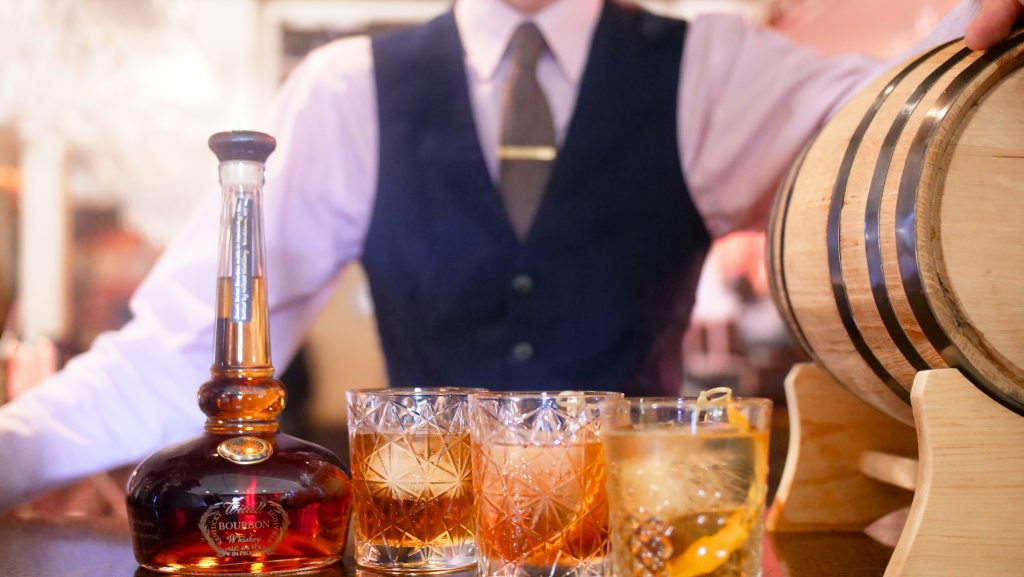 Whether you're in the mood for upscale nosh and nibbles or a perfectly executed celebratory meal, the lull of music permeates throughout the lounge. It's no wonder folks get there early to scope out the best see-and-be-seen seats. "The lounge is small by some standards, but that provides that intimate connection with the performers," says Carver.  "It's a personal touch you don't get in larger venues."

On the night we visited, guests started ambling in around 7 p.m. It was a delightful mix of locals out for a night on the town, a smattering of hotel guests in for the weekend and true jazz aficionados amped for some low-key tunes. Every last person had a different handcrafted cocktail or glass of wine in hand, which speaks volumes to the talent behind the bar. "The talent isn't restricted to the stage. Our head bartender, Richard Boyer, draws inspiration from some of his favorite bars around the country to produce an eclectic list of cocktails, with inventive takes on classics and unique original concoctions, as well as one-off creations to suit particular tastes," Carver says. "Michael Watt, our restaurant manager, is a certified sommelier and cicerone and is happy to help our guests find a new favorite wine or beer from our Wine Spectator award-winning list."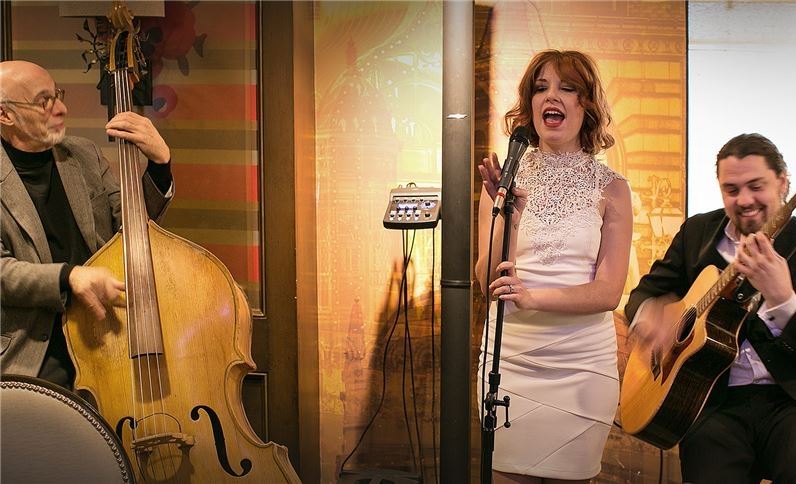 When the music started—and the familiar, ebullient Zen of Girl From Ipanema began—the crowd politely turned down their conversations. And while we wouldn't call it a silent stillness per se, guests clearly came to hear the music. "That's when we know a guest is truly enjoying themselves—when the whole restaurant falls under a hush while you're performing a sultry torch song or when they explode into applause after a hot swinging favorite," says Jesica DeLong, the vocalist with A La Mode.
Many musicians think Chaz's Lounge—while cozy—remains the perfect venue to get up close and personal with their fans. "The Raphael is one of our favorite places to perform because of this," she says.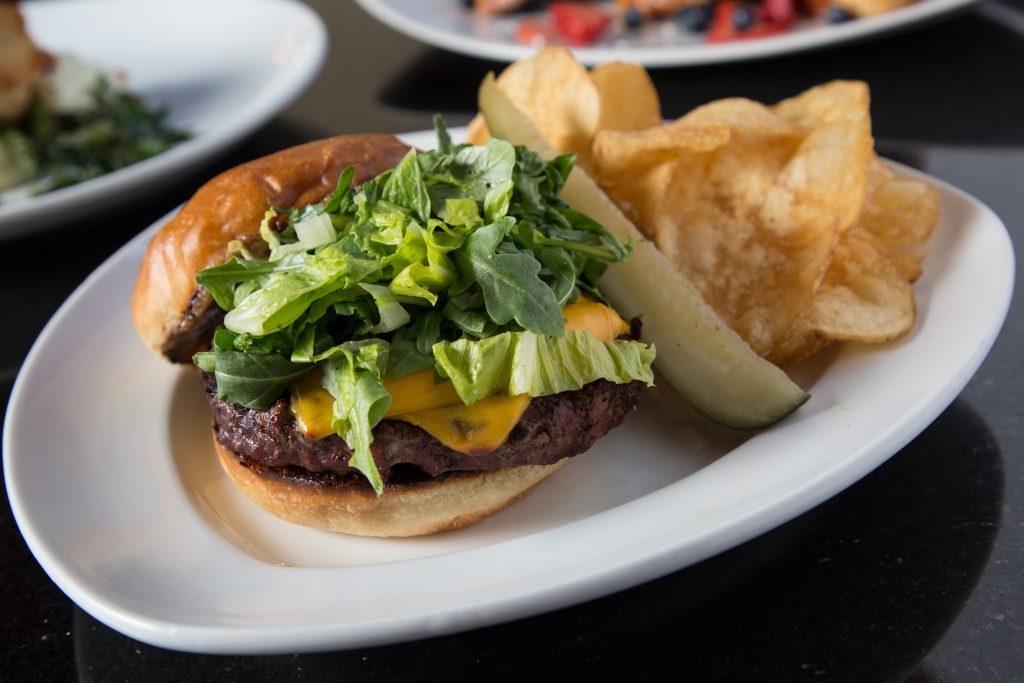 "Often our band gets requests from audience members. Chaz is one of the few places in the city in which we're able to have a captive audience," says Clayton DeLong, A La Mode's guitarist. In fact, Chaz is one of the few venues in town that features live jazz 365 days a year, the duo says. They recommend coming in early for happy hour specials Monday thru Friday, 4 to 6 p.m. (If you're not taking advantage of Chaz's famous Fritzburger with fries for $8—well, that's on you.) Many guests we talked to mentioned the advantage of the hotel's complimentary valet service. "Complimentary valet is a subtle blessing," Carver says with a laugh. "Especially in a city which can often make parking an obstacle to a fun evening."
With a brilliant culinary team on hand—headed up by executive chef Shawn Hartwig and sous chefs Tristan Wagner and David Spiven—you're guaranteed an exquisite meal. "The dishes they're creating are the best we've ever produced," says Carver. It's no wonder there can occasionally be a wait for tables—a good problem for any restaurant to have. "Sometimes I feel the musicians can be too popular for our space! But that's part of having that personal connection with the musicians. If the lounge were much bigger, we would lose some of that."
And if you're wondering, yes, the bands fully appreciate when you sing along. It's the ultimate compliment. "We love performing Puttin' On The Ritz or Minnie The Moocher because audience participation completely propels the energy of the music forward and creates a mutually shared musical experience," says Jesica. "It's something that keeps fans coming back to see us at this special venue," Clayton adds.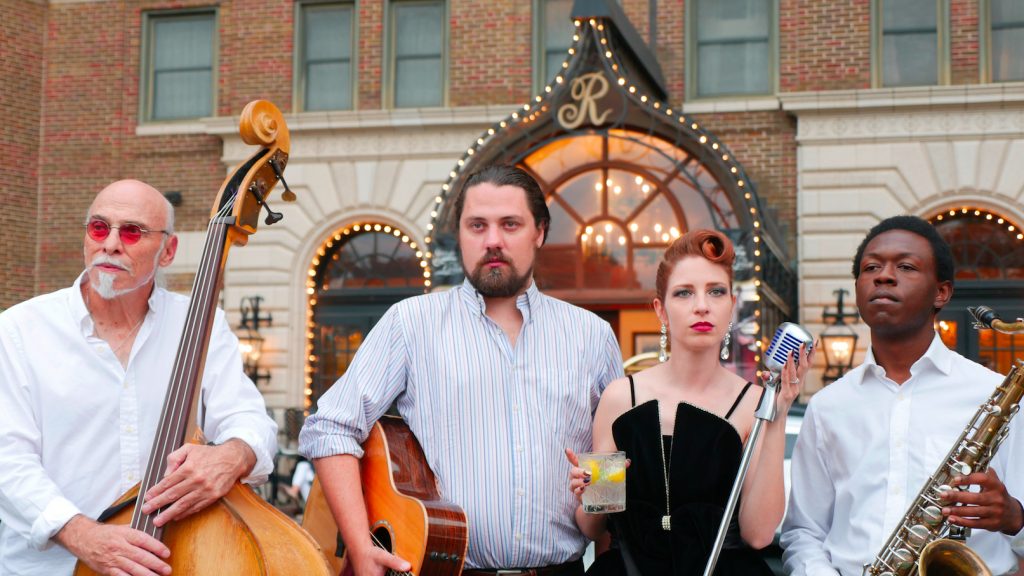 The incomparable array of musical styles guests will find at Chaz is astounding. That's by design. "Depending on the night, you could hear modern swing, jazz standards, or even The Mengel Brothers, a classically trained string duo playing covers of your favorite pop or rock songs," says Carver. "The variety is one of my favorite aspects of our live jazz." It truly is a veritable who's who of musicians—including Lonnie McFadden, Eboni Fondren, Grand Marquis, Stan Kessler, Jackie Meyers, Matt Villinger, and Bryan Hicks to name a few. "There are far too many to name them all," Carver says. "But they all represent the best the city has to offer, covering a wide range of jazz styles."
It's no wonder that Chaz and jazz go together so well—not unlike mahogany and manhattans.