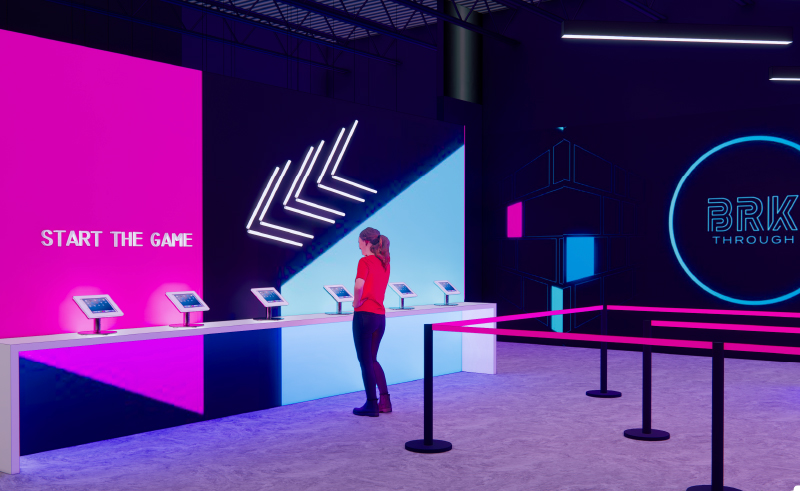 From breakout rooms to board-game cafes and arcades, Kansas City has several options for playing games with friends and family, but a fresh concept opening in Overland Park later this year is bringing a new game to town.
The brainchild of Braden Holcomb, Caroline Irving, and Ty Hardamon, who previously opened Shawnee's Sky Zone in 2012, Brkthrough will offer 40 unique, high-technology game rooms with physical, mental, and skill-based challenges.
"We were looking for the next right thing after Sky Zone that still had the type of things we love about Sky Zone—people coming together, being active, and having fun," says Holcomb. "We got intrigued with the escape-room world, but it just didn't feel like it was quite sustainable for us. That morphed into what we have with what we call game rooms. Each room will have unique gameplay, and we have them grouped into different types of games."
In a room called Cliffhanger, players will try to climb the walls, while in other rooms, players might immerse themselves in a submarine or jungle setting. Or guests might be in the Hoops game room trying to make as many baskets as possible. Groups can complete each room within a few minutes, and they'll receive a score out of 100 after each game. 
Each gaming experience is ideal for groups of two to four people, and admission is granted for two-hour and four-hour intervals. With space for up to 400 people, guests can bring larger groups to divide into teams and compete for higher scores shown on leaderboards throughout the venue.
"We really want people to be coming in together as a team, but also thinking about the different types of skills involved in each room," Holcomb says. "Some people might gravitate toward the physical rooms or more toward the skill-based rooms. Having a well-balanced team leads to eventually getting a ton of points in all the rooms."
Each team will receive an RFID bracelet that allows players to enter game rooms and keeps track of the points they earn along the way.
Designed for adults ages 18 to 21 and over, Brkthrough will also feature a restaurant with a menu of sharable bites and a self-pour tap wall with a curated selection of 20 beers and wines.
Located in south Overland Park at 6403 W 135th Street, Brkthrough is expected to open to the public in late fall 2022 in the former Stein Mart space. 
To get updates on the grand opening and be entered to win a complimentary group event, subscribe to Brkthrough's newsletter here.