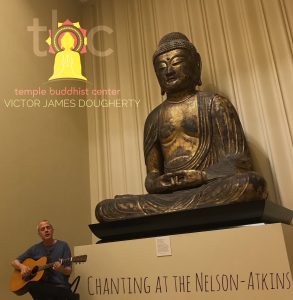 The sound reverberates through the upper reaches of Nelson Atkins Museum of Art—a very distinctive "owwwhhhwwwmmm". That's the ambient echo of some very Zen people participating in Third Thursday Chanting at the Nelson. "With hard marble walls and floors—the sounds waft through the entire museum," says Victor Dougherty, Director of Temple Buddhist Center. "
Chanting—if you're not familiar—is a sort of rhythmic speaking. One-part singing, one-part verbalization of certain sounds or words. Around the world, it's a commonly known spiritual practice, but has only recently found a toehold here in the Midwest. Chanting is known to calm emotions, quiet the mind, and aid with meditation.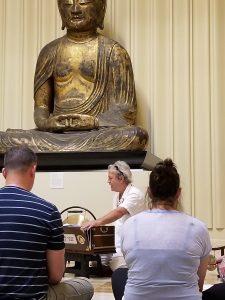 And—as it turns out—The Nelson is apparently the quintessential venue for you to get your chant on. "Kansas City is blessed to have one of the most amazing exhibits of Buddhist artwork in the country," says Dougherty. "So Temple Buddhist Center had this idea of going in and meditating in the presence of that sacred artwork and those statues." That was nearly eight years ago and the event has only grown in popularity from there.
The chanting ceremony coincides with the Nelson's monthly family fun night on the third Thursday of every month. What's even more amusing is when people stumble in unknowingly to the Asian exhibit hall and join in on the chanting festivities—especially young children. "Little kids are so funny. And because the chants are easy and repetitive the kids—should we say—really get in to it," Dougherty laughs. "They sing at the top of their lungs. That really warms the hearts."
For first-timers, the experience can be emotional and life-affirming at the same time. It's a great place to get out of your comfort zone and become grounded all at the same time. "Frankly, I didn't know what to expect. I'd never been to any kind of Buddhist ceremony before," says newbie Cliff Schiappa. "This chanting session came at a perfect time in my life as I'm going through major changes including retirement and moving to the West Coast. Such upheavals can be stressful, but the chanting, meditation, and affirmations all combined to offer me a quiet and reflective place in my life."
Dougherty and crew pride themselves on making the ceremony all-inclusive. "You don't have to be a Buddhist to come and chant," says Dougherty. "Some people think it's religious, but it's not. It's spiritual—a way of centering and focusing the mind."
The class is easy to follow. The ceremony starts off with ten minutes of calming meditation and soothing music and then gradually eases into chanting and vocalizing. One song will have participants speak-singing in Sanskrit and the next, perhaps, a Native American chant. "You're not supposed to be attached to the words or the meaning—it's just supposed to keep you in the present moment," says musician Rachel Marie.  "This particular chanting is not traditional in any sense—except for maybe the words. Usually you just pick a note and go. Victor has made it so that the Western ear can relate to it."
Interested? Intrigued? Dougherty says grab a yoga mat or a comfy pillow and come with an open mind. That's the best way to get started. "We always have a nice mix of people—regulars, new folks and quite a few passer-bys," says Dougherty. "People find us literally because they heard chanting and followed the sounds."
"It's like an easily welcoming doorway. It's like a Buddhist amuse-bouche," says Marie. "It's a little taste of Buddhism—something that will draw you in and get you interested. Different things work for different people and because it's not traditional, it accommodates everyone."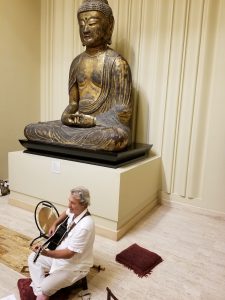 What: Third Thursday Chanting at the Nelson
Where: Nelson-Atkins Museum of Art, Asian Exhibit near the Guan Yin
Next event: Thursday, August 16, 7-8pm
Cost: Free to the public