Wearing his trademark piano keyboard tie—indicating he's also an accomplished pianist—Cameron Thomas represents the new generation of dancers for the Kansas City Ballet. In 2015, this up-and-comer left home at age 17 when a full scholarship awaited at the Jacqueline Kennedy Onassis School at American Ballet Theatre in New York City.
When Thomas came to the Kansas City Ballet in 2017, he started at the lowest rung of the ballet ladder and then moved up to apprentice. Since then, he keeps perfecting his dance techniques in the holiday classic The Nutcracker and the upcoming Celts.
Just don't ask him to boogaloo, shimmy, or do hip-hop moves like The Shoot. He's much more interested in executing a perfect pas de deux. 
When you were a kid growing up in Rochester, New York, watching cartoons on Saturday morning, what fired you up about ballet?
At first I wasn't so fired up about ballet at all! My first experience with dance was through another sport. I was a gymnast and was forced into a weekly ballet class to help improve my balance and coordination. Slowly but surely, I took to dancing a whole lot more than I ever did to gymnastics, so my parents had me audition for a children's role in the local production of The Nutcracker with the Rochester City Ballet. After that, it was all over. The older dancers were my heroes and I started obsessing over videos online of legendary classical male dancers like Mikhail Baryshnikov and Carlos Acosta. Since then, my passion for dance has deepened to appreciate the art form in all its complexity, but to this day there's nothing quite like watching the explosive jumps and turns of a classical variation.
What has been your favorite role to dance so far? And why?
My favorite has been the first solo man in William Forsythe's In the Middle, Somewhat Elevated. William Forsythe is a giant of a choreographer still creating amazing work today, and this ballet in particular is arguably his most significant. In a way, dancing that role felt like being a small part of history. In the Middle pushes ballet beyond the classical boundaries and, in doing so, emphasizes its physicality. Lines are extended, accents are stronger, and there is a tense. competitive swagger in the air between cast members. Learning the role challenged me and inspired me to grow beyond what I know. Performing that ballet on the Kauffman Center stage was just electric!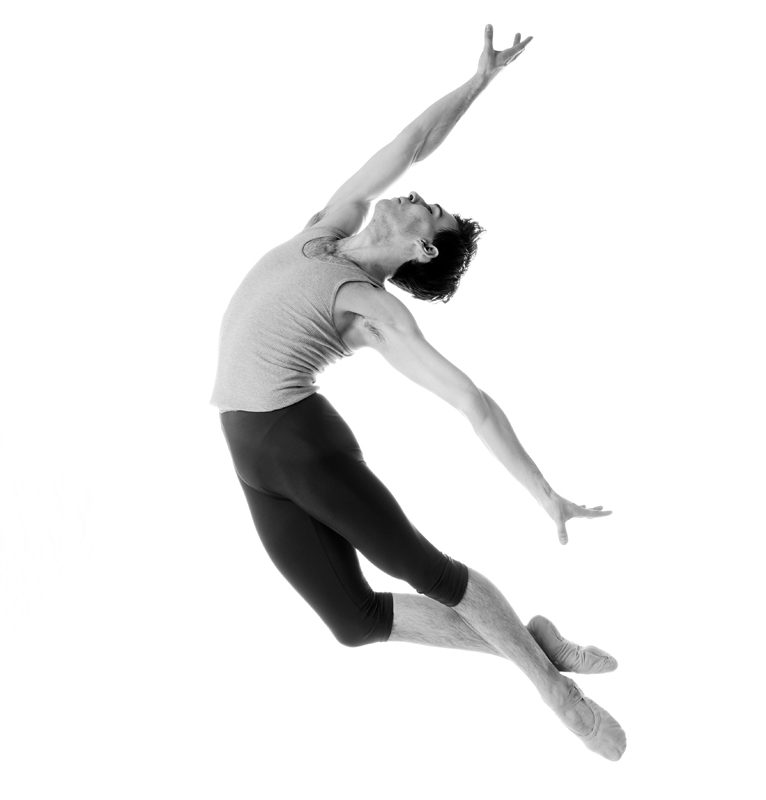 What is something about male ballet dancers that most people don't know? Do you get pedicures? Do you size up a ballerina you'll have to lift? Are you accomplished with ballet but so-so at other kinds of dancing?
I could probably use a pedicure desperately—jumping and turning in ballet shoes all day makes for a gnarly foot (and I don't even wear pointe shoes). I definitely don't size up a ballerina! That would make for a terribly unpleasant and unhealthy working relationship. As a partner, it's my responsibility to ensure that I am physically prepared and practiced enough in my coordination to be able to execute certain lifts. It is a team effort! Through the rehearsal process, open communication between partners, and help from artistic staff, pas de deux work becomes a lot less daunting for both partners.
There aren't really any dance companies in the world that perform exclusively classical ballet. More versatility is always better! That has been one of my biggest lessons the longer I spend in professional dance. Kansas City Ballet has a very diverse repertoire, so I have lots of opportunities to grow. With all that said, however, I am a tragically bad social dancer, despite my very best efforts.
What do you like most about living and working in Kansas City?
There is plenty to love, but one of the things most unique is the space in which we get to work. The Bolender Center is a world-class rehearsal center and the Kauffman Center an equally stunning theater. When the Bolender Center is full on a busy Saturday with the company in full swing and the school working upstairs, the whole building practically hums. I love the openness, the brick walls leftover from the old use of the building, and the black box theater in the main studio. The Kauffman is beautiful and spacious; it does full justice to the gravitas of the great classics of ballet and opera. I consider myself lucky to belong to an organization which calls those places home!