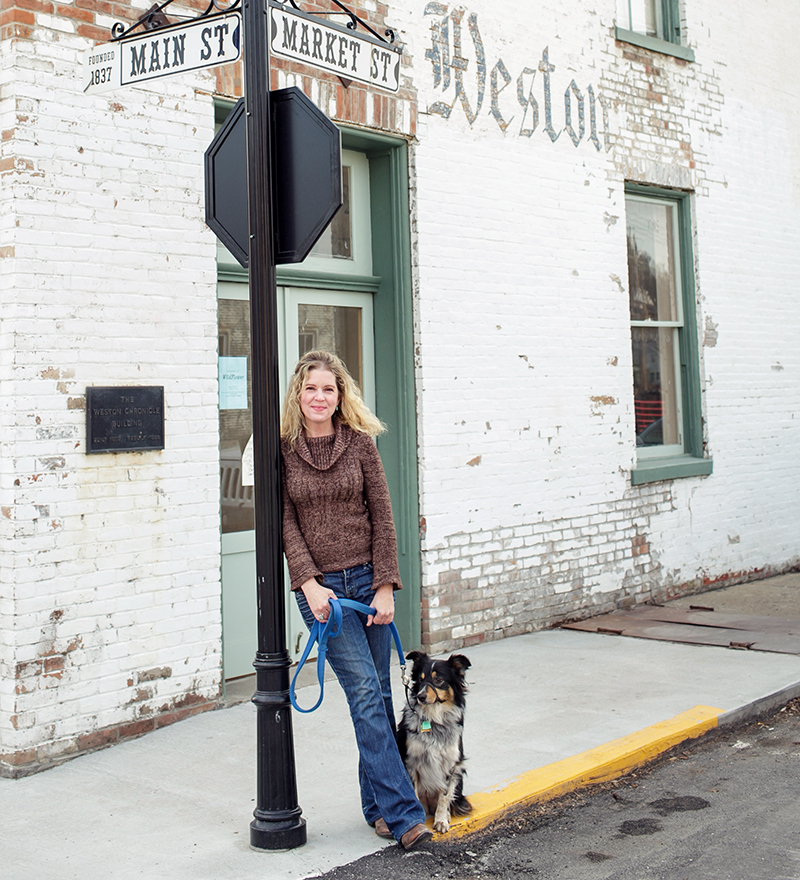 Add songwriter, poet, Emmy-Award-winning producer, and now Wild West camp cook to Connie Dover's achievements, all linked to her music. Spending part of her time in Weston, part of it on cattle ranches in Montana and Wyoming, Dover finds songwriting inspiration wherever she goes.
Her crystal-clear voice is of the moment and at the same time otherworldly, perfect for traditional ballads rooted in the past yet with something to say today. 
Dover recalls, "When I rediscovered traditional music as a teenager, through recordings and live performances from touring Scottish and Irish bands, I was completely besotted. The songs struck me on a visceral level—I fell in love with their powerful imagery, with their gorgeous melodies and the compelling stories they told. Hearing them felt like time travel. To me, they are living artifacts that speak to us across centuries and cultural boundaries." 
Growing up in Arkansas and Missouri, how did your interest in traditional music come about, especially that of the British Isles?
I remember hearing my father sing snippets of old songs he'd learned from his mother in Arkansas, and occasionally when I stayed with my grandmother, she would sing to me. This was all very informal, but it must have made a deep impression, because I was always drawn to the old ballads.  I pursued researching and learning the songs, and along the way, met up with other musicians—including my bandmates in the Kansas City-based Irish group, Scartaglen—who shared my love for the music.
You've had adventures as a camp cook at cattle ranches in Wyoming and the last frontier in Alaska. How have those experiences shaped your music, your poetry?
My music and camp-cooking careers have been parallel paths. I started as a ranch cook in Wyoming just after I recorded my first solo CD in Scotland. Like so many of us, I'm drawn to the American West. Some part of me must appreciate a bit of struggle, because it's not necessarily easy work, but it's fun, and allows me to live and work with remarkable people in absolutely beautiful settings. I find off-the-grid living very grounding and restorative. It creates room in my brain for ideas to percolate, though I don't always have time to act on them! But the special moments stay with you—I can trace a straight line from many of these moments to songs and poems I've written. 
What are you working on now? When might we hear you again in Kansas City?
In the wake of the pandemic and closure of music venues, I started posting weekly music videos on Facebook, which are now going up on YouTube. I call the series Luddite Studios. I set up my tripod wherever I happen to be—near our winter camp in Yellowstone or among the horses at the ranch or in my living room at home, and I sing a song. I call it Luddite Studios to pre-emptively lower expectations about my technical finesse. I record everything with my iPhone, and I include photos and videos of my surroundings. This allows me to do what I really love—pairing music with landscape (and occasionally, large fauna). It's been a great way to keep singing, and better yet, to create a vibrant relationship with listeners. I've decided to stay with it—I'll start posting again in a few weeks.
This summer, I'll head to New Mexico to sing backup on a new album by good friends Chipper Thompson and Mason Brown. I'll continue rehearsing with my performing partner, Kelly Werts, as we gear up for concerts this fall. Pending confirmation of the dates, we hope to be at the Weston Irish Festival this October.
When not roving and performing all across the country, you're based in Weston. How has that community nurtured your creative spirit?
I was introduced to the Weston community when two members of Scartaglen moved to the area. We would rehearse at their houses, and as time went by we discovered a wonderful group of friends who supported our efforts, and who were ready and willing to collaborate on all kinds of projects and events. My time there has laid the foundation for lifelong friendships, and I deeply cherish being a part of an extended "tribe" that feels like family.