This week's list of recommendations includes the final installment of the Sunset Music Fest, an "art-damaged" punk band, and the return of a favorite country band from North Carolina.
June 27 at Town Center Plaza:  The Sunset Music Fest featuring A Flock of Seagulls and The Zeros
 This will be the final show of the three-part Summer Music Fest, a series of free concerts in the parking lot at Town Center Plaza.
A Flock of Seagulls formed in Liverpool, England, in 1980, and by 1982 were on their way to becoming a staple on nascent MTV, thanks to their outlandish fashion and hairstyles and songs and videos like I Ran (So Far Away), Space Age Love Song, and Wishing (If I Had A Photograph of You).
Nearly 40 years later, the hair and uber-new-wave fashion are gone, and the band is down to one founding member, keyboardist and lead singer Mike Score. But he and his backing trio are more than capable of reviving the band's timeless and inimitable synth-pop nuggets.
The Zeros will be an ideal opener. One of Kansas City's most successful cover bands, they revisit the most beloved new wave/'80s hits, from Devo and Soft Cell to Duran Duran, the Psychedelic Furs, Tears for Fears, INXS, and Elvis Costello.
Admission to the Sunset Music Fest free, but purchase of merchandise is encouraged: Proceeds benefit the Juvenile Diabetes Research Foundation.
The festival site will include a children's area featuring jugglers and aerial feats by members of the Kansas City Aerial Arts plus activities from the Barstow School and Sporting Kansas City.
Show time is 6 p.m. Admission is free. Feel welcome to bring blankets and chairs (but no coolers).  For more information, visit the festival's web site.
June 30 at RecordBar: Flipper with David Yow
It's tempting to call Flipper a rabble of rogue iconoclasts, but the mission of iconoclasts is to shatter rules and institutions, and Flipper proceeds like they never knew rules existed in the first place.
Attempts to fit their music into genres fail to do the band justice: post-core, hardcore, experimental, lo-fi hardcore punk—none captures its anarchist spirit.
Flipper was founded in the early 1980s, attracting a cult following for its approach to punk, which was at once raucous , rebellious, and seditiously sedate.
In a review of its first album, 1982's Album—Generic Flipper, critic Robert Christgau quoted another observer's description of the music—"art damaged"—and then described the live experience:
"They play the same two chords until everybody who doesn't want to have fun goes home, then reward those delighted/mesmerized by their synthesis of the Stooges and the Grateful Dead by throwing in an extra chord and revving up half a step. The playing is crude … unremitting … and immensely charitable and good-natured. Iggy with Jerrys soul. I'm not kidding." It's a sound widely heralded for influencing  other genres, especially grunge.
The band has navigated about a dozen personnel changes—Krist Novocelic of Nirvana was the bassist for a few years. In 2015, David Yow (Jesus Lizard) jumped into the fray, joining founding members Ted Falconi (guitars) and Steve DePace (drums) plus fellow bassist Rachel Thoele.
Don't miss the opener, Drop A Grand, a Kansas City band that also flouts rules and traditions in grand, theatrical ways. Show time is 8 p.m. Tickets to the 18-and-older show are $20.
June 30: Alejandro Escovedo at Knuckleheads
He's a frequent visitor to the multi-stage roadhouse in the East Bottoms, and each time he delivers an evening of passionate, heartfelt music.
This time, Escovedo will highlight The Crossing, his 16th full-length album, which chronicles the experience of two immigrants, one from Mexico, one from Italy, searching for  America's punk rock and beatnik soul.
Escovedo, born in San Antonio to native Mexicans, told Rolling Stone that while making the album, he'd visited people, including children, who'd lived the migrant experience: "This one kid told me about carrying his sister on his shoulders across the river to get across [the border], and that his aunt did not make it. They lost her along the way. That's pretty heavy, you know?"
The album, which Escovedo recorded with the Italian rock band Don Antonio, has been widely acclaimed. From the Austin Chronicle: "The Crossing proves another way forward for our one-man Johnny Thunders, Joey Ramone, and Neal Cassady."
Show time is 8 p.m. Tickets are $20.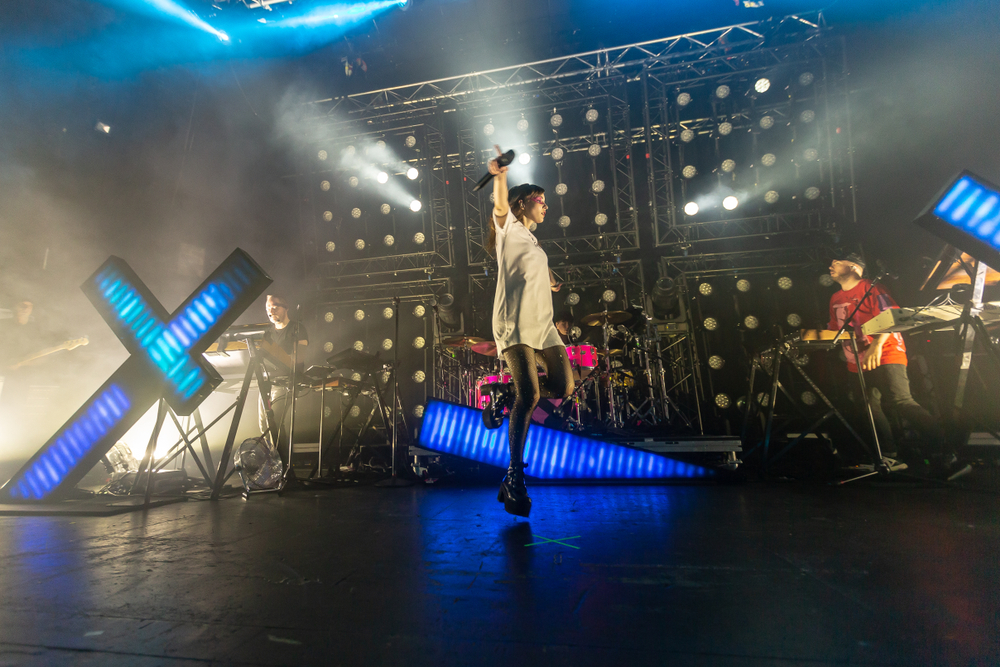 July 1 at The Uptown Theater: Chvrches
Upon its release in February 2018, Love Is Dead, the third full-length from Chvrches, received mixed reviews.
Rolling Stone gave it 3.5 out of 5 stars, heralding "(song) structures built on New Wave's buzzy bliss and post-goth's gloom." Pitchfork was less generous. From its 6.3/10 review, which calls the record an overt attempt to breach the mainstream: "The result is an uncomplicated, unsurprising collection of steely synth pop."
Regardless of album reviews, when the electro-pop trio from Scotland hit the road, their music takes on new traits and dimensions.
The Independent raved about a recent performance and how the band gave life to the new songs: "Their show is musically muscular and full of things to see. Years of touring have ensured that however large the stage, they inhabit it fully.
 The electronic duo Disq opens at 8 p.m. Tickets are $29 to $50.
July 3 at Providence Medical Center Amphitheater: The Avett Brothers with Lake Street Dive
More than four years have passed since the Avett Brothers last stopped in Kansas City. In that time, the North Carolina ensemble, led by brothers Seth and Scott Avett, has released one album, True Sadness, and undergone a couple of lineup changes.
Late last year, the Avetts announced they were back in the studio, recording their 10th full-length, Closer Than Together, expected to be released in October. Earlier this month, they releasedHigh Steppin', the first single from the album, which addresses some of the changes the band has navigated recently, internally and otherwise.
Closer will join a stable of country-steeped Avett albums that have given the band a high reputation to live up to, a reputation that has afforded them opportunities to share stages with Willie Nelson and friends, as they did recently in Pittsburgh.
From a review of that show: "You know it's a good night at the Outlaw Music Festival when the Avett Brothers are rocking through "Thank God I'm a Country Boy" with Ketch Secor of Old Crow Medicine Show on fiddle.
"The core of the set was a transcendent triple shot of their finest stuff — Laundry Room, Talk on Indolence, and Head Full of Doubt/Road Full of Promise— delivered right in a row."
Willie and Old Crow won't be around at the amphitheater in Bonner Springs, but Lake Street Dive will. The genre-jumping soul/folk/pop band from Boston always delivers a prime live experience.
Show time is 7 p.m. Tickets start at $44.50.
 OTHER SHOWS TO KNOW ABOUT
Volker Brothers, June 27 in the Gospel Lounge at Knuckleheads: David George and Erik Voeks write smart pop tunes in the keys of Crowded House, the Everly Brothers, and Michael Penn. This is a release party for Wrecking Ball, a dandy five-song EP.
The Blasters with the Supersuckers and Wayne Hancock, July 3 at Knuckleheads: The Blasters are always a blast of roots-rocking fun. Throw in the hellacious Supersuckers and the hell-bent Wayne Hancock and you've guaranteed a long-term memory.
The Felice Brothers, Aug. 16 at the Bottleneck in Lawrence: Brothers prove that an act from New York can muster a worthwhile country-roots vibe.
Buddy Guy, Sept. 17 at the Lied Center in Lawrence: He will turn 83 on July 30.  The First Commandment of Live Music: See your legends/elders every chance you can.
Herb Alpert, Oct. 18 at the Midland: The Sultan of the Tijuana Brass just turned 85. See the reference to legends above.