This week's list of recommendations includes an all-time great Kansas City band, a former Kansas Citian making big waves in the music world, and an "electric freak-out."
Dec. 27 at Knuckleheads Saloon: The Rainmakers
They don't play often in their hometown, but when they do, the Rainmakers draw big crowds and deliver an evening of nostalgia and revelry.
Their set lists typically are a long, invigorating blend of classics (Let My People Go-Go, Rockin' at the T-Dance, The Wages of Sin), newer material (Width of a Line, 13th Spirit), and the occasional cover (including, recently, Mere Travis' Sixteen Tons and Marvin Gaye's Baby Don't You Do It). And lo these many years later, Bob Walkenhorst is still one of the best lead singers/band leaders out there.
The Una Walkenhorst Trio opens at 8:30 p.m. Tickets are $15.
 P.S. Bob and Una Walkenhorst will perform together at Knuckleheads at 8 p.m. Dec. 26. Admission is $10.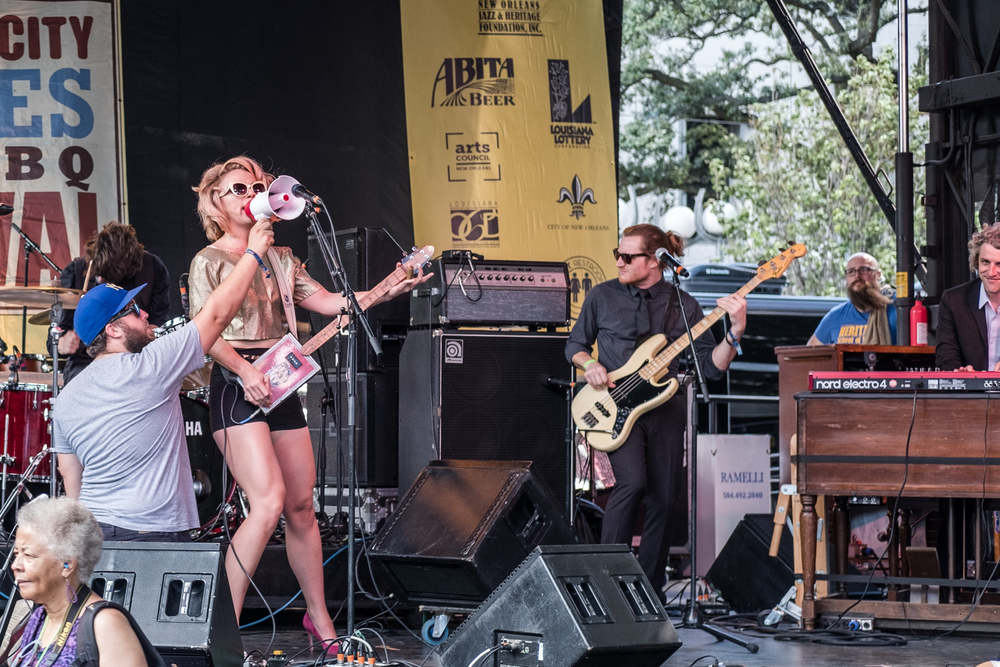 Dec. 28 at Knuckleheads Saloon: Samantha Fish
Fish has had a stellar year: She signed with Rounder Records, one of the industry's biggest and most successful independent labels; she toured heavily nationally and internationally; her Rounder debut, Kill or Be Kind, received glowing reviews; and she ascended to headliner status at this year's Jazz and Heritage Festival in New Orleans, where she now resides. Her star will continue to rise in 2020: In January, she will host and headline the four-day Samantha Fish Cigar Box Guitar Festival in New Orleans.
Saturday night, she will perform in her hometown in the venue that gave Fish her start—as a teenager infatuated with the blues.
Opener is Jonathan Long, whose most recent album was produced by Fish and released on her Wild Heart label. Show time is 8:30 p.m.  Tickets are $30 to $49.50.
Dec. 28 at RecordBar: The Grisly Hand and Freedom Affair
This bill features two of Kansas City's most dynamic live bands.
Freedom Affair is an old-school soul ensemble that musters a relentlessly groovy dance vibe.
For more than 11 years, The Grisly Hand has established itself as a premier act, both in the studio and on stage. Over the course of five recordings, they have evolved from a country-style band to one that dabbles in classic country, rock, and soul. Word is they're working on releasing something in 2020, and Saturday's show will include some of that new material.
Show time is 8 p.m. Tickets are $8 in advance, $10 day of show.
Dec. 30 at RecordBar: Not A Planet's annual New Year's Eve Eve Celebration
If you're inclined to avoid the crowds and stay at home on New Year's Eve, here's a way to celebrate early.
Not A Planet is a unique and eclectic trio that seamlessly blends the sounds from different genres and eras: '60s pop, classic rock, indie rock, the blues. They are also masters of many, many covers.
Use Your Atlas and Chase the Horseman are also on the bill. Show time is 8 p.m.  Admission is $10. Children younger than 18 are welcome if accompanied by a guardian.
Dec. 30 at The Brick: Rural Grit Happy Hour's Electric Freak-Out
The Rural Grit Happy Hour has been a Monday evening mainstay for more than two decades: a showcase of old-time music, country, folk, and bluegrass. However, they always devote the fifth Monday of any month to an Electric Freak Out: that is, electric instruments and amps. Always a loud, frenzied, and fantastic time. Show time is 6 p.m. Cover is $5.
YOUR NEW YEAR'S EVE MENU
Here are five events to consider when you're contemplating ways to make music part of your end-of-the-decade celebration.
The Brick: A Business As Usual New Year's Eve: Enjoy the sounds of Motown and classic soul music, courtesy of DJ Biscuit. Plus it's Taco Tuesday, so overindulge in the weekly special. Admission is free. Hang around for a midnight toast with the champagne of beers.
Knuckleheads Saloon: Seven bands will perform, including The Zeros, The Instamatics, Katy and Stephanie, Stone Cutters Union, Slim Hanson & The Poor Choices, Heather Newman, and Levee Town. Show time is 8 p.m. Tickets are $40.
RecordBar: New Year's Eve at Studio 1520: A Studio 54 Party for All. MC Theopatra Jones and DJs Bill Pile and XO Blackwater will revive the vibe of the legendary '80s party palace. Show time is 9 p.m. Tickets are $15 in advance, $20 day of show. A $50 VIP package is available.
The Rino: Three KC-area bands will perform: The UKs, The Way Way Back, and Late Night Calvary. Your $25 admission also includes hors d'ouevres and a champagne toast at midnight. Music starts at 9 p.m.
 The Truman: In 2018, Making Movies rang in 2019 by paying tribute to Talking Heads' classic Remain In Light. For 2020, with assistance from a crew of Kansas City music all-stars (including Radkey), they will pay their respects to the Clash's Combat Rock album.
Leading up to the midnight Clash tribute, Making Movies will perform a set of songs from its acclaimed Ameri'kana album. Also on the bill: Wick & The Ticks, DJ Thundecutz, and performances by the best of Kansas City's drag performers. David Wayne Reed hosts. Show time is 9 p.m. Tickets are $22 and $27.