This week's roster of notable shows includes a country star on a holiday tour, one of the world's biggest pop stars and two performers best known for their super-group memberships who are out on solo tours.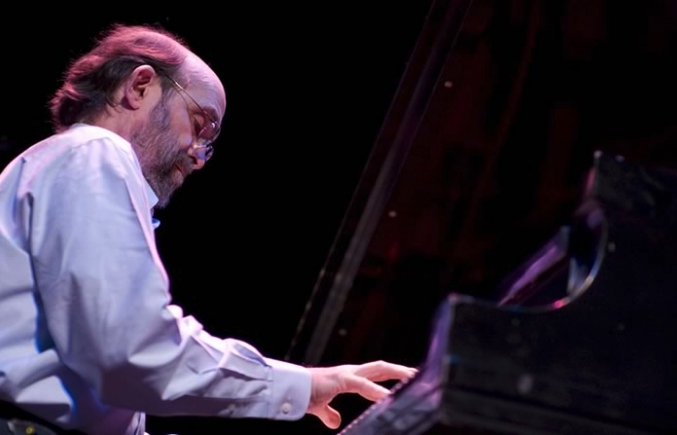 Dec. 12 in Helzberg Hall at the Kaufmann Center for the Performing Arts: George Winston
Since 1980, Winston has been a highly popular solo piano artist, issuing more than two dozen studio albums, EPs and soundtracks, including the stellar tribute to one of his heroes and influences, Linus and Lucy—The Music of Vince Guaraldi. Seven of his recordings have gone either platinum (1 million sold) or gold (500,000). Winston has released several seasonal-themed music, including the bucolic December, his only multi-platinum album. Expect to hear some of that when he stops by Helzberg Hall on Wednesday.
The show will also benefit Kansas City food banks, so attendees are encouraged to bring a donations of canned food and drop them into collection baskets at the entrances.
Show time is 7 p.m. Tickets are $35.50 to $65.50.
Dec. 12 at Liberty Hall in Lawrence: Hot Tuna Acoustic
Founding members Jorma Kaukonen and Jack Casady are out on the road, spinning acoustic versions of Hot Tuna tunes, like Sleep Song and Things That Might Have Been, and a small slew of covers, including of Kaukonen solo material, songs by the Rev. Gary Davis and the occasional Jefferson Airplane song.
Show time is 8 p.m.Tickets are $45 and $99.
Dec. 15 at The Brick: The Grand Marquis with Amy Farrand & The Like
This is a perfect match of two Kansas City bands. The Grand Marquis are a dynamic, award-winning horn-based roots/swing orchestra. From the Boston Blues Review: "Completely infectious … It begs to be played out loud. It begs to be danced to."
Amy Farrand & The Like are a full-throttle rock-and-soul ensemble. Both bands deliver heavy, irresistible dance grooves.  You will move and be moved. Show time is 9 p.m. Admission to the Grand Marquis/Amy Farrand show is $10.
Dec. 14 and 15 at Knuckleheads: Tab Benoit with the Whiskey Bayou Revue
Benoit grew up in Houma, Louisiana, about 90 minutes from Baton Rouge, in the heart of the Bayou, amid its rich music heritage.
By the time he was 20, the guitar virtuoso was performing in bars and clubs from Baton Rouge to New Orleans, gradually becoming one of its brightest stars and developing his trademark style of soulful blues lacquered with a thick Cajun accent.
Benoit comes to Knuckleheads on December 14 and 15 with the Whiskey Bayou Revue featuring Damon Fowler and Eric Johanson.
Show times are 8 p.m. Friday, 8:30 p.m. Saturday.

Dec. 16 at the Arvest Bank Theater at the Midland: Brett Young with Tyler Rich and Rachel Wammack
Modern country fans: This show's for you.
Brett Young is a native of southern California. When an elbow injury derailed his hopes for a professional baseball career, Young started writing songs and performing. He would eventually move to Nashville and sign with Big Machine Records, former home of Taylor Swift. He released his self-titled debut in February 2017, and four of its singles broke into the Top 5 on the country charts. His second album, Ticket to L.A., is due to be released this month.
Tyler Rich is also a native Californian who moved to Nashville to launch his country music career. In September, he released a self-titled EP that included the single The Difference, which cracked the Top 40 on the country charts.
Rachel Wammack is a native of Muscle Shoals, Ala., who released her debut EP on RCA Records Nashville in April. Rolling Stone Country recently named her "One of 10 Country Artists You Should Know," recommending her to fans of Adele, Faith Hill, and Sara Bareilles.
Show time is 7:30 p.m. Advance tickets are $29.50 to $50.

FREE SHOWS TO KNOW ABOUT
No covers, no tickets, no admission charge, no kidding.
 The Creighton Organization, Dec. 12 at The Ship: David Creighton hauls his Hammond B3 and his stellar band down to the West Bottoms for an evening of groovy, taproot soul.
Green Lady Lounge/Black Dolphin, Dec. 13: Three great performances to choose from: The Chris Hazelton Trio performs in the Lounge at 6 p.m.; Sons of Brasil perform at the Dolphin at 9 p.m.; and the Stephen Martin Trio performs in the Lounge at 10:30 p.m.
 Lorna Kay's One Night Stand, Dec. 18 at The Ship: Lauren Krum, Fritz Hutchinson and band deliver pure, unvarnished classic country.
 Bassmas, Dec. 22 at RecordBar: Do you play an electric or upright bass or know someone who does? Come down to RecordBar around 5 p.m. and join in the all-bass frenzy, organized by bassist supreme Johnny Hamil. All skill levels welcome. Register at kcbassworkshop.com
Molly Hammer and Joe Cartwright, Dec. 29 at Green Lady Lounge: Hammer is one of Kansas City's finest jazz singers, and Cartwright is one of its most heralded pianists.