This week's list of recommended shows includes an annual fundraiser for a foundation that helps amputees afford prosthetic limbs, an all-star country trio from Texas, and an eclectic classic-country/rock/hair-metal fest.

Nov. 7 at Knuckleheads Saloon: The Flatlanders
 This super-trio features three revered troubadours from Texas: Jimmie Dale Gilmore (Amarillo), Joe Ely (Lubbock), and Butch Hancock (Lubbock). All three are standout solo artists; together they are even more transcendent.
Founded in 1972, the Flatlanders initially couldn't generate much traction in the music world: From 1972-1990, they released only two full-lengths, neither of which made the slightest wave on any charts.
Their third album, Now Again, breached the Top 20 of the country charts. It was released in 2002, after all three had firmly established themselves as solo artists. Subsequent albums would crack the Top 40.
In a review of 2009's Hills and Valleys, NPR captured the Flatlanders' spirit:  "The trio spent relentless hours putting together this eight-tracked album, and the result is filled with acoustic folk-rock energy, carefully crafted melodies, and lyrical tales. Despite their distinctly individual approaches to songwriting, their friendship of 40 years has established an incredible sense of cohesion that can only be understood by listening to their music."
Show time is 8 p.m. Tickets are $30 to $45.

Nov. 9 at the Uptown Theater: Jason Sudeikis and Friends present Thundergong!
 Steps of Faith Foundation was co-founded by Billy Brimblecom Jr., a Kansas City musician and actor who lost a leg to Ewing's Sarcoma in 2005. He was able to afford his first prosthetic limb thanks to a series of fundraisers, but the cost–$30,000—made him aware of the expense that uninsured or underinsured amputees are not able to afford.
Thundergong!, which started in 2017, is one of the foundation's biggest fundraisers. Last year's show raised nearly $280,000.
Former Saturday Night Live cast member Jason Sudeikis, a longtime friend of Brimblecom's, has hosted each, headlining casts of stars that have included Chance the Rapper, Ben Harper, Wynona Judd, and Tech N9ne.
This year's lineup includes Sudeikis, fellow SNL alums Will Forte and Fred Armisen, Wynonna Judd, the Get Up Kids, Madisen Ward plus the house band, Summer Breeze, a yacht-rock tribute troupe from Kansas City, for which Brimblecom is the drummer.
Previous shows have been a three-hour plus music/comedy bonanza. Expect the same this year, plus the satisfaction of knowing your ticket costs went to a cause that significantly changes the lives of its beneficiaries.
 Show time is 8 p.m. Tickets start at $55 (and are going fast).

Nov. 10 at The Truman: Bishop Briggs
She was born Sarah McLaughlin, but she sounds nothing like the Canadian chanteuse with the same-sounding  name.
Briggs is a native Londoner born to parents from the Scottish town of Bishopbriggs. She spent much of her childhood in Hong Kong, then moved to Los Angeles to start a career in music.
After her two EPs generated interest online and elsewhere, she signed to Island Records. In 2018, she released her first full-length, Church of Scars. It, too, received a big response. River, its first single, has amassed nearly 200 million streams on Spotify. All of her recordings have reached nearly half a billion streams combined.
 Slant magazine praised Scars' "series of gothic-soul dirges and blues-inflected pop." As a live performer, one critic called Briggs the "most bubbly and lively emo-alternative artist in today's music industry."
Show time is 8 p.m. Tickets are $27.50 to $32.

Nov. 10 at Silverstein Eye Centers Arena: Bret Michaels with Night Ranger, Lita Ford, and Joe Diffie
 It's worth noting that this show is being presented by three radio stations: our city's biggest classic-rock station, its biggest hard-rock station, and its longest-lasting classic country station.
It makes sense. This diverse lineup is headlined by Bret Michaels, frontman for Poison, hair-metal heroes who sold nearly 15 million records In the U.S from the mid-1980s to the mid-1990s. In that same time, they put six singles in the Top 10 of the Billboard 200 chart. His set lists have been loaded with those Poison hits plus a few covers, including Skynyrd's Sweet Home Alabama.
 This version of Night Ranger includes three founding members—lead vocalist and drummer Kelly Keagy, lead guitarist Brad Gillis, and bassist Jack Blades. Their biggest moment came in 1984, with the release of the album Midnight Madness, a collection of arena-rock and pop-metal songs that included their biggest hit, Sister Christian, one of the best power ballads ever.
Lita Ford was a member of teen punk heroines The Runaways (with Joan Jett). When they broke up in 1979, she launched a solo career, swerving from punk to heavy metal. Her most successful album was her third, Lita, released in 1988, which sold more than 1 million copies and produced two Top 20 singles: Kiss Me Deadly and Close My Eyes Forever, a duet with Ozzy Osbourne.
Joe Diffie was a chart-topping country star in the early 1990s. From 1990 to 1995, he put 13 songs into the Top 5 of the country charts, including Home and If the Devil Danced (In Empty Pockets).
Starting time for this genre-hopping fest is 7 p.m. Tickets start at $28.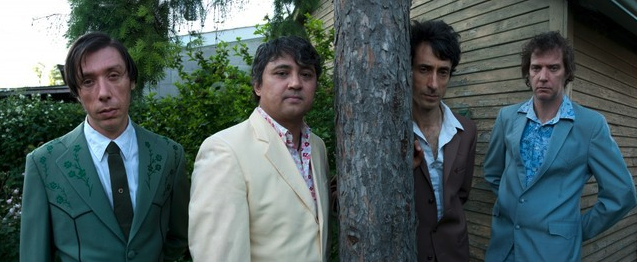 Nov. 12 at Knuckleheads Saloon: The Sadies
 A quartet from Toronto founded in 1994, the Sadies traffic in an array of music styles. From their Bloodshot Records bio: "We like The Sadies because they can play anything better than anyone else. Surf, cool cowboy psychedelia, electric bluegrass, spaghetti Western soundscapes, garage punk, whatever."
Country and alt-country is their foundation, however—enough so that they have been hired to backup or collaborate with artists like Neko Case, John Doe, and Jon Langford.
Recent set lists have comprised more than 30 songs, many from the Northern Passages (2017) and Darker Circles (2010) albums. They've also tossed in covers of songs by Elvis, the Ramones, and Bob Wills.
 Show time is 8 p.m. Tickets are $15.
 OTHER SHOWS TO KNOW ABOUT
The Bottle Rockets, Nov. 9 at Knuckleheads Saloon: Twenty-seven years after its founding, this Festus, Mo., band with early connections to Uncle Tupelo remains a stalwart in the world of alt-country/Heartland rock.
Angel Olsen, Nov. 10 at the Granada: She is as much a songstress as she is a songbird.
Indigo Girls, Nov. 19 at the Kauffman Center for the Performing Arts: They like Kansas City: This will be their fourth concert here since July 2016.  Each time, big crowds show up, and the ladies deliver a great show.
Straight No Chaser, Dec. 12 at the Arvest Bank Theatre at the Midland: Because they are one of the best and most successful a cappella troupes ever.
Jackyl, Dec. 21 at the Arvest Bank Theatre at the Midland: Because Jesse James Dupree is still piloting this Southern metal/rock band.