This week's recommendations included a Hall of Fame virtuoso, neo-soul royalty, a local jazz hero and a classic-rock band in the throes of personnel turmoil.

Oct. 18 at Knuckleheads: Booker T. Jones
Jones is best-known as the leader of Booker T. & the MGs and the early 1960s hit Green Onions. But in his own right, he is an elite musician—a virtuoso on the Hammond B3 organ, a member of several music hall of fames, including the Rock and Roll Hall of Fame, and the recipient of a Grammy Career Achievement Award. He is coming to Knuckleheads on Thursday. Atlantic Express, a Motown/soul/R&B revival orchestra, opens at 8 p.m.

Oct. 18 at the Sprint Center: Fleetwood Mac
The story surrounding this tour continues to make news. Lindsay Buckingham, who was fired from the band, is suing his former bandmates for breach of contract, among other grounds. Nonetheless, the tour goes on, with Mike Campbell, former lead guitarist for Tom Petty's Heartbreakers, and multi-instrumentalist and vocalist Neil Finn (Crowded House, Split Enz) filling in for Buckingham. The new-fangled Mac isn't ignoring the Buckingham tunes. Recent set lists have included Go Your Own Way, Second Hand News and The Chain plus the Crowded House hit Dream It's Over and Petty's Free Fallin'.
Show time is 8 p.m. Tickets are $66 to $199.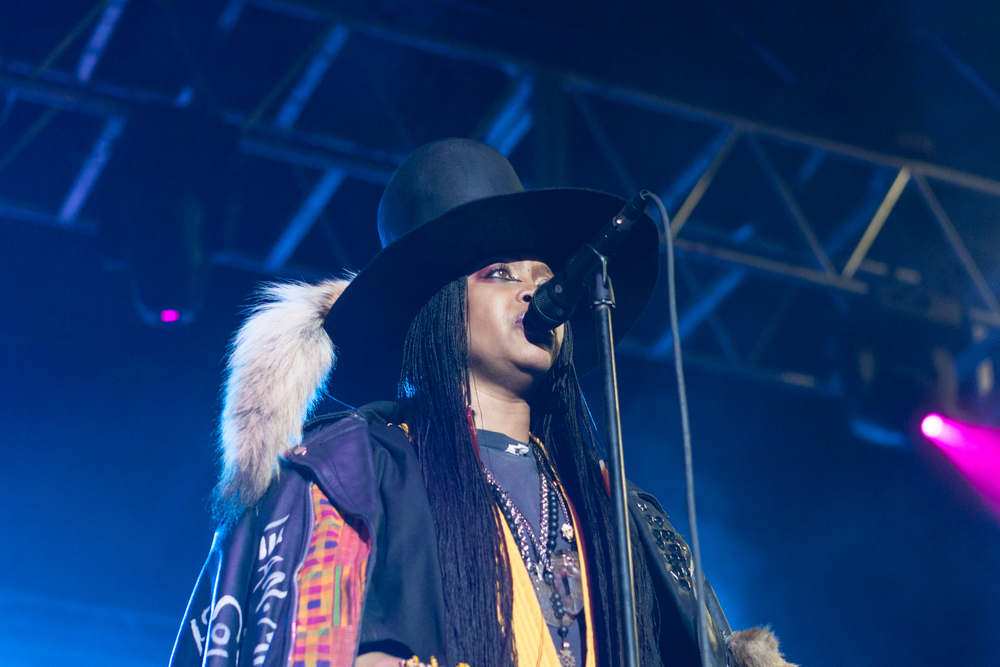 Oct. 19 at the Sprint Center: Erykah Badu
She hasn't toured or released an album since 2010, so Erykah Badu's return to the music world should be celebrated. One of the queens of the neo-soul movement that arose early in the millennium, Badu is still a riveting live performer and her debut album, Baduizm, remains a timeless testimony to her talent and influence. This will be her first performance in Kansas City since 2005, when she performed at the Midland theater.
Show time is 8 p.m. Tickets are $46 to $123.
Oct. 21 at RecordBar: Logan Richardson
Richardson, 38, is a homegrown jazz saxophonist who has made a big name for himself internationally in the world of jazz. The graduate of the Paseo Academy of Fine and Performing Arts has released five albums as a bandleader, including his most recent, Blues People, and Shift, released in 2015, which includes performances from guitarist and Lee's Summit native Pat Metheny and fellow jazz titans pianist Jason Moran, bassist Harish Raghavan and the drummer Nasheet Waits. The New York Times once heralded Richardson for his "soft, languid tone that encompasses 20 years of full-service new saxophone improvising — precise, abstract, funky, noisy and sentimental, within the same tune."
Richardson performs Sunday at the RecordBar as part of Jeff Harshbarger's Alternative Jazz Series. Show time is 8 p.m. Tickets to the 18-and-older show are $10.

This week at The Ship, 1217 Union Ave.
Every week, this bar/restaurant in the West Bottoms hosts prime music events, typically for free or a nominal cover charge. This week's lineup includes two evenings showcasing ace Hammond B3 players, an evening of DJs spinning rare/vintage funk, R&B and soul records, a Latin-Cuban jazz ensemble plus Honky-Tonk Tuesday, featuring Slim Hanson and the Poor Choices. Visit the website at theshipkc.com.
OTHER SHOWS TO KNOW ABOUT
Little River Band, Nov. 9 at the Uptown Theater: Back in the late 1980s this Australian band was a leading exporter of smooth rock/yacht rock, pounding the charts with songs like Reminiscing and Lonesome Loser.
The Greeting Committee, Nov. 10 at the Truman: This Kansas City indie-pop/rock band was founded in 2014 among fellow students at in the Blue Valley School District. They have all since graduated, as has the band—onto bigger and better things.
Twenty One Pilots, Nov. 21 at the Sprint Center: This duo from Columbus, Ohio, has become a big draw among fans who dig their blend of hip-hop, electronica, electro-pop, pop, and other genres.
Justin Timberlake, Dec. 10 at the Sprint Center: Just a reminder that one of the best entertainers in popular music is returning to town right before Christmas.
Making Movies with Calvin Arsenia, Dec. 31 at the Truman: The end of the year is stacked with must-see shows, including some farewell shows from some beloved KC bands. This show, however, will be a celebration of the meeting of eminent artistic minds. Unless you'll be at another great show, don't miss this one.