The music calendar is still emerging from its holiday hibernation, but there are still plenty of shows to choose from. This week's list includes the king of juke-joint swing, a jazz flutist and a funky guitar wizard.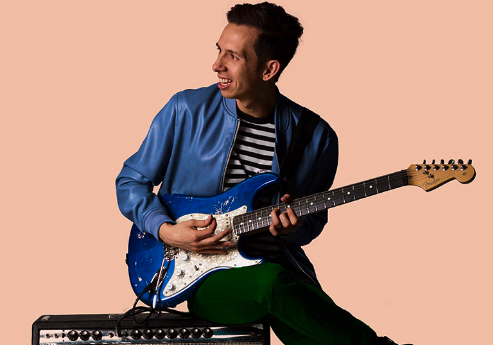 Jan. 11 at RecordBar: Cory Wong
 Wong is a regular collaborator and touring member (guitar) with Vulfpeck, a quartet from Ann Arbor, Mich., that takes funk music into interesting and minimalist terrains.
On his own, Wong plays hard and fast with jazzy rhythms and funky grooves, getting lively and progressive without nooding or jamming over-indulgently.  During his manic live shows, Wong has been known to school his audiences in music theory, like how to count a 25/8 time signature: by rapidly chanting "Give me my Chipotle, give me my Chipotle, I want chips, I want guac, give me my Chipotle," followed by a single clap.
 The Kansas City band Pink Royal opens at 9 p.m. Tickets to the 18-and-older show are $20.
Jan. 11 at the Bottleneck in Lawrence: Wayne "The Train" Hancock
Hancock is a native Texan who takes rockabilly into a variety of dimensions, applying traits from big band jazz, traditional country and Western swing—juke-joint swing, he calls it—all performed in a commanding vocal style that strongly resembles that of Hank Williams Sr. Since 1995, the former U.S. Marine has released a dozen albums, all produced by fellow Texan and multi-instrumentalist (and father of the Dixie Chicks' Natalie Maines) Lloyd Maines.
The Douglas County Quintet opens at 8 p.m. Tickets to the all-ages show are $15.
Jan. 12 at the Riot Room: Captiva
This Lawrence ensemble calls itself an "alt-rock band," a generic label that doesn't quite capture its ability to write groovy, funky and very danceable and energetic rock tunes—"funky folk meets indie-rap," they once described it
They're headlining a bill at the Riot Room on Saturday with The UK's, a rock/punk quartet from Kansas City, and Loose Loose, an R&B fusion band from Columbia, Mo.
Show time is 8 p.m.  Tickets are $8 and $10.
Jan. 12 at Black Dolphin: The Amber Underwood Project
Underwood is more than just a gifted jazz singer. She is also a virtuoso on the flute—her nickname is Flutienastiness—plus a band director and music educator in the Kansas City public school system. With the Amber Underwood Project, she showcases the flute as a bona fide solo instrument amid her unique, modern blend of smooth jazz and R&B.
Show time is 10 p.m. Admission is free.

Jan . 15 at the Phoenix: Mark Lowrey's Open Jam
 Lowrey has long been a mainstay and a provocateur in the Kansas City jazz community, a gifted pianist/keyboardist who regularly dabbles in a variety of genres and collaborates with a host of fellow music adventurists. His weekly jams at the Phoenix are guaranteed to make your Tuesday night a memorable one.
Show time is 7 p.m. Admission is free.
FIVE OTHER SHOWS TO KNOW ABOUT
Sam Bush at Knuckleheads, Jan. 18: A former member of the revered New Grass Revival, Bush is best-known for his virtuosity on the mandolin, but he is a stellar multi-instrumentalist as well and a pioneer in the world of progressive bluegrass.
2 Cellos at Sprint Center, Feb. 19: The duo from Zagreb, Croatia, applies its deep background in classical and chamber music to its love for rock and roll.
Kurt Vile and the Violators, Feb. 27 at the Truman: Over the course of 10 years and eight studio albums, Vile has asserted himself as one of the more inventive songwriters in the worlds of indie-folk and indie-rock. The Canadian roots band The Sadies opens.
I'm With Her, Feb. 27 at the Folly Theater: In 2018, the trio of Sara Watkins, Sarah Jarosz and Aiofe O'Donovan released their first full-length, See You Around, a collection of roots/folk music that showcases the ladies' stellar songwriting and sparkling harmonies.
Keller Williams' PettyGrass featuring the Hillbenders, March 22 at Knuckleheads: Williams is renowned in the jam-band world for his fusion of bluegrass, reggae, folk and rock. With the Hillbenders in PettyGrass, he gives the music of Tom Petty and the Heartbrakers,  a hard and pure bluegrass makeover.