A seminal California punk band, '80s synth-pop legends, and a guitar prodigy are just three of several big shows coming to town this week. Also, Aug. 1 will no doubt present a lot of people with tough choices. Here's a look ahead.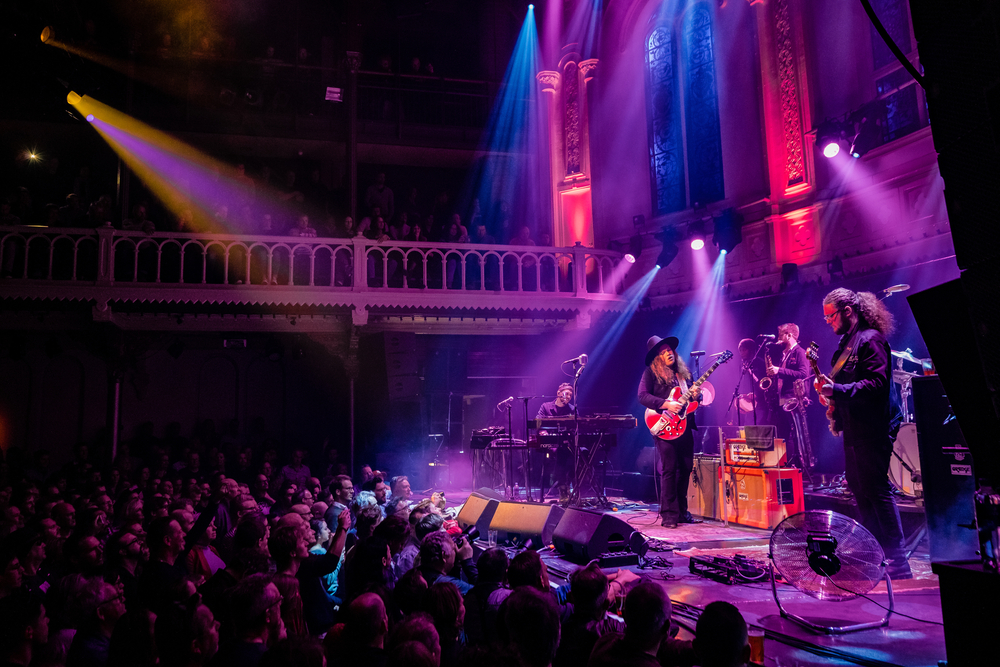 The Marcus King Band with Sebastian Lane, Aug. 1 at Knuckleheads
Marcus King is a guitar prodigy and progeny.
King's grandfather, Bill King, was a country guitarist who played with many country greats, including Johnny Cash. Marcus' father, Marvin King,  became a well-known blues artist in the 1980s, signing recording deals with the Capitol and Polydor labels.
Marvin also introduced Marcus to the guitar and to the music of blues and classic rock artists like B.B. King, Stevie Ray Vaughan, the Allman Brothers and Johnny Winter, which have greatly influenced his son's music.
By the time he was 13, Marcus was performing live with his dad and impressing the elders all around him. He eventually came under the mentorship of Warren Haynes, guitarist for the Allman Brothers and Gov't Mule, and in 2015, at the age of 19, King released "Soul Insight" on Haynes' Evil Teen label.
A year later, he moved to Fantasy Records and released "The Marcus King Band," which Haynes produced. Of King, now 22 years old, Haynes says: "He's very much influenced by the blues, but also by jazz, rock, and soul music. You can hear the influences, but it all comes through him in his own unique way."
The opener is another progeny/prodigy: Sebastian Lane, son of blues guitarist Jimmy D. Lane and grandson of Chicago blues legend Jimmy Rogers. Show time is 8 p.m. Tickets are $22.50 to $60.50 and are available at knuckleheadskc.com.
Band of Horses and Bonny Doon, Aug. 1 at Crossroads KC
 Band of Horses is from Seattle, but its sound is anything but grunge—a mix of folk, indie-rock, Americana. They have endured a slew of personnel changes, save for multi-instrumentalist Ben Bridwell, who founded the band in 2004. Over the course of five albums, they have sustained a loyal following and earned plenty of praise, including a Grammy nomination in the best alternative music category for 2010's "Infinte Arms."  With Bonny Doon, a country-rock/roots band from Detroit.
Show time is 8 p.m. Tickets to the all-ages show are $36 to $86.50 and available at crossroadskc.com.
Ha Ha Tonka, the Grisly Hand and Rachel Mallin and the Wild Type, Aug. 3 at Knuckleheads.
Fans of "No Reservations," the food/travel show hosted by the late Anthony Bourdain, might recognize the name Ha Ha Tonka. The band was featured in an episode of "No Reservations" in 2011, when Bourdain visited the Ozarks, the band's native region (they're from Springfield) and home to Ha Ha Tonka State Park.
In 2017, on Bloodshot Records, the band released "Heart-Shaped Mountain," the long-awaited follow-up to their debut full-length "Lessons," released in 2013. Their sound arouses a variety of comparisons and compliments. No Depression magazine praised "their insane ability to craft hook-heavy, melodic, pop-leaning roots rock." NPR writes: "Ha Ha Tonka busts out of the gates like classic Replacements on an Ozark bender."
They will be joined by two stellar Kansas City bands. The Grisly Hand is a six-piece that issues an appealing blend of rock, soul, country and pop, all of it rife with sweet melodies and keen harmonies. Rachel Mallin & the Wild Type are highly recommended for anyone who appreciates pop and rock songs with smart lyrics and clever melodic turns.
Show time is 8:30 p.m. Tickets are $17.50 at knuckleheadskc.com
FIVE MORE SHOWS TO KNOW ABOUT
Toad the Wet Sprocket, Aug. 4 at the Truman
Their name comes from a "Monty Python" skit; their music comes from a more traditional place, the kind that produces glossy, mainstream alternative rock/pop for adults.
Dashboard Confessional, Aug. 4 at the Uptown Theater
Chris Carrabba has been at it for nearly 20 years now, churning out thoughtful emo-based balladry that plumbs dark and desperate caverns in search of the light beyond. With power-punk stalwarts All Time Low.
Alice Cooper, Aug. 6 at the Kauffman Center for the Performing Arts: The Godfather of
Shock hauls his classic mock-horror show, guillotine and all, to the toniest venue in the city.
Drake and Migos, Aug. 10 at the Sprint Center
This show was initially scheduled for July 31. But at the last minute, the tour was postponed and reorganized and will now open in Kansas City on Aug. 10. Consider it the biggest hip-hop tour of the year. Tickets for the July 31 date will be honored.
Michael McDonald, Aug. 12 at the Lied Center
The prince of yacht rock brings his gilded voice and parcel of soft-rock classics to Lawrence.