Shawn Mendes' first performance in Kansas City was, by all measures, a rousing success.
The Sprint Center was full—as in Taylor Swift full. Or Ed Sheeran or Justin Timberlake full. And for nearly two hours, the native Canadian, who turns 21 on Aug. 8, kept the manic crowd of 15,000-plus under his spell, unleashing a molten torrent of pop, rock, and soul ballads and anthems that showcased his agile voice, his instrumental skills, and his honed upper body, which he flexed and flashed all night.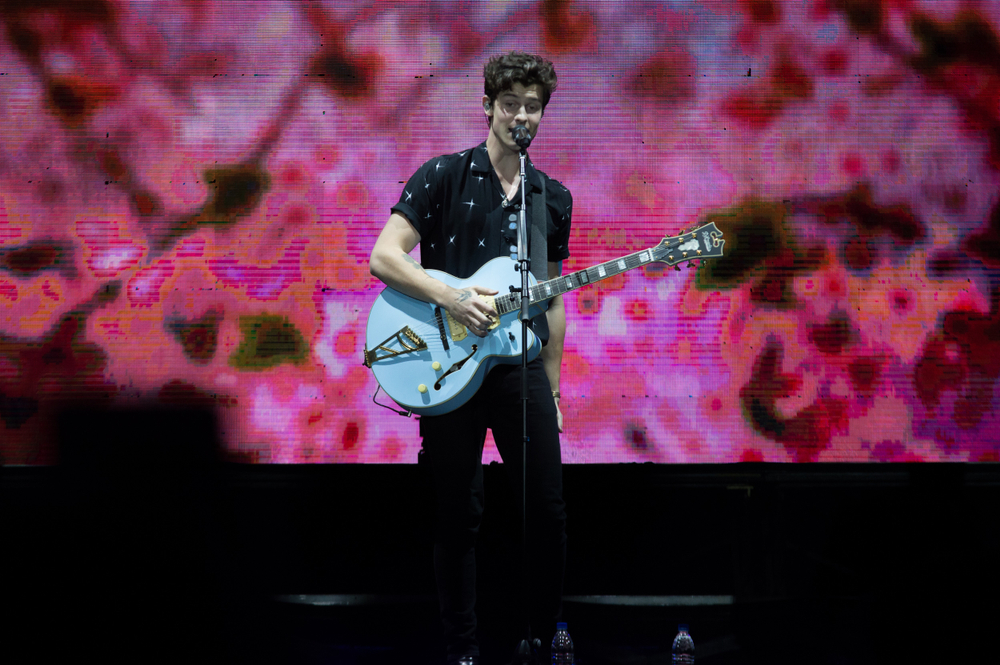 Mendes' meteoric rise in the pop-music universe started in 2013, when he was a teen uploading six-second videos of himself covering pop idols like Sheeran or fellow Canadian Justin Bieber onto Vine, a now-disabled short-form video app.
Those videos caught the attention of the music industry, and within two years, Mendes had released an EP and a full-length album. By 2016, he'd launched a world tour.
His formula is one we've seen before—like, from Bieber, who followed the same strategy but via YouTube: Parlay viral online attention into an opportunity to record your own songs, which appeal mostly to girls and young women (and, many times, their mothers).  Also: sex appeal matters. A lot.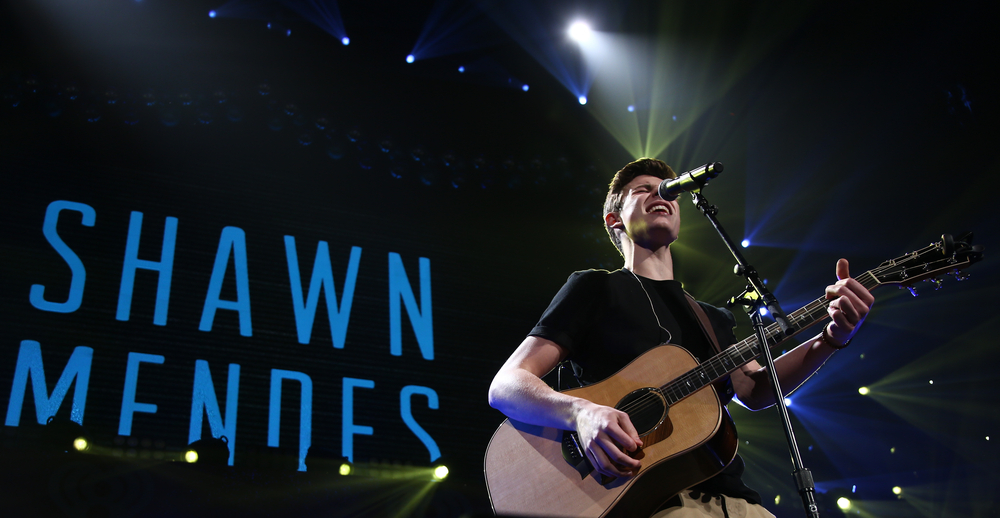 On the Scale of Canadian Hunks Named Justin, Shawn Mendes' boyish looks fall closer to Prime Minister Trudeau's rather than Bieber's: He's tall and lean with a flashy smile and a frothy mane of dark, curly-ish bed-head hair, and he knows how to charm a big room. And, as he made obvious, he hits the weight room regularly.
Thus Friday night's crowd was predominantly one gender: girls and women, from middle-schoolers and college students to adult women, some of them mothers with daughters, but others who attended solo.
He arrived on stage several moments after his four-piece band had taken their places, as if he'd stopped along the way to knock off another set of pull-ups and push-ups to keep his guns loaded.
He sported a sleeveless top/vest and skinny jeans. By show's end, he'd discarded the top for the underlying white tank top, which ignited a hurricane of screams and squeals.
Mendes rewarded their adoration by feeding them a steady, 100-minute-plus diet of just what they'd ordered, starting with his opener, Lost In Japan. It'sa track from Sean Mendes, his third full-length, released in 2018, which was the showcase album this evening.
The song is a groovy, danceable mix of pop and funk with lyrics that are romantic and slightly suggestive (he's offering to travel halfway around the world for a hookup). That's another Mendes trick or trait: Sex is mostly implied, through metaphor or innuendo, but the message gets through directly.
From there, he bounced to a track from his Illuminate album, There Is Nothing Holding Me Back, a pop explosion rife with melody and groove in which Mendes expresses infatuation for someone who disarms his inhibitions and unleashes his libidinous impulses.
Then came Nervous, another waft of bouncy pop/R&B/funk that aims for Prince (or Michael Jackson) but falls short, closer to JT. It showcased Mendes' A-grade falsetto, which he employed excessively but at the expense of his steady, warm alto.
This crowd seemed to know every lyric to every song, even Señorita, a track he released not even a month ago as a duet with Cuban-American pop star Camila Cabello (and his purported girlfriend).  Mendes went to town on the piano during that one, à la Billy Joel or Elton John
Likewise, If I Can't Have You, released in May, was greeted like a long-time favorite.
And so it went: he wound up his band and himself and kept the salvo of hits flowing. He performed some solo on acoustic guitar or piano. He performed some—including a soulful down-tempo  remake of I Wanna Dance With Somebody (Who Loves Me)— on a satellite stage at the back of the arena, where a Steinway awaited him. He also flashed some chops on the electric guitar several times, especially during Why, which veered unexpectedly into metal terrain.

The main stage was dominated by a large, round video screen that, at times, looked like an enormous eyeball. It broadcast an array of images and footage. But the dominant visual element was the five-story flourescent white rose that erupted from the scenario surrounding the satellite stage—another nod to old-school romance.
Before the show, attendants distributed remote-controlled strobe bracelets that would glow and pulse in unison all night, turning the arena into a vast constellation of flickering stars. During Where Were You In The Morning, they glowed blood orange, complementing the seaside scene of a setting sun radiating on the huge video screen.
Three-plus albums into a career that is barely four years old, Mendes is writing and co-writing songs about a rather small slice of young life from a (so far) limited perspective. And it shows in his music. Individually, each song packs a punch or an allure, thanks to his infusions of choice: Bieber, JT, John Mayer among them. But over the course of two hours and two dozen songs, a sense of sameness begins to set in.
Yet the mood and the vibe did not flag for a moment. The ebullience that filled the arena at the start of Lost In Japan was still there during other highlights: Bad Reputation, another track with some hard-rock in its spine; Never Be Alone, a catchy anthem bearing faint echoes of U2; and Like To Be With You, a jaunty tune in which Mendes shows off his acoustic guitar skills (think Lindsey Buckinghanm in Never Going Back Again).
And it was there nearly two hours later, when, after a brief absence, Mendes emerged for the encore.
At the piano, he performed several measures of Coldplay's Fix You, which made sense: There is some Chris Martin and Coldplay in his music DNA. As their bracelets glowed like votive candles, the crowd turned it into a widespread sing-along hymn, much like a large chorale version of John Lennon's Imagine.
He fused that with one of his own, the rock-fortified In My Blood, an anthem about mental health and suicidal ideation: Sometimes I feel like giving up / But I just can't / It isn't in my blood.
It was an appropriate end to a evening that was a celebration and an ordination of a skyrocketing pop star, a guy who has no surrender in his blood, only the will and talent to keep moving forward, swiftly and successfully.
SET LIST: Lost In Japan; There's Nothing Holdin' Me Back; Nervous; Stitches; Señorita; Bad Reputation; Never Be Alone; I Wanna Dance with Somebody (Who Loves Me); medley: Because I Had You/A Little Too Much/Patience/When You're Ready/Life of the Party; Like to Be You; Ruin; Treat You Better; Particular Taste; Where Were You in the Morning?; Fallin' All in You; Youth; If I Can't Have You; Why; Mercy; Fix You; In My Blood