Carlos Santana was in a celebratory mood Thursday night, for a few reasons.

His Supernatural Tour commemorates the 20th anniversary of his most commercially successful album. Concurrently, next month will be the 50th anniversary of Woodstock, the three-day mud-bathed peace fest that introduced to the music world Santana, the musician and the band, and their inimitable and groundbreaking fusion of Latin music with jazz and various strains of rock.
Thursday night, the Rock and Roll Hall of Fame member nearly sold out the Sprint Center, drawing a crowd that was well in the mood to help him celebrate. Throughout the show, his fans joyously sang along and danced to his jam-heavy two-hour-plus set.
The evening started with a rousing 75-minute set from another Northern California band, the Doobie Brothers, a stalwart classic-rock ensemble that now comprises three founding or long-time members—Tom Johnston, Patrick Simmons, and John McFee—backed by a five-piece touring band.
The Doobies' set was larded with hits, beginning with the opener, Rockin' Down The Highway, a rollicking guitar anthem from their breakthrough Toulouse Street album, now 47 years old. From there, they bounced to their definitive cover of the Motown classic Take Me In Your Arms (Rock Me A Little While).
Johnston, 70, was in strong vocal form, and his colleagues delivered all the hits—Takin' It To The Streets, Jesus Is Just Alright, Long Train Runnin', China Grove—with enthusiasm, disregarding the hundreds of dozens of times they'd performed them. The two-song encore, Black Water and Listen To The Music, was a highlight of the entire evening.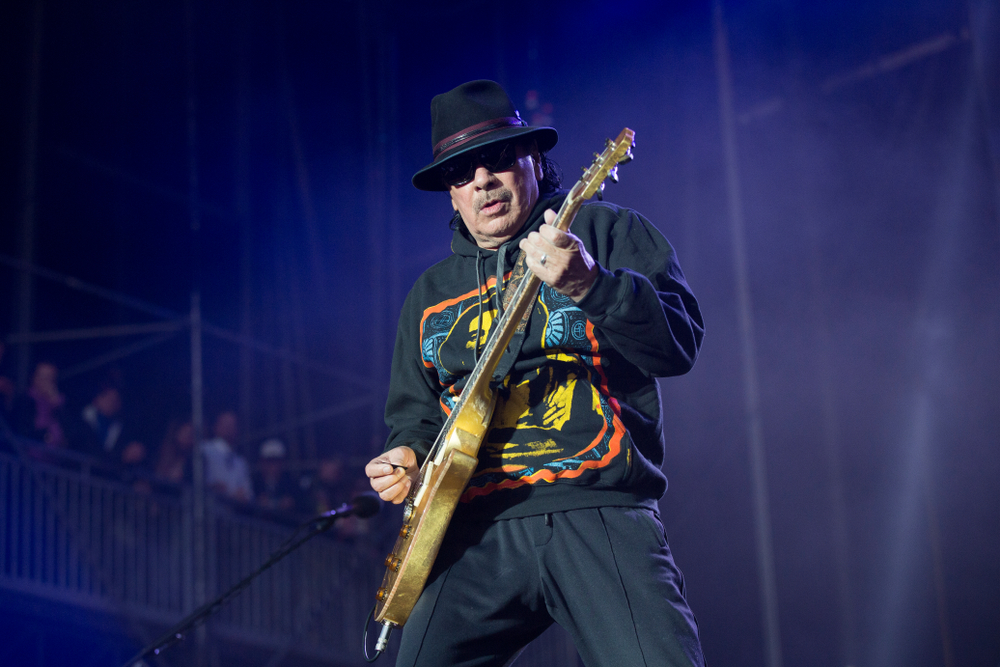 Santana and his hyper-percussive eight-piece touring band (which includes his wife, drummer Cindy Blackman) are touring on Africa Speaks, his 25th studio album, released in June. But they paid it little attention, performing only one of its tracks, Breaking Down The Door.
Instead they honored the album that gave the tour its name. Supernatural isn't Santana's best album, but it is by far his most popular, and the big crowd of 15,000-plus responded enthusiastically to every song: (Da Le) Yaleo, Love Of My Life, Maria Maria, Put Your Lights On, and, of course, Smooth.
 They opened with a Woodstock-era tribute: Soul Sacrifice, an instrumental from the debut Santana album, released in 1969. They followed with two more of its tracks: Jin-Go-La-Ba, and their jocular cover of Evil Ways, which ignited a widespread dance riot and which they fused with a few measures of John Coltrane's A Love Supreme.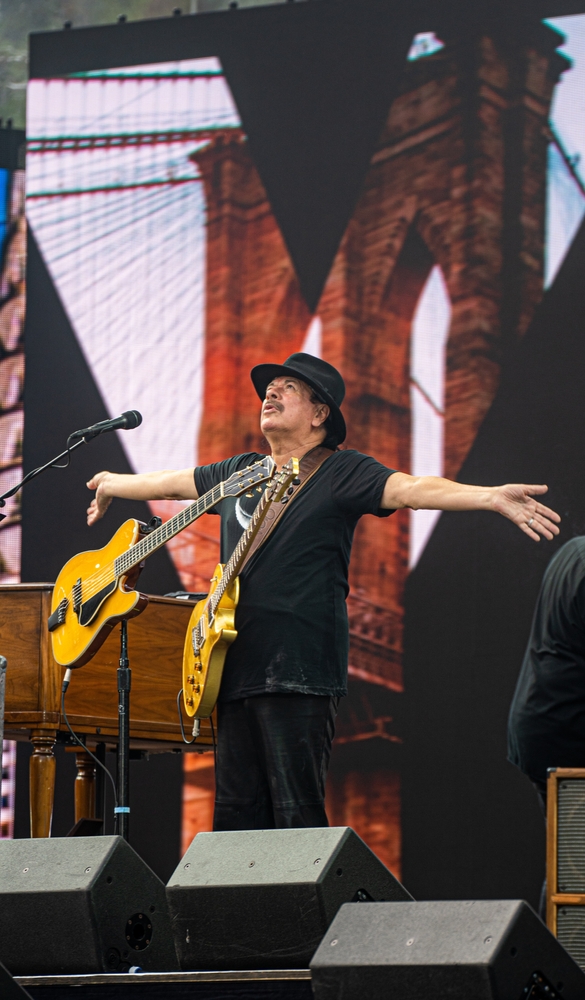 The set was obese with extended jams, showcasing Santana's inimitable tone and phrasing on guitar. He gave his mates ample spotlight, especially Blackman and her fellow percussionists and his trombonist.
Amid the instrumentals, he dropped plenty of favorites and covers. The splicing of She's Not There (The Zombies) with Spill The Wine (War) got a lively response. Other highlights: Black Magic Woman/Gypsy Queen, the timeless cover of Oye Como Va; and the horn-infested Maria Maria.
They closed with a three-song encore, starting with another cover: The Chambers Brothers' Are You Ready. They followed that with his biggest hit, Smooth, which generated the loudest and most manic response of the night.
They ended the evening with a medley that included another Chambers Brothers song, Love Peace and Happiness, which they mashed up with a few measures of Kansas City—a token gift to a big crowd intoxicated on nostalgia, watching a music legend celebrate so many milestones in one night.
SET LISTS
Santana
Soul Sacrifice; Jin-go-lo-ba; Evil Ways/Love Supreme; (Da Le) Yaleo; Put Your Lights On; She's Not There/Spill The Wine/Shotgun; Black Magic Woman/Gypsy Queen; Oye Como Va; Hope You're Feeling Better; Love Of My Life; Breaking Down The Door; Right On/Umi Says; In Search Of Mona Lisa; Maria Maria; Foo Foo; Corazon Espinado/Guajira; Toussaint L'Overture. Encore: Are You Ready; Smooth; September/Love, Peace and Happiness/Kansas City.
Doobie Brothers
Rockin' Down the Highway; Take Me In Your Arms (Rock Me A Little While); Spirit; Ukiah; Clear As The Driven Snow; Cotton Mouth; Takin' It To The Streets; Something Got A Hold On Me; Jesus Is Just Alright; Without You; Long Train Runnin'; China Grove; Black Water; Listen To The Music.