Kansas City got a break back in August when Rod Stewart postponed his show at the Sprint Center. He was suffering a strep throat, so he rescheduled his Aug. 14 show with co-host Cyndi Lauper.
Tuesday night, Stewart and Lauper fulfilled their renewed obligation, and instead of getting an ailing Stewart performing his seventh show in 11 days, as would have been the case in August, the crowd of nearly 10,000 got a Hall of Fame septuagenarian performing for only the second time in nearly three weeks. And it showed.

For almost two hours, a full-throttle Stewart gave his fans the usual career-spanning showcase, one that stopped at nearly every port in his catalog, from his days with Faces to Blood Red Roses, his 30th studio album, released in September. It also included a small slew of covers, which have become Stewart's calling card.
His other calling card: Touring with big-name openers, like Stevie Nicks, who joined him at the Sprint Center in April 2011, and Lauper, who jazzed the crowd with an inspiring 75-minute set that included her most-beloved songs.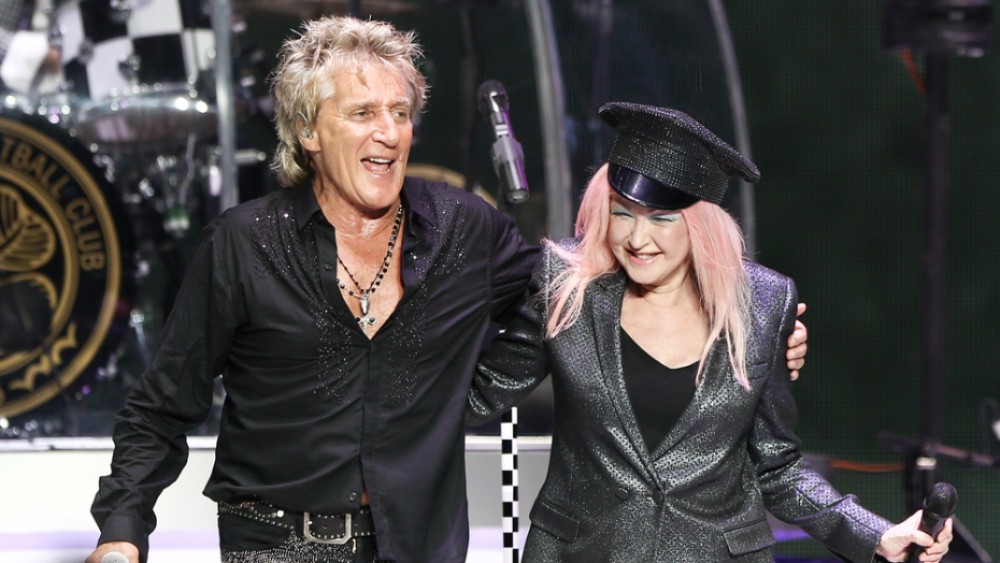 Lauper has little in common with Stewart except for the fountain of hair that springs from her scalp. Yet she proved to be an ideal opening act: a performer with a passel of hits and a neon-bright personality who knows how to rev-up a big crowd.
She opened with the Grammy-winning hit I Drove All Night, then one of her early hits, She Bop, a song that stirred some controversy back in the mid-1980s for its lyrical theme (female masturbation).
She hauled out The Goonies 'R' Good Enough, a synth-pop nugget from The Goonies soundtrack, accompanied by the video that includes a roster of Hall of Fame wrestlers (Rowdy Roddy Piper, the Iron Sheik, Captain Lou Albano, the Fabulous Moolah). And she reprised her lovely, definitive version of Jules Shear's All Through the Night.
During Shine, she left the stage and mingled enthusiastically with her fans and played dulcimer during the timeless ballad Time After Time.
Girls Just Want to Have Fun was rewired into a manifesto: "Fun or equal respect," she preached. The accompanying video showed girls and women holding signs that read: "Girls Just Want to Have FUNdamental rights."
She closed with another lovely, timeless ballad, True Colors, a hymn about finding and expressing your genuine self, something Lauper does in flying colors.
Stewart's set was more of the usual: a parade of fashion, flair and classic-rock hits. He was assisted by a large band that included percussionist Matt O'Connor, a Kansas City native, saxophonist Katja Rieckermann, who wailed into the rafters during the cover of Tom Waits' Downtown Train, and a troupe of backup singers.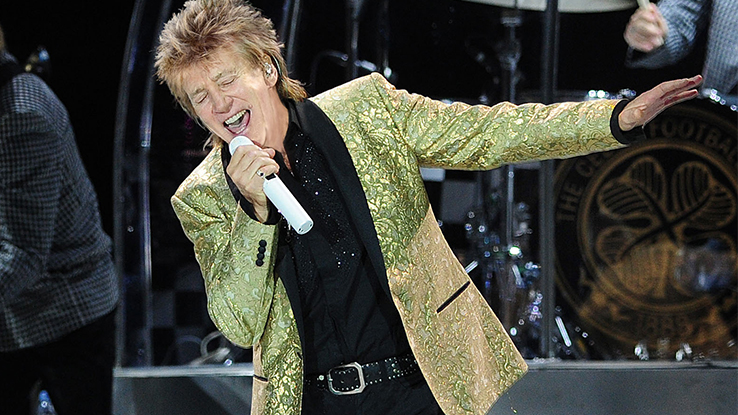 His set list included nearly all the hits and favorites, starting with Infatuation, the opener, then two of his well-known covers, This Old Heart of Mine (Is Weak for You), an Isely Brothers song, and Some Guys Have All the Luck, a Persuaders song.
Like some of his peers, Stewart has aged gracefully. He can still pull off the cock-of-the-walk rock star moves, and he can sing raucous rock songs like Stay With Me as easily as he punts soccer balls into the crowd.
In addition to the hailstorm of soccer balls, there was a balloon drop. And there was Maggie May, his greatest hit ever, which prompted the loudest of several widespread sing-alongs. He was accompanied by a harpist during The First Cut Is The Deepest, and his backup vocalists showed off some fine dance moves during his rendition of Tina Turner's Nutbush City Limits.
He ended his first set with Do Ya Think I'm Sexy?, a question affirmed by nearly everyone in the place, then returned for the mournful Sailing, a song about deep yearning that is his usual valediction.
But perhaps as compensation for postponing the August show, Stewart had a surprise finish in store: a cover of Chuck Berry's Sweet Little Rock and Roller, a young rocker's song that he handled with ease, proof that he is feeling fit and well and capable of leaving a big crowd wanting more and more.
SET LISTS
 ROD STEWART: Infatuation; This Old Heart of Mine (Is Weak for You); Some Guys Have All the Luck; Young Turks; Tonight's the Night (Gonna Be Alright); Forever Young; Rhythm of My Heart; Maggie May; Didn't I; Look In Her Eyes; Downtown Train; Reason to Believe; The First Cut Is The Deepest; You're In My Heart; Grace; Have I Told You Lately; Nutbush City Limits; Stay With Me; Do Ya Think I'm Sexy? Encore: Sailing; Sweet Little Rock and Roller.
CYNDI LAUPER: I Drove All Night; She Bop; All Through the Night; Hope; The Goonies 'R' Good Enough; When You Were Mine; Money Changes Everything; Shine; Time After Time; Girls Just Want to Have Fun; Not My Father's Son; True Colors.