Rob Thomas is his own discrete brand, no matter the circumstances. Whether leading Matchbox Twenty, the band that made him famous, or fronting an ensemble of ringers as a solo artist, Thomas delivers the reliable goods: a steady feast of white-bread pop infused with over-the-counter doses of R&B and soul.

Saturday night, Thomas rolled his latest solo tour into the Uptown Theater, where a sold-out crowd of more than 1,800 awaited. He brought a seven-piece band that included two backup singers who also provided some occasional light percussion. Throughout the two-hour show, they embellished his paint-by-number tunes with impressive vocal and instrumental décor.
They took the stage to the sounds of David Bowie's Modern Love, a bit of foreshadowing to one of the show's livelier moments.  In April, Thomas released Chip Tooth Smile, his fourth solo studio album, and he would play several of its tracks, including I Love It, which opened the show. It's an innocuous well-crafted blues-laced rock tune with a solid groove but void of daring or surprises.
Thomas, dressed informally in jeans and a black T-shirt extolling NEW YORK CITY, was engaged with his audience all night. Before Lonely No More, he encouraged everyone to put aside their worries and concerns, to tune out work, school and other issues (politics, he inferred), and escape into the music. For the most part, everyone obliged. The crowd was enthusiastic and engaged all night.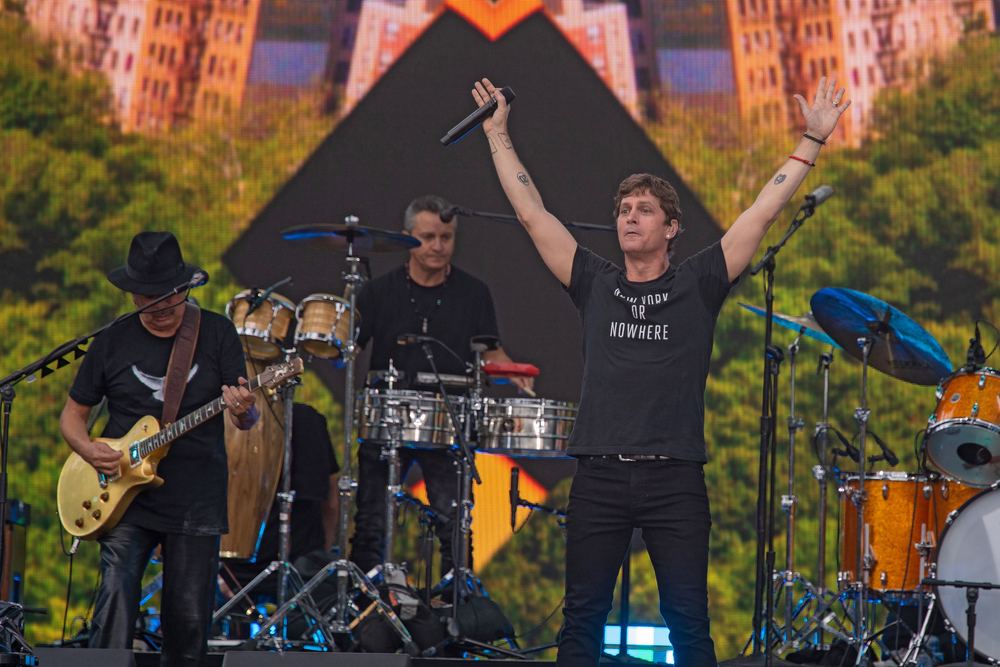 He followed that with Her Diamonds a hard-pop tune from the Cradlesong album, then If You're Gone an adult-contemporary ballad—and the first of several Matchbox Twenty songs—about a toxic relationship from a guy who has been happily married for more than 20 years.
The set list plumbed deep into his solo catalog, including songs like Heaven Help Me, a bouncy pop tune that inspired some dancing amid the big crowd; Thomas himself pogo-ed across the stage for a bit.
After Street Corner Serenade, he introduced his band, then led them into the catchy One Less Day (Dying Young)—it should be Fewer, not Less BTW—another exercise in spotless, spit-shined pop-soul, as generic as it is appealing.

This was a seated show, befitting his demographic; the crowd comprised twenty-somethings, septuagenarians and everyone in between. But they were on their feet for several songs, including 3 A.M., the blockbuster Matchbox Twenty hit, and for the lackluster cover of David Bowie's Let's Dance, before which Thomas encouraged everyone to lose their inhibitions and get up and dance.
For the encore, Thomas emerged back on stage alone with an acoustic guitar to serenade his fans with the title track to Something To Be. His band would rejoin him for three more, including Smooth, his aptly named collaboration with Santana and his hygienic safari into world music.
Everyone in the place was on foot for that one, dancing and swaying to exactly what they came to hear: the sounds of fail-proof music delivered with aplomb by a trusted brand.
SET LIST
I Love It; Real World '09; Lonely No More; Her Diamonds; If You're Gone; Can't Help Me Now; Heaven Help Me; Street Corner Serenade; One Less Day (Dying Young); Fire On The Mountain; Let's Dance; Falin' To Pieces; Tomorrow; 3 A.M.; Someday; I Am An Illusion. Encore: Something To Be; Unwell; Smooth; This Is How A Heartbreaks