The streets outside the Sprint Center on Wednesday night were still littered with evidence of the day's festivities—confetti, empty cups and beer cans and other remnants of the historic parade and rally that celebrated the Kansas City Chiefs' second world championship.
Inside the arena, the party continued. Nearly 15,000 fans showed up in a joyous mood to catch white-hot rapper Post Malone. Among them: an entourage that included Super Bowl MVP and quarterback Patrick Mahomes and tight end Travis Kelce, who were greeted with an uproarious ovation before taking perch on a platform at the back of the arena floor.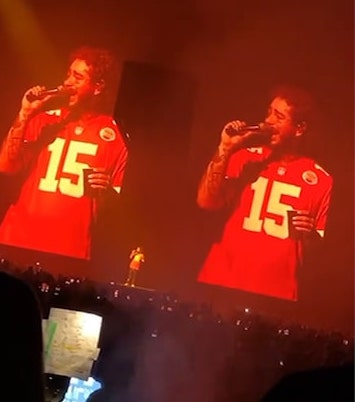 The headliner (born Austin Richard Post) enflamed the mood the moment he took the stage, thanks in part to his garb: a No. 15 home Chiefs jersey, autographed on the back by the Chiefs' quarterback.
Post would sustain the euphoria throughout a nearly 90-minute set of hook-ladened hits and favorites that showcased his genre-bending mix of pop, folk, rock, R&B, and hip-hop. The set list comprised 21 songs drawn from his three full-length albums, including 10 tracks from Hollywood's Bleeding, released in September.

He opened with that album's title track, which inspired the first of many sing-alongs from a crowd that was on its feet, singing, dancing, and swaying all night. The next two tracks, Better Now and Saint-Tropez, were party anthems delivered with gusto and verve, but Post is also prone to bouts of melancholy, which he expresses in introspective songs about heartache and loss, like Goodbyes and I Fall Apart, which he dedicated to anyone who has suffered a broken heart.
Post is an unruly sort, burly and disheveled, from his impressive but unkempt mane of hair to the dozens of tattoos that adorn his body, face included. He spent much of the night pacing about the stage, imbibing beverages from a plastic cup and encouraging his fans in profanity-laced exhortations, to do likewise. The stage setting included a long runway over which floated a large black canopy. Intermittently, cumulonimbus gusts of dense fog wafted across the stage. Other than that, it was all Post Malone and his diverse passel of hits.

He would show off his rock chops during head-bangers like Take What You Want. For Stay, he exhibited his folky side, singing while strumming an acoustic guitar, and prompting one of the loudest sing-alongs of the night.
Before White Iverson, the place erupted in a Chiefs chant and tomahawk chop, which Post acknowledged with a few meager chops of his own. Then one of his openers, Swae Lee, joined him for a lively rendition of Sunflower, his latest single and a recent Grammy nominee for Record of the Year. He followed that with a savage rendition of Rockstar, punctuating its feral mood by smashing his guitar.
Before his closer, Congratulations, he dispensed some words of inspiration, urging fans to pursue their dreams because you never know when dreams might come true. But this crowd, especially the world champions among them, was already feeling that.
SET LIST
Hollywood's Bleeding; Better Now; Saint-Tropez; Goodbyes; Die for Me; Allergic; Candy Paint; Psycho; Enemies; Wow; Paranoid; I Fall Apart; Over Now; Take What You Want; Stay; Circles; Go Flex; White Iverson; Sunflower; Rockstar; Congratulations