The mixtape emerged in the 1980s as way of recording onto a cassette tape a disparate confederation of songs from an assortment of sources and then sharing it with friends. Variety was essential—a way of showing off the diversity of an adventurous music collection.
Tuesday night, the Mixtape Tour visited the Sprint Center. More than a mixtape, though, it felt like a mishmash of several acts that became wildly popular in the 1980s. The musical plot wasn't exactly adventurous, but the results were highly entertaining.
Over the course of more than two hours, the entertainers delivered to a crowd of more than 12,000 a torrent of hits steeped in pop, funk, R&B, New Jack Swing, and hip-hop—gales of keen melodies and deep-dish grooves that inspired dancing and joyous singing-along throughout the show.
The lineup comprised five acts: New Kids On The Block, Salt-N-Pepa, Naughty By Nature, Tiffany, and Debbie Gibson.
NKOTB was the defacto headliner—they occupied  by far the most spotlight and stage time—but not necessarily the bill's most popular draw. Judging by the crowd's raucous response, Salt-N-Pepa was. A little more of them in the mix would have improved the show, but that's a minor complaint.
After a DJ plied the crowd with a 30-minute set of hits from the '80s and '90s, NKOTB took the stage, to much fanfare and to the gleeful sounds of (predominantly) women resurrecting latent teen-heartthrob crushes now more than three decades old.
They opened the show with an eight-song set that included My Favorite Girl and You Got It (The Right Stuff), tracks from their blockbuster Hangin' Tough album from 1988, which would sell more than 8 million copies and launch them into the pop culture stratosphere.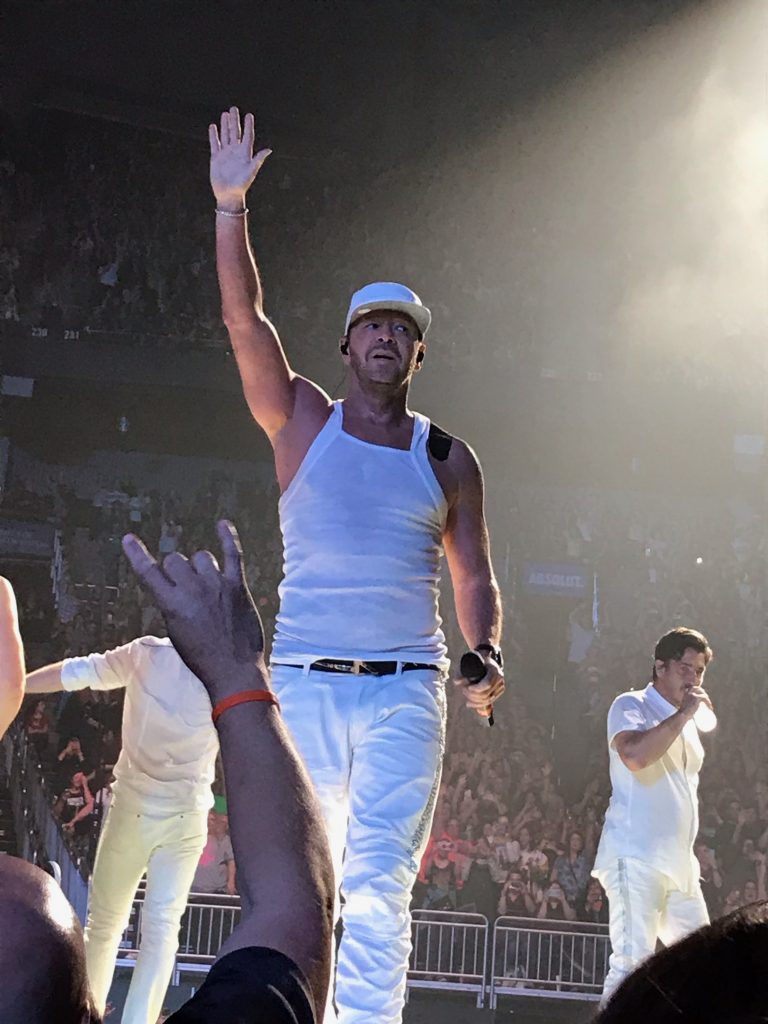 The Kids are now middle-aged men in their mid- to late 40s, save for Jonathan Knight, who turned 50 in November. Since 2008, when they reunited after a hiatus of nearly 15 years, the quintet has toured regularly, including five stops in Kansas City before Tuesday night.
So they have the routine down pat, with adjustments rendered. The choreography was low-risk and loose-knit (and at times it appeared participation was optional). Nonetheless, they pulled it off grandly, with a bit of self-effacing charm. And props to muscle-bound Danny Wood, who dropped and flashed some legit breakdance moves during Games.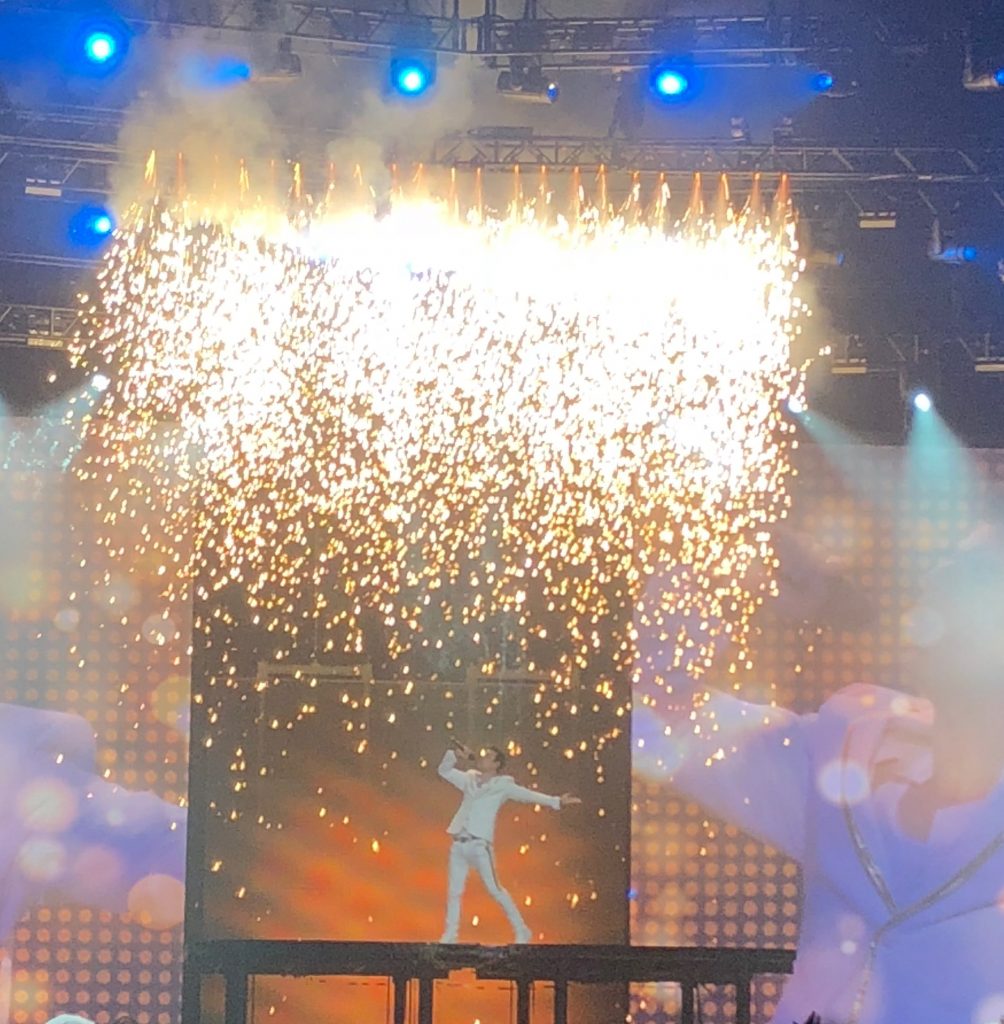 They are all still fit and trim, so they also exhibited some family-friendly Chippendale moves: Pecs and washboard abs were bared, and biceps were flexed. During Cover Girls, Wahlberg doffed his T-shirt, mopped his underarms with it, and then tossed it into the crowd. Fans lunged for it like it was the Shroud of Turin.
The stage production was lavish and dazzling. It included an array of large video screens, one in the shape of a boom box, another '80s icon. During several numbers, the floor of the stage beamed the image of a cassette tape.
There were plenty of other visuals: flash pots, curtains of sparks, bursts of fog, streamers, confetti, dancing KU cheerleaders (during Boys In The Band), and stage components that lifted performers high above the crowd, including the satellite stage at the back of the arena, which kept the show flowing continuously from one act to the next.
Tiffany was the first of the four undercard acts to perform, reprising her cover of Tommy James & The Shondells' I Think We're Alone Now, which dominated Top 40 radio in 1987. Her voice sounded as powerful as ever.

Gibson followed that with a medley of some of her hits, including Out of the Blue and Shake Your Love. She appears to be aging slowly, physically and vocally: Her duet with Joey McIntyre on her hit Lost In Your Eyes was a prime highlight.
She played piano on that number, and on Foolish Beat, evoking the sights and sound of Christine McVie of Fleetwood Mac. That set also included Only In My Dreams, her biggest hit, which set off yet another prolonged spasm of sing/dance within the crowd.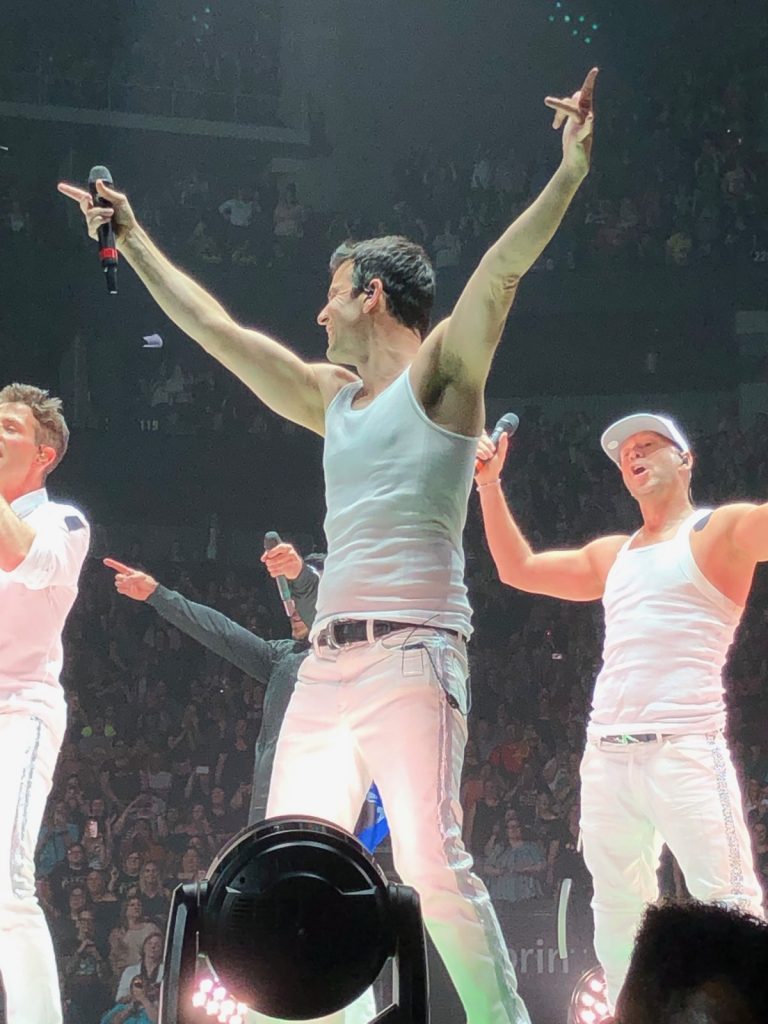 After an NKOTB set that included a cover of the Delfonics' Didn't I (Blow Your Mind This Time) and the back-to-back punch of If You Go Away and Please Don't Go Girl, Salt-N-Pepa barnstormed the stage and ignited a different mood: funky, hooky, urban and urbane beats with a brash attitude.
The duet was accompanied by a DJ (not Spinderella) and a small troupe of acrobatic dancers who added more octane to the high-energy set. Of all the music performed this evening, theirs felt as fresh as any.
Naughty By Nature was the last act to perform. They used their time effectively during their brief three-song set, asserting themselves as a hip-hop trio with something to say and a clever, organic, and streetwise way of saying it. Hip-Hop Hooray was another top highlight of the show.
After Gibson's second set, Salt-N-Pepa returned and conflagrated the place with a spot-on version of Shoop (speaking of timeless songs). They returned again, after NKOTB's final set, for their biggest and best hit, Push It.
That would have been the ideal, barnburning finale, but the Kids had something else in mind. In October, with contributions from Naughty By Nature, they recorded an homage to the decade that spawned them. After an inflammatory version of Hangin' Tough, the summoned all performers on stage to perform '80s Baby, which cites and name checks icons and idols from the decade, including some who were present.
True to this decade, it was a very meta moment, a musical selfie. But it captured resolutely the mood, theme and purpose of this tour and of this evening: "Take me back to all that fun / 'Cause tonight we are still young"—a nostalgic journey that only music can inspire.
SETLIST
New Kids On The Block: The Way; My Favorite Girl; Dirty Dancing; Summertime; You Got It (The Right Stuff); Remix (I Like The); Block Party; Games. Tiffany: I Think We're Alone Now; Debbie Gibson: Out of the Blue/Shake Your Love/Electric Youth; NKOTB: Didn't I Blow Your Mind This Time/Valentine Girl/If You Go Away/Please Don't Go Girl; Salt-N-Pepa: My Mic Sounds Nice/None of Your Business/Expression/Whatta Man/Let's Talk About Sex; NKOTB: Tonight/Boys In the Band/Cover Girl; Naughty by Nature: O.P.P./Feel Me Flow/Hip-Hop Hurray; Debbie Gibson: Foolish Beat/Only In My Dreams/Lost In Your Eyes; Salt-N-Pepa: Shoop; Tiffany: All This Time/Could've Been; NKOTB: I'll Be Loving You (Forever)/Step by Step; Salt-N-Pepa: Push It; NKOTB: Hangin' Tough; '80s Baby.