Luke Bryan tried. Twice.
He was scheduled to bring his Farm Tour to a rural expanse in Louisburg, Kan., on Oct. 3. However, heavy rains that week made roads and grounds too wet and muddy for all the heavy equipment that needed to be unloaded, so the show was postponed until Thursday night (Oct. 30).
But when snow was forecast this week, instead of postponing or canceling the show, promoters moved it indoors, to the Sprint Center.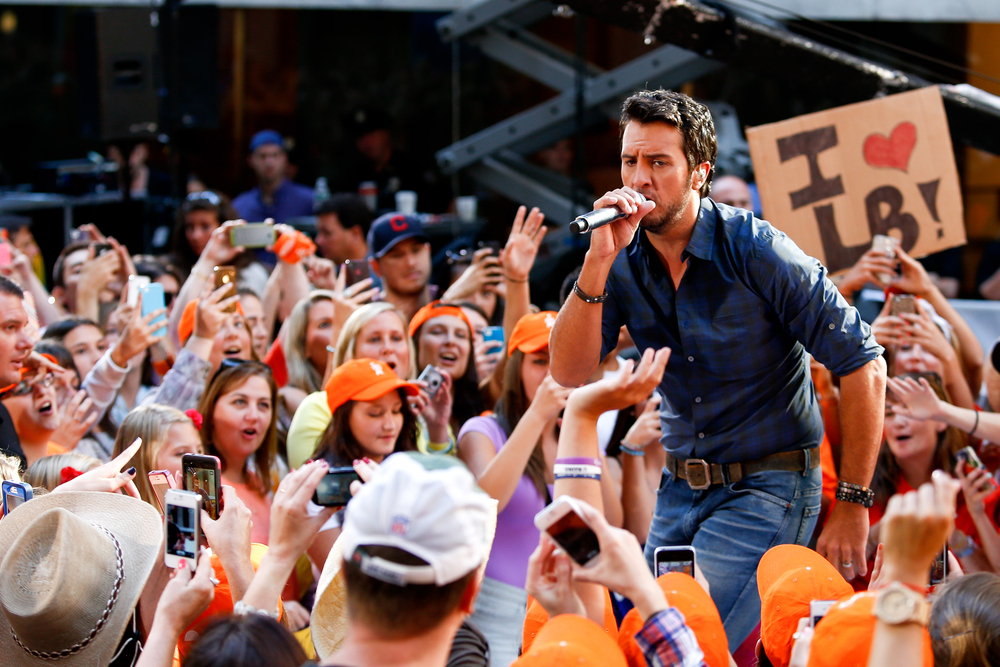 All that inconvenience didn't seem to affect crowd size much. More than 11,000 fans attended, and Bryan expressed his gratitude for their patience and loyalty several times. But first, he explained the move indoors on an unusually wintry October night: "I'm from Georgia. No way my ass is playing in the snow."
He would give them the usual: a 90-minute set bristling with energy and loaded with party anthems. He opened with What Makes You Country, an uber-meta rock song loaded with tropes about country authenticity: "I got my dirt-road cred back when I was 12 / On a no-cab tractor haulin' them bales."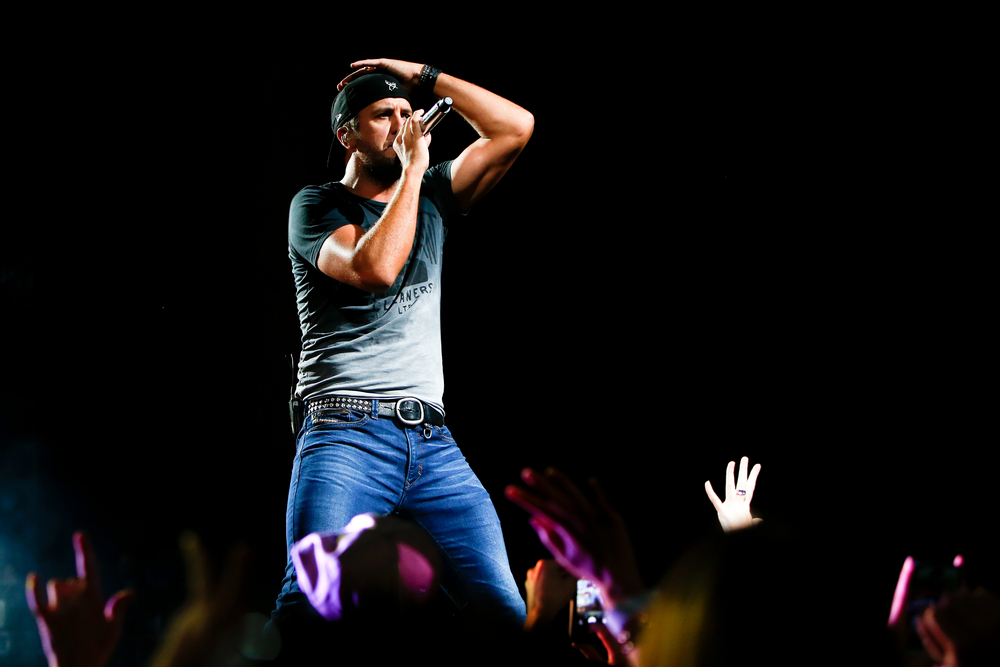 That self-referential theme continued with the Southern rock anthem Huntin' Fishin' and Lovin' Every Day—"that's the prayer that a country boy prays"; and then Kick the Dust Up, a jackhammer-rocker loaded with all the country touchstones: tractors, cornfields, back roads, cowboy boots, pretty girls.
Song titles explicitly announce lyrical themes, starting with his new single What She Wants Tonight (his hands on her body), then Crash My Party, Strip It Down, Drink A Beer(which he performed solo, at the piano). Rain Is Good is the rare curveball: Rain is good because it makes corn, corn makes whiskey, whiskey leads to sex.

Bryan is a kinetic performer. He spent much of the night marauding across the stage, bouncing and running up and down the runway, stooping and gesticulating, pounding his chest, high-fiving fans. His enthusiasm was contagious: Most fans spent the night on their feet, submitting to the relentlessly festive mood.
Cole Swindell, one of the show's two openers, poured gasoline on the mania when he joined Bryan for two songs: a cover of David Lee Murphy's Dust on the Bottle, (one of the earliest dirt-road anthems); then a frenzied rendition of I Don't Want This Night to End.
But the night was about to end. Bryan would serenade them with a few more party anthems rife with sexual themes, including That's My Kind of Night:  "All them other boys wanna wind you up and take you downtown / But you look like the kind that likes to take it way out."
He closed with one of his biggest hits, the primal Country Girl (Shake It For Me) — "Shake it for the birds, shake it for the bees / Shake it for the catfish swimmin' down deep in the creek." I suppose nothing makes you country more than working catfish into a sexual innuendo.
Much of the big crowd was still in place as Bryan's band brought that song to a close with an instrumental outro, and most appeared completely satisfied–unfazed and unaffected by the change of dates and locales and by the wintry bluster that awaited them outside.
Cole Swindell: His lively one-hour set dovetailed seamlessly with Bryan's and the big crowd was primed for it. The set list comprised about a dozen favorites and hits, like Love You Too Late, Sounded Good Last Night, and Middle of a Memory.
SET LIST
What Makes You Country; Huntin' Fishin' and Lovin' Every Day; Kick the Dust Up; Move; I See You; Roller Coaster; Sunrise, Sunburn, Sunset; What She Wants Tonight; Most People Are Good; Do I; Rain Is A Good Thing; Knockin' Boots; Crash My Party; Drink A Beer; Strip It Down; Dust on the Bottle; I Don't Want This Night to End; Play It Again; That's My Kind of Night; Country Girl (Shake It For Me)