In the world of reality-entertainment TV, Kelly Clarkson is Neil Armstrong: the first to set foot on the American Idol moon.
In September 2002, Clarkson, then 19, was crowned the winner of Season 1 of Idol, outdistancing soon-to-be-a-footnote and Trivial Pursuit answer Justin Guarini. Nearly 17 years later, Clarkson is the rare Idol winner/contestant who has parlayed her title into superstardom and sustained relevancy.

Thursday night, Clarkson brought her Meaning of Life Tour to the Sprint Center, drawing about 9,000 fans, most of whom, it seemed, have followed Clarkson and her music odyssey since that fabled September evening.
She is touring on Meaning of Life, her eighth studio album, released in October 2017. She would play five of its tracks, including the title track, which came early—after the abbreviated a cappella version of A Moment Like This that opened the show. The set list would visit five other studio albums, including Thankful, her debut, released in 2003.
Like Clarkson's voice, her material has aged well. Songs like Miss Independent, performed with openers Kelsea Ballerini and Brynn Cartelli, and Behind These Hazel Eyes, from 2004's Breakaway album, meshed seamlessly with tracks like Piece By Piece, the title track to her 2015 album. All night, seemingly with ease, Clarkson launched her voice into the arena's rafters, unwavering and on pitch.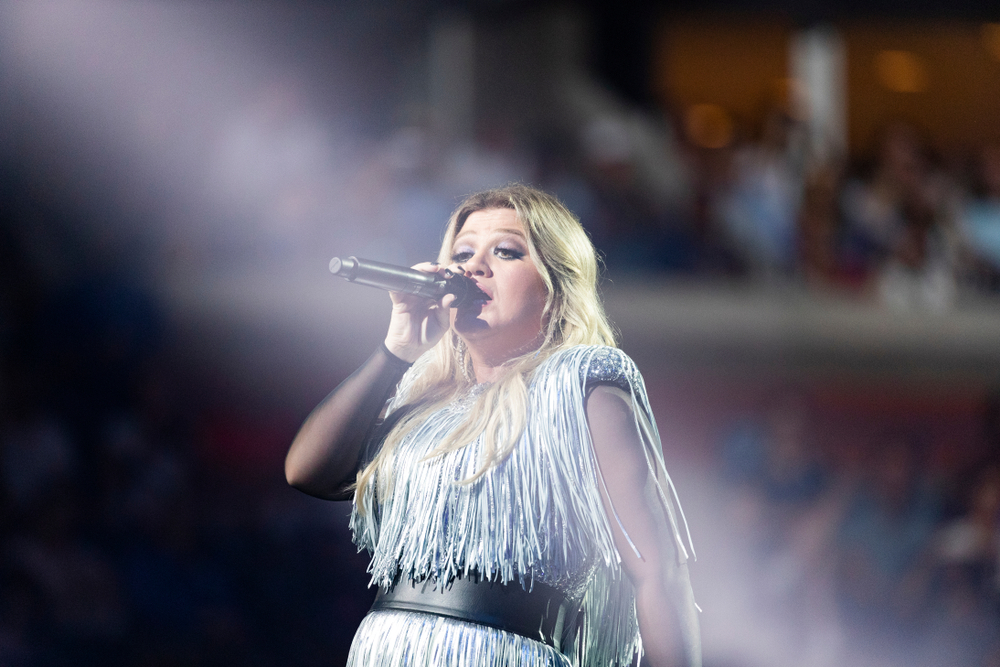 She was backed by a six-piece band, a quartet of backup singers, and a three-piece horn section. Like a true diva, she executed several wardrobe changes that included a few gaudy, billowy gowns.
But unlike other divas, Clarkson spoke candidly and openly about life in general and showed herself as a woman who is charmingly comfortable in her own skin. She apologized for her absence from the road—this was her first tour in four years—"I was making babies," she explained. Before singing Breakaway, which ignited a raucous sing-along throughout the arena, she admitted she was sweating and alluded to where the sweat running down her back might end up.
Before Piece By Piece, she spoke earnestly about her upbringing and how some of the adults in her life (like her father) set the bar low when it came to being role models as parents, acknowledging that she and her sister had nonetheless married men who are ideal husbands and fathers.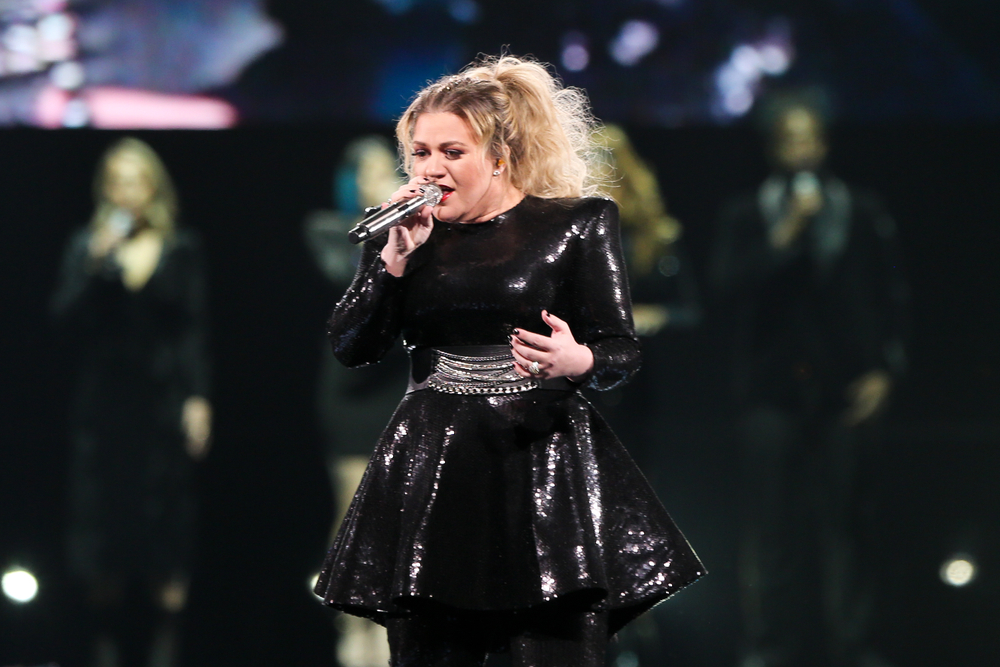 She acknowledged a few people holding signs declaring themselves cancer survivors. Before A Minute and a Glass of Wine, she was poured a glass of red, confessed she doesn't drink often, and reminded everyone not to overdo it: "You don't want someone holding your hair back at the end of the night." (Cue the cheers.)
Toward the second half of the 95-minute show, she brought on stage two officers from the Kansas Highway Patrol to reprise the squadcar karaoke video Clarkson saw on social media. They sang a spot-on version of Stand By Me.
Clarkson has released nearly a dozen Top 10 singles, and she fit most of them and other favorites into the set list with help from a long medley, starting with Because of You and including Good Goes the Bye.
Other highlights: Run Run Run, performed with backup singer D.R. King; Move You, which was lacquered with a heavy gospel vibe; and the covers of God Is A Woman (Ariana Grande) and It's Quiet Uptown (from Hamilton).
She saved some of the biggest moments and most beloved hits for the finale: the brash arena anthem My Life Would Suck Without You and, during the encore, two more seismic sing-along anthems: Stronger (What Doesn't Kill You) and Since U Been Gone.
Both songs are declarations of pain and recovery and suited the evening's underlying theme and Clarkson's implied meaning of life: Be the kind of person you feel most comfortable with; and surround yourself with people who make you feel the same.
SET LIST
A Moment Like This; Meaning of Life; Walk Away; Love So Soft; Whole Lotta Woman; Behind These Hazel Eyes; Breakaway; Piece By Piece; Medley: Because of You/Just Missed the Train/Beautiful Disaster/Sober/Good Goes the Bye/Would You Call That Love; A Minute and a Glass of Wine; God Is A Woman; Stand By Me; Broken Hearts; Run Run Run; Move You; My Life Would Suck Without You; Heat; Heartbeat Song; Miss Independent. Encore: It's Quiet Uptown; Never Enough; Stronger (What Doesn't Kill You); Since U Been Gone.