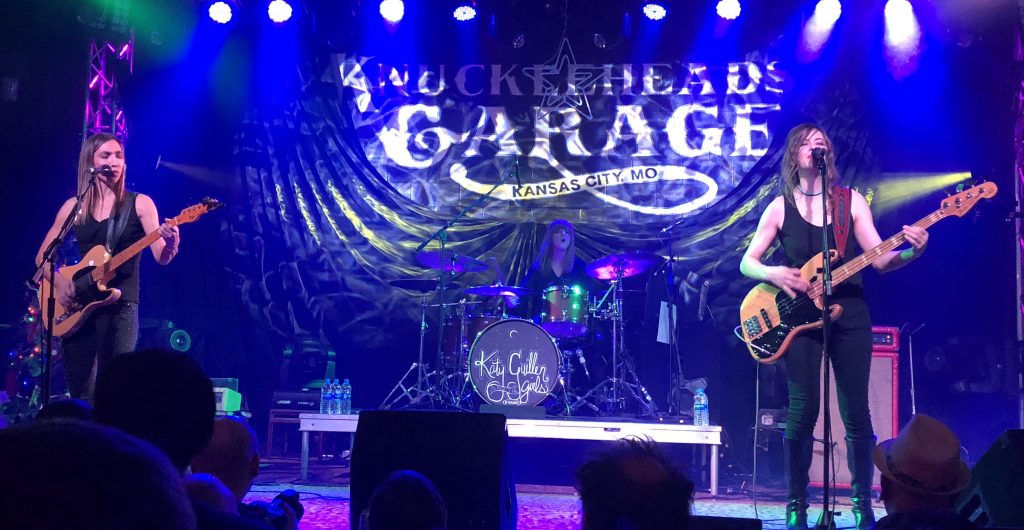 Katy Guillen commemorated her birthday Saturday night in a big way: in front of a boisterous crowd of about 600 inside The Garage at Knuckleheads.
The show was much more than a birthday celebration; it was also a grand farewell.  After nearly seven years together, her band, Katy Guillen & The Girls (Guillen, Claire Adams and Stephanie Williams), are embarking on what they 're calling "an indefinite hiatus," a euphemism for breaking up.
Saturday's show would prove to be a rousing and righteous sendoff: a sterling showcase of the trio's songwriting, musicianship, and taut, polished stage show.
The evening began with a set from Olivia Fox, a Kansas City trio (Lauren Flynn, Tiffany Smith and Aubrey Callahan) that gives its melodic folk-based songs unique and clever twists, lacquering nearly all of them with radiant two- and three-part harmonies.
Their set included two songs from a recently released four-song EP of covers, Renditions: a dramatic reconstruction of Bon Jovi's You Give Love a Bad Name and then a splendid remake of the Cranberries' Zombie.
They would return at night's end to join Guillen and The Girls for the evening's finale: a joyous cover of Tom Petty & The Heartbreakers' American Girl.
The headliners took the stage to the sounds of Walk Like an Egyptian by the Bangles, another all-women band that made heavy waves in its time and inspired girls to learn an instrument and start a band.  Their name would be invoked later in the show.
The 28-song setlist plumbed the band's three full-length albums and brand-new EP plus Guillen's pre-Girls album, When I Get Away, recorded with ace drummer Go-Go Ray.
The blues is their foundation, the bedrock from which nearly all sounds spring, but over the course of six-plus years, they developed ways of imparting and imposing their own traits and ways upon their songs, at times insinuating, explicitly and implicitly, other genres: metal, hard rock, even prog-rock. A new song, the ebullient In Love With an Idea, felt sprung from the early days of rock 'n' roll.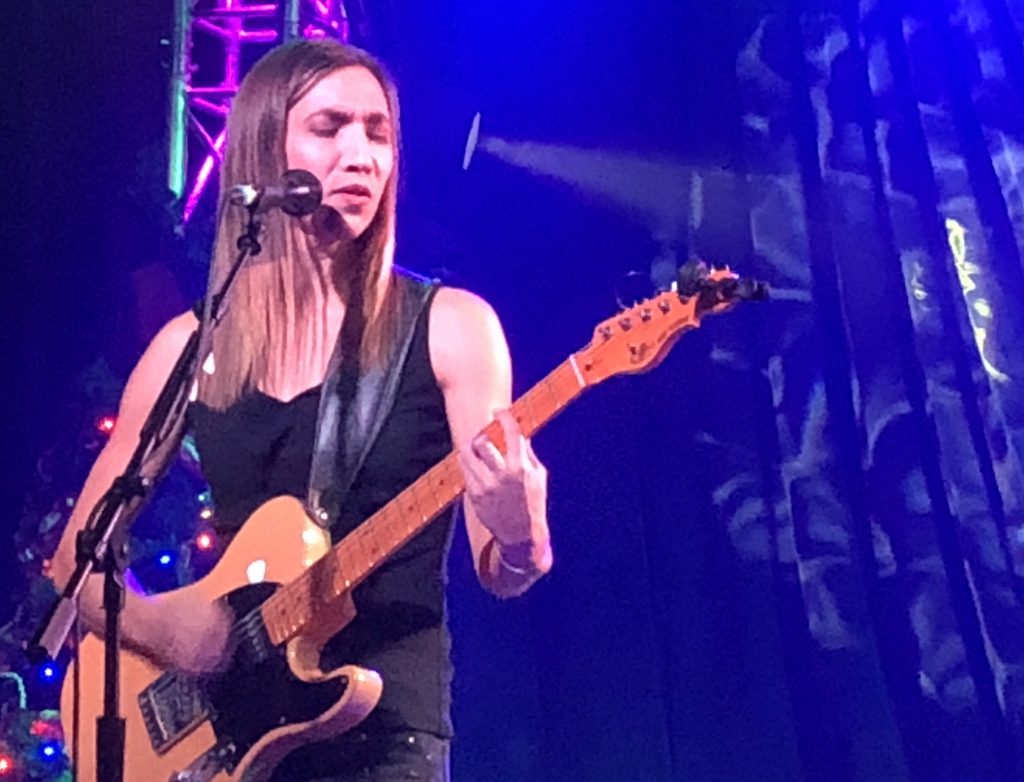 Guillen is a dynamic guitarist, whether discharging rhythmic riffs underneath her lead vocals or leading the band on an instrumental foray. Her solos are efficient as they are brilliant—void of noodling and shredding and bereft of rock-blues clichés.
Although some of their songs are built on progressions that are standard and familiar, she, Williams (drums) and Adams (bass) take them to fresh, improved and reinvigorated places. It's like hearing an old joke with a new, wittier punchline.
All that was evident in their reworkings of standards like Baby Please Don't Go and Got My Mojo Working.
But they can write outside the blues realm, too, as is apparent on Four Walls, the four-track EP they recorded in the band's waning weeks. It was issued as a final gift to their fans, they said, but it's so good it also feels a little like salt in a wound.
The hard-pop song City of Fountains was introduced as a "Bangles Bastards" song for its inspirations: the Bangles and the Heartless Bastards (whose singer, Erika Wennerstrom, is one of Guillen's vocal inspirations).  Back to Normal, also from Four Walls, is a swath of fetching jangle folk-pop that erupts into a wigged-out rock jam.
Before leading the band through a rip-snorting cover of When the Levee Breaks, Guillen stopped to tune her guitar. It took a few moments longer than expected, so she apologized but also implied it was a way of delaying the inevitable: the evening's end.
She would also declare the night a "celebration," as in not a wake or memorial service, no reason to mourn or be sad but a time to revel in accomplishments. And memories.
Towards the end of the first set, Guillen got sentimental as she introduced the title track to Four Walls. The tender ballad is an elegy to her grandmother, who, dubious about Guillen's pursuit of a career in music, advised her to get a degree, "a fall back." Before she died, however, she "squeezed my hand" and let Guillen know how proud she was of her granddaughter and her career in music.
Any parent who experiences a child's graduation, whether from middle school, high school or college, knows the feeling of deep bittersweetness: a mix of melancholy and pride and a concrete sense that much time has passed.
And that's what this show felt like: a valediction, a time to celebrate the past and anticipate what lies ahead.
SETLIST
Don't Get Bitter; Old Best Friend; Don't Need Anyone; Don't Turn Your Back; Play My Sorrows; Smaller Each Day; Back in Kansas City; Woke Up In Spain; Stalling on Dreams; Cold Was The Night; Heavy Days; The Load; The Race; Humbucker; Quiver; When the Levee Breaks; Waking Up From You; In Love With an Idea; City of Fountains; Can't Live Here; Four Walls; Got My Mojo Workin'; Grind; Earth Angel; Baby Please Don't Go. Encore: Red House; Back to Normal; American Girl.