John Mayer figured out a while ago that the key to longevity is evolution; stagnation is the means to irrelevance.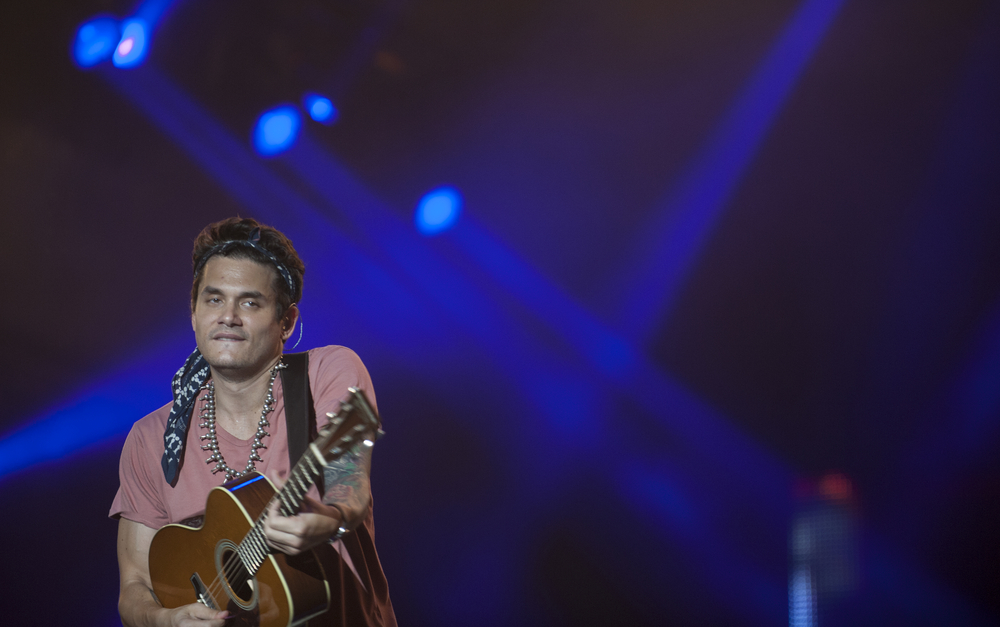 Over the course of seven studio albums, Mayer has tested the waters of several genres–pop, blues, R&B, soul, rock—lacquering each with his signature patina of homogeneity while keeping fans curious about what might be next.
Along the way, he also established himself as a premier guitarist, collaborating with legends like B.B. King, Eric Clapton, and Buddy Guy and earning a coveted spot in Dead & Company alongside Bob Weir and other Grateful Dead alum.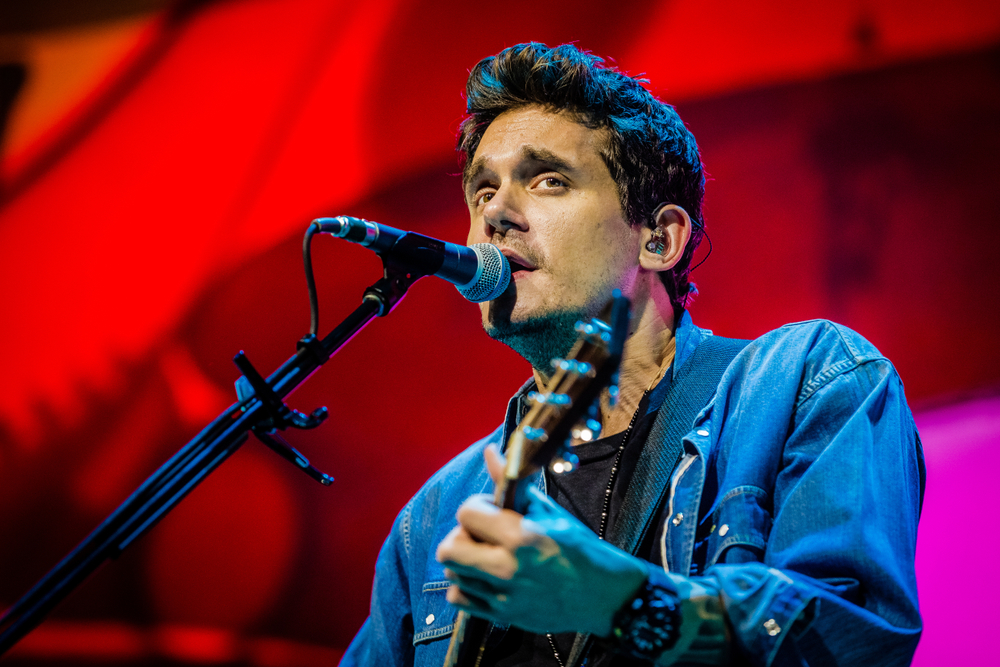 Monday night, Mayer brought 18 years worth of music to the Sprint Center, where for nearly three hours (a 30-minute intermission included) he treated nearly 14,500 fans to a show that visited five of his seven studio albums and showcased his comfort with a variety of styles and genres.
The 23-song set list focused heaviest on two albums: Continuum, his most adventurous recording, and The Search for Everything, his most recent. He would perform five tracks from each, including Belief, which opened the show.
True to the spirit of the Dead, Mayer would rearrange a few songs (like Helpless), filling them with extended guitar solos that recalled the styles of many, from Clapton and King to Santana, Prince, and Jimi Hendrix. Mayer may not have an inimitable sound of his own, but he mimes and mimics the greats impressively.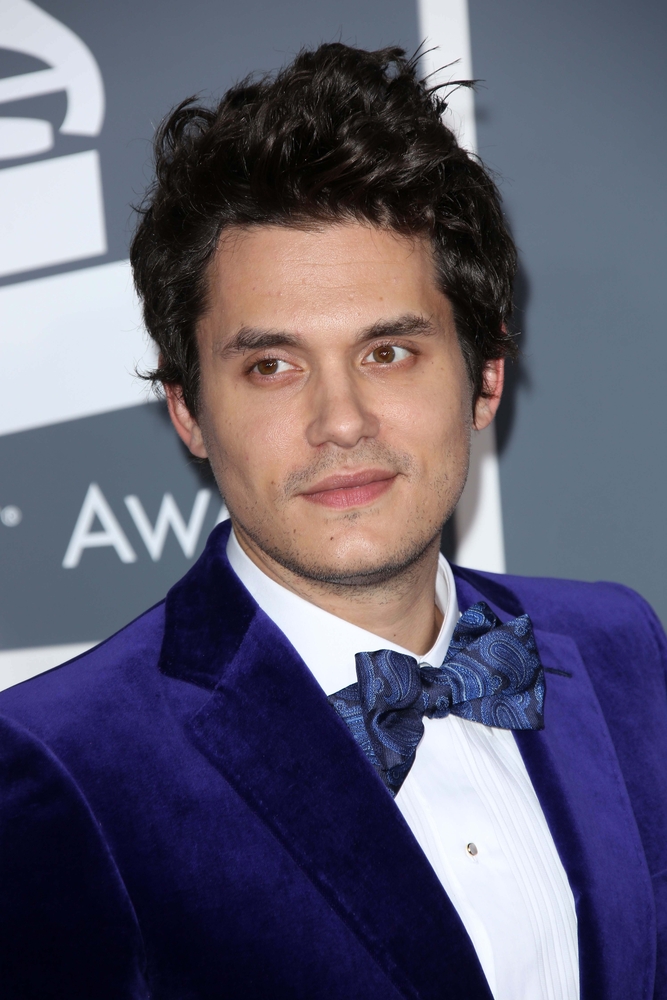 He was backed by an eight-piece band that included two backup singers. Behind the band, an enormous video screen broadcast an array of graphics and video footage, some of it live. Oddly, two streams of fog were issued from each side of the stage throughout the night; one of them appeared to envelope a few rows of people up front.
The set list did not include a few of his most beloved songs (no Daughters, no Why Georgia, no Say). Nonetheless, the crowd embraced the entire set and deep cuts like the light-jazzy In Your Atmosphere (a track from his Live In Los Angeles album), during which Mayer showed off some crafty plucking and strumming on acoustic guitar.
Other highlights:  the mashup of Bruce Springsteen's I'm On Fire with 3×5—the sing-along to I'm On Fire was loud and widespread; the stripped-down, lo-fi rendition of Your Body is a Wonderland; the bouncy acoustic rendition of No Such Thing; and the song that inspired the most dancing and one of the loudest sing-alongs, the groovefest Waiting on the World to Change.
 A few songs breached the borders of soft-rock/yacht rock, like If I Ever Get Around to Living,which seemed to aim for a Steely Dan vibe but landed much closer to Ambrosia. Love on the Weekend sounded like a lost Coldplay track.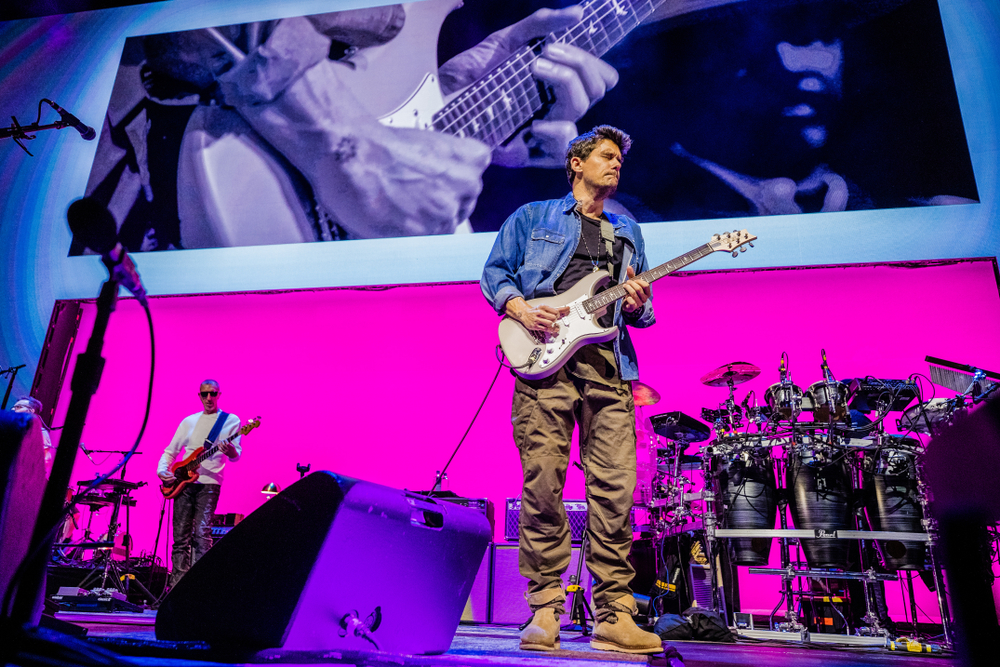 The second set was more jam-infested than the first. The instrumentals on Rosie and Slow Dancing in a Burning Room were uber-extended yet avoided redundancy and self-indulgence. Both elicited big ovations.
.Before Gravity, Mayer introduced his band and thanked the big crowd for appreciating his songs and for "giving so much life to them." They then further obliged him by taking over the vocals to Gravity, which took on a distinct Purple Rain vibe.
He would close with a two-song encore: Born and Raised, which featured some blues-harping from Mayer, giving the song an early Bob Dylan flavor, then New Light, a jaunty, straight-up pop tune with a light, smooth-jazz accent. As it ended, a blizzard of confetti fell upon nearly every row on the floor.
The abrupt lurching from genre to genre could have made for a jarring ride, but in Mayer's hands, it all felt natural and sincere.
 SET LIST
Belief; Helpless; Who Says; No Such Thing; Love on the Weekend; Something Like Olivia; Waiting on the World to Change; Moving On and Getting Over; I Guess I Just Feel Fine. Intermission. I'm On Fire/3×5; Your Body Is A Wonderland; In Your Atmosphere; In the Blood; Edge of Desire; If I Ever Get Around to Living; Stop This Train; Rosie; Slow Dancing in a Burning Room; The Age of Worry; Gravity. Encore: Born and Raised; New Light.