Foo Fighters always seem to have a surprise in store when they visit Kansas City.
In September 2011, they trolled a group of protesters in front of the Sprint Center by rolling by on a flatbed truck re-enacting the slightly homo-erotic video to the song Hot Buns. In August 2015, they "Rick-rolled" the same group across the street from the arena by serenading them with Rick Astley's 1980s dance anthem, Never Gonna Give You Up.
Friday night, the Foos returned to the Sprint Center but this time the surprise was not only on the crowd of 16,000-plus inside the arena, but on the band, as well.
The Foos are touring on Concrete and Gold, their ninth studio album, released in September 2017. It's a collection of songs that glorify both heavy rock and hard pop with lyrical themes that express both optimism and despair.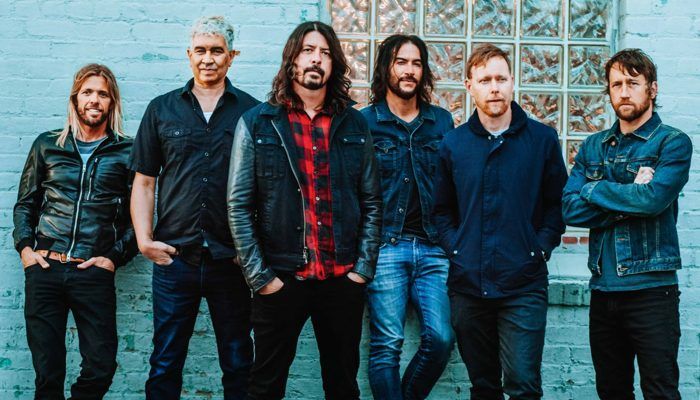 They would perform five of its songs, including Run and The Sky Is A Neighborhood, which opened the show, plus at least one song from each of their eight other albums. They also tossed in several covers, including one that was unexpected.
In many ways, it was a typical Foo Fighters show: frothing with noise and jubilant energy and showcasing the sextet's muscle, prowess and precision—virtues that come with hard work, skill and longevity. In some ways, they are the second generation of Tom Petty and the Heartbreakers: a long-running rock band (nearly 25 years) comprising both founding and long-term members. Aside from keyboardist Rami Jaffee, who joined at the end of 2017, everyone has been in the Foos for at least 18 years.
In other ways, however, it was an atypical show. Taylor Hawkins' drum solo came early—after three songs—and throughout the show, they larded songs with long, jammy instrumental breaks or codas, some of them breaching the borders of prog-rock. The jams were well-executed but they ate up time that could have otherwise been spent on other songs.
The Foos are known for their live covers and this show was no exception: the Ramones' Blitzkrieg Bop and Queen's Under Pressure were typical and well-served. But the mashup of the melody to John Lennon's Imagine with the lyrics to Van Halen's Jump felt a bit odd. Nonetheless, the big rowdy crowd played along, singing along loudly.
They ended the first set with three gold bullions: My Hero and Monkey Wrench—two of their biggest hits—then Best of You, from the stellar In Your Honor album. They left the stage for a bit, but clearly the crowd, now stoked beyond measure, and the band were in the mood for more.
Which is when the surprise erupted. As they re-emerged for the encore, Grohl engaged fans to the right of the stage. Someone apparently asked to come up and play. Grohl obliged him. Turns out it was a boy who looked to be about 8 and barely came up to Groh's ribs. His name was Collier (sp?), which prompted Grohl to wisecrack: "Am I gonna have to Collier mom later and get her to come pick you up?" But this was no joke.
Collier said he knew lots of Metallica songs, so Grohl handed over his guitar (which may have been longer than the boy is tall) and the kid ripped into Enter Sandman, with a surprised and impressed Grohl adding the vocals. They stopped after a verse – "that's all I know," Grohl confessed.
Then Collier played the intro to Welcome Home, which no one else knew, and his time was done. But not before Grohl sent Collier back to his mother—with the guitar he'd been playing: "The tour's almost over; I might as well give him my guitar." Then a warning: "If I see that (bleep) on eBay next week, I'm gonna find you."
They wrapped up the nearly two-hour and 45-minute show with three songs of their own: Dirty Water, from Concrete and Gold, then two of their most-loved songs, This Is A Call and Everlong. Both were delivered and received with incendiary joy, providing the perfect end to a memorable night. Which was no surprise at all.
SET LIST
Run; The Sky Is A Neighborhood; La Dee Da; Sunday Rain; Something From Nothing; Walk; These Days; Arlandia; The Pretender; Times Like These; All My Life Learn To Fly; Breakout; Another One Bites The Dust; Imagine/Jump; Blitzkrieg Bop; Under Pressure; My Hero Monkey Wrench; Best of You. Encore: Enter Sandman; Dirty Water; This Is A Call; Everlong.