By all measures, Eric Church's weekend in Kansas City was a rousing success.
The country music star nearly filled the arena Friday and Saturday night, drawing about 15,000 fans to each show and delivering dynamic but vastly different set lists for devotees who may have attended both.

Saturday night, still abuzz from the previous night's performance, Church and his six-piece band hit the ground running, unleashing several of his best-known songs: Drowning Man, a country-rock anthem about drinking away pain and misery; Country Music Jesus, a plea for a savior to rescue his own music genre; Cold One, a parable about heartache that employs canned beer as a metaphor; and Smoke a Little Smoke, in which the singer self-prescribes alcohol and weed as a way of getting through a breakup.
Church unapologetically mixes his country music with heavy doses of rock and Southern rock—contemporary outlaw country. A banjo made a brief appearance after the intermission, during Give Me Back My Hometown; otherwise, save for the occasional ballads, the show was filled with rock and rock-blues accoutrements: loud, heavy guitars, dobros and beefy percussion.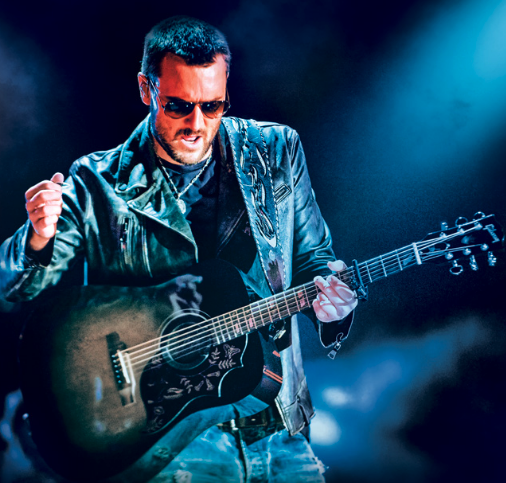 The show was split into three parts: an opening 75-minute set; a 20-minute intermission; and a closing set that lasted roughly two hours. The set list comprised nearly three dozen songs, including a medley of pop and rock oldies that closed the first set.
The stage was constructed with a runway that formed a loop, forming a large pit that was inhabited by a couple hundred fans, diehards who paid the big bucks for a grand view and upon whom Church bestowed dozens of autographs.
Behind and above the band, a large video panel broadcast live footage from the stage and other images. It comprised three separate screens that split and moved independent of each other or conjoined to form one large screen.
Church was joined on several songs by vocalist extraordinaire Joanna Cotten, most notably on Like Jesus Does, which started the encore. She also took center stage for a stellar cover of Crazy, the Willie Nelson song that Patsy Cline made famous.
That cover followed Church's cover of Roger Miller's Kansas City Star, one of several references Church made to the city. His sporting of Kansas City Chiefs garment aroused the expected widespread outburst. He also recalled his earliest shows here, at the Beaumont Club and in the Power & Light District.
After nearly three hours of covers and songs about whiskey and beer (including his standard, Jack Daniels), religion, girls, growing up a country boy in the NASCAR region (Talladega), and his homage to Merle Haggard, Church closed the second set with Springsteen, a sepia-toned recollection of a girl and a summer romance, a remembrance triggered by a song: "Funny how a melody sounds like a memory." Of the evening's many robust sing-alongs, this was the loudest and most enduring.
He returned for the encore, which included his hymn with Cotton, then Holdin' My Own, a declaration of hard-won victory from a guy whose many scars prove he has survived many battles.
He closed with two more covers: several measures of  The Load-Out, Jackson Browne's ode to roadies and crew, fused with Maurice Williams' Stay (as Browne did on his Runnin' On Empty album).
The arena was still nearly full at that point, and the multi-generational crowd joined Church in singing along, bellowing "one more song" with gusto.
Clearly, fans were in the mood for another number or more, but Stay was the final song of a long evening and of a conquering weekend that proved Church is an elite performer who is here to stay for a long time.
SET LIST
Drowning Man; Country Music Jesus; Cold One; Smoke A Little Smoke; Guys Like Me; Round Here Buzz; Creepin'; Hippie Radio; Chattanooga Lucy; Before She Does; Lotta Boot Left to Fill; Homeboy; Drink In My Hand; Medley: Mistress Named Music/Oh Girl/You Can Call Me Al/ Bohemian Rhapsody/Country Boys Can Survive/Better Man/The Chair/Sweet Caroline/Hey Jude. Intermission. The Outsiders; Give Me Back My Hometown; Record Year; Desperate Man; Talladega; Pledge Allegiance to the Hag; Some of It; Jack Daniels; Longer Gone; Kansas City Star; Crazy; Mr. Misunderstood; Higher Wire; Like A Wrecking Ball; Sinners Like Me; These Boots; Springsteen. Encore:Like Jesus Does; Holdin' My Own; The Load-Out; Stay.