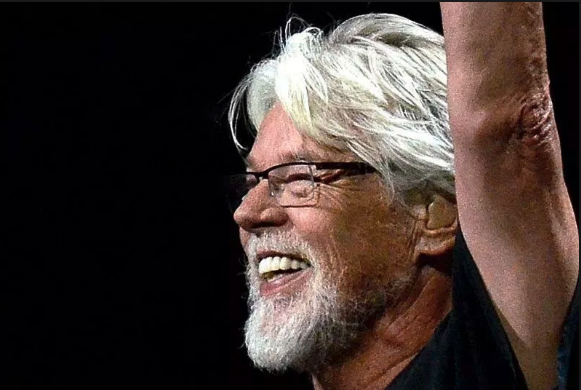 Bob Seger bid Kansas City goodbye Saturday night during a two-hour love-fest at the Sprint Center.
The concert, part of the Travelin' Man Farewell Tour, was rescheduled from an October 2017 date, one of 19 shows postponed so Seger could undergo back surgery. He subsequently christened the tour as his swan song after half a century as a touring rock star.
More than a year after the postponement, Seger, 73, was full of vigor and in good voice, though he appeared to move a bit gingerly at times.
All night, the crowd of more than 14,000 heaped love and gratitude upon him and his dandy 12-piece orchestra, which included longtime sax man Alto Reed, a four-piece horn section and three backup singers. The few times Seger faltered slightly, they provided ample support. (Saturday's show was only the second of the rescheduled tour.)

His set list included most of his classic and timeless rock anthems and ballads, starting with Still the Same, which followed the opening number, Face the Promise, the title track to his 2006 album.
Then came a salvo of three classics, which stirred a widespread fervor that would not subside: The Fire Down Below, Mainstream and Old Time Rock and Roll, all of which Seger performed with earnest conviction, an acknowledgement that he was singing them for the final time in Kansas City.
Like Seger's wardrobe—black T-shirt and jeans—the production was austere and no-frills: a towering video screen behind the band that broadcast live and recorded images and an understated light show. Instead the focus was primarily on Seger, his band and the music.
Among the other highlights: his soulful cover of Rodney Crowell's Shame on the Moon; a fiery rendition of Ramblin' Gamblin' Man, which goes back 50 years to the days of The Bob Seger System; a refashioned version of Night Moves; I'll Remember You, performed in memoriam to Seger's longtime friend and fellow Detroit native Glenn Frey, Tom Petty and Aretha Franklin; and the peak of every Seger show, a reprisal of Travelin' Man/Beautiful Loser, one of the best moments on the stellar Live Bullet album.

He closed with Rock and Roll Never Forgets, and true to its lyrics, the rafters were ringing and the crowd was singing as Seger and his crew leaned hard into his homage to the salvation and sanctuary that is rock and roll.
It was a bittersweet moment—a joyous, rousing valediction to a career moseying into its gloaming and to an evening that will not be forgotten by those who were there.
SET LIST
Face the Promise; Still the Same; The Fire Down Below; Mainstreet; Old Time Rock and Roll; The Fireman's Talkin'; Shame on the Moon; Roll Me Away; Come to Poppa; Her Strut; Like a Rock; You'll Accomp'ny Me; We've Got Tonight; Travelin' Man/Beautiful Loser; Turn the Page; I'll Remember You; Ramblin' Gamblin' Man; Against the Wind; Hollywood Nights; Night Moves; Rock and Roll Never Forgets.