Beck called his latest album Colors, and aptly so. It's collection of 10 vibrant songs inspired by the positive energy Beck experienced while on tour for several years. "It's really a celebratory record," he told a crowd of more than 5,000 at Starlight Theater on Monday night. He's calling it the Colors Tour, though Kaleidoscopic is more like it.
For nearly two hours, he and his seven-person band marauded with much energy and glee through a set list that embraced a wealth of genres: funk, soul, rock, hip-hop, folk, pop.
All night, the stage was aflame in lights flashed on the many large LED screens that served as backdrop and a bandstand. Dressed in black from his wide-brimmed hat to his boots, Beck was in Day-Glo mood throughout the set, as were his band mates, who included Jason Falkner and Roger Manning (Jellyfish) plus drummer extraordinaire Chris Coleman.
They would perform five songs from Colors; the rest of the set was a lively mix of Beck originals, going back to his Mellow Gold days, and an array of covers, some of them blended into an extended medley during the encore.
He opened with Devils Haircut, a track from his breakthrough Odelay album and the perfect mood-setter for the evening, thanks to its funky, grimy dance groove. Next came the even funkier Black Tambourine, from Guero, The New Pollution, another Odelay number, and Mixed Bizness from the funk-fest Midnite Vultures album.
Five songs in he finally turned to the Colors album: Up All Night, a funky and hyper-percussive pop tune. As usual, Beck danced and boogied about the stage, looking like he was having more fun than anyone in the place.
He strapped on an acoustic guitar for an unplugged version of Debra, which he fused with big swath of Prince's Raspberry Beret.
Then he took a request: Truckdrivin' Neighbors Downstairs, a deep cut off Odelay (and had some trouble remembering the lyrics).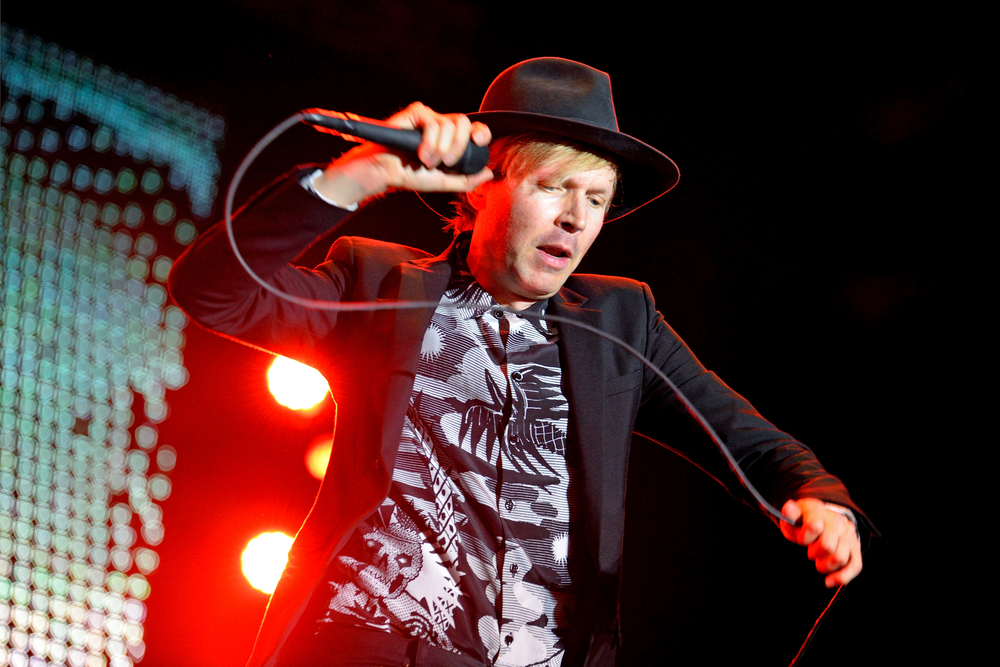 There were more covers to come, including the Korgis' classic Everybody's Got To Learn Sometime, then Hank Williams' Lovesick Blues. Between those, he delivered his own tale of heartsickness, Lost Cause, a eulogy for a dead romance.
 By then the mood in the place was festive; most were on their feet, submitting in some way to the groove-fest coming off the stage. His band was spot-on all night, vocally and instrumentally—no gratuitous jamming or noodling, just prime service to the songs.
He closed with a flourish: a joyous rendition of Girl; then the Colors title track; then Loser (which has aged well after 24 years); and E-Pro, a stormy blast of grungy funk.
His encore was a feast of cover snippets wrapped around his own Where It's At: Strawberry Fields (Beatles), Good Times (Chic), Miss You (Rolling Stones), Blue Monday (New Order), Takin' It To The Streets (Doobie Brothers) and Once In a Lifetime (Talking Heads).
It was a jolly ending to a celebratory evening: A live mashup of disparate songs conceived and concocted from the ingenuity of an artist whose palette bears many more colors than most.
SET LIST
Devils Haircut; Black Tambourine; The New Pollution; Mixed Bizness; Up All Night/Debra; Raspberry Beret; Truckdrivin' Neighbors Downstairs; Earthquake Weather; Think I'm In Love; Wow; Dear Life; Everybody's Got to Learn Sometime; Lost Cause; Lovesick Blues; Blue Moon; Dreams; Girl; Colors; Loser; E-Pro. Encore: Strawberry Fields/Where It's At/Good Times; Miss You/Blue Monday/Takin' It To The Streets/Once In A Lifetime; Where It's At.