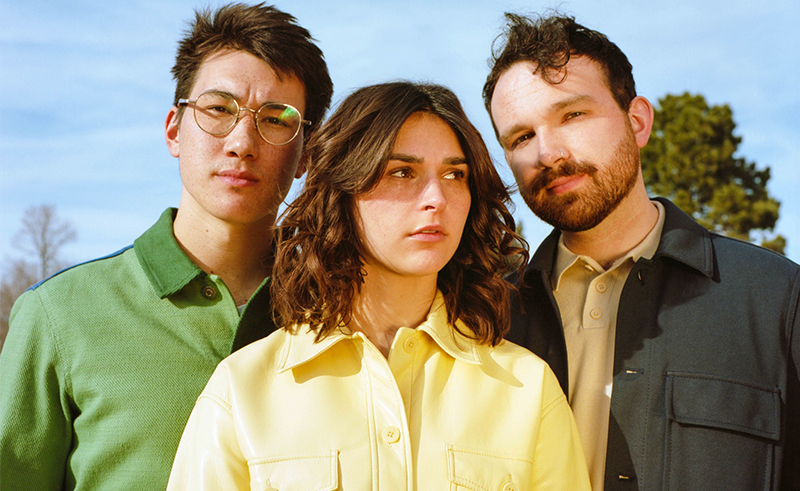 Eight summers ago, The Greeting Committee took the stage for the first time at Blue Valley High School's 2014 talent show. 
Now, the band is set to wrap up the tour of its second album, Dandelion, at Uptown Theater on April 9 after selling out shows across the country and hitting the milestone of one million monthly listeners on Spotify.
IN Kansas City caught up with the band's lead singer, Addie Sartino, ahead of the Kansas City show.
The band has done a lot over the last seven years. Has there been a moment yet where it's really hit you that the band is going places?
It's so hard to be anything other than cautiously optimistic. It's difficult to accept this as reality when it's what we've done since we were 15 years old. To have it be something is so surreal—actually taking the time to sit there and digest it can be really scary. So, I think we've had moments. When we sold out Uptown Theater in 2020, that was a big milestone for us. Hitting one million Spotify monthly listeners this past month, was another big moment. But oftentimes, we sort of just have our heads down and push forward because there's always a new goal that we're going after—whether that's what we're creating or how many people were sharing it with.
Tell me a little bit about Dandelion. It's your second album. How did the process of developing this one differ from your first album?
We really had a hard time writing this record, because we had so many new pressures we were putting on ourselves. We really wanted to not abandon listeners that have grown up with us, but we also wanted to challenge ourselves. And that can be difficult—especially when it was time to release singles and hearing what people's thoughts were because we intentionally picked singles that were fairly out there. Normally, I can tell when we're on the right track, and for this record it was a lot of guessing until we got to the studio and had people who were there to reassure us and help us make it what we wanted.
Did you go in with a certain message you wanted to come across with this album?
I'm probably the only band member who really falls into enjoying theme. It helps me from early on to know what my goal is in what I'm writing about, but for my bandmates that can be really limiting. I knew that Dandelion was going to be a record about the process of grief, just because that's what I was dealing with in my own life. I was going through a fairly revolutionary breakup at the time that we were writing the Dandelion record.
Why the name Dandelion?
We've never done that before, where there's a title track of an album. I'm normally hesitant to do that, but I felt like Dandelion—the song and the imagery—really wrapped up what the album was to me. It's this idea of consuming—dandelions are weeds, but they can be beautiful. It depends on how you look at them, and I think I really felt that way about myself and my own transformation of recognizing my own strengths and beauty. So, it just felt undeniable. I tried to come up with other titles for the record, but that one was just what it needed to be.
What are you most looking forward to about being back in Kansas City?
My favorite spots—getting breakfast at Messenger Coffee, going thrifting, the River Market antique mall. I feel very at home in Kansas City, and I'm really thrilled to be there and show friends who are coming through Kansas City those spots.
What's next for the band?
I think there's going to be a lot more collaboration in the band's future, and I think that comes from the maturity of myself and my bandmates. I think in the past we had been fairly closed off in trying to protect the project. But I think instead of protecting the project, we may have just limited ourselves in ways we didn't mean to. Getting to do our collaboration with Briston Maroney on our song Some Sort of Stranger was such a wonderful moment to be able to share music with a friend, which is what music is really for—connection. So, I think us all being on the same page in the same headspace on really wanting to connect more with others is going to lead to exciting stuff in the future.
This interview has been lightly edited for length and clarity.
Want to see The Greeting Committee perform live? Grab tickets to the April 9 concert here.