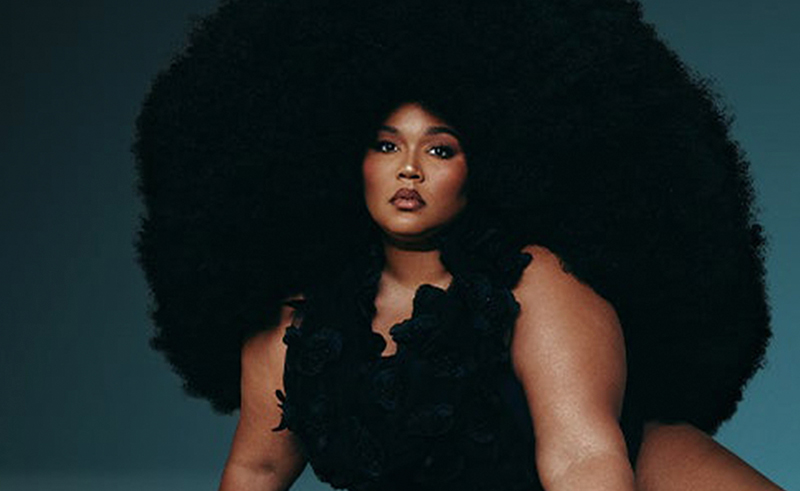 A full-blown street carnival invaded the Power and Light District on Friday night—one replete with all the trappings: a Ferris wheel, tilt-a-whirl and other rides; plus carts peddling plenty of high- and empty-calorie treats and sweets. It was as if someone dumped a big scoop of SantaCaliGon Days on Grand Boulevard outside the T-Mobile Center.
As festive as that was, it could not match the mood that erupted around 9 p.m. inside the arena, where Lizzo unleashed her Special Tour, a spectacle of sights, sounds, and emotions. Kansas City was the 12th stop on her first arena tour, so Lizzo and her entourage of musicians—a DJ, backup singers, and dancers—arrived in mid-season form.
For more than two hours, they bombarded a nearly full arena with a precise but free-wheeling mix of song, dance, instrumentals, and inspirational sermons. In music and in spoken word Lizzo has a message to share, and her live shows are the mountain top from which she preaches.
She arrived on stage with much fanfare. To a dark arena, a recorded message from Lizzo set the tone for what would follow: Love yourself, respect yourself, and share that love and respect with others. 
Then the lights went up, and on video, a grinning Lizzo asked: "Did you miss me?," igniting the first of several uproars. Moments later, she arrived on stage in one of her many ostentatious ensembles: a sequined and meshed neon-blue-and-white bodysuit. Then it was on.
She opened with The Sign, one of nearly a dozen tracks she'd perform from her latest album, Special. It's a groovy, defiant proclamation of self-empowerment, one spiced with occasional profanity, which tends to reside organically in some of her lyrics. Next came another Special track, 2 Be Loved (Am I Ready), a hip-pop/disco nugget that gave her dancers (The Big Grrrls) their first chance to show off some gymnastic moves.
Beyond the dynamic choreography, the show was a visible feast: A large, spangled arch that framed a video screen dominated the back of the stage, changing colors and beaming images all night. From the stage proper, a long runway with a smaller stage at its end—lit by neon-white lights—brought the show farther into the seats on the floor. All night, the crowd was treated to sensual amusements, from lights and videos to Lizzo's extravagant wardrobe changes.
It all inflamed an exuberance that percolated, then over-boiled, throughout the show—a mix of tent revival and hip-hop/R&B cabaret with a variety show pace. A few video interludes coaxed the the crowd to recite an incantation that reinforced the evening's theme: "I love you, you are beautiful, and you can do anything."
The evening was one long highlight with no lulls, even during the quieter moments. One run of songs stood out, though. To open the second set, Lizzo appeared in a feathery robe that she shed to reveal a brown body suit. She then performed Naked, an anthem about body image: "I wish we could live without body expectations… I'm a big girl; can you take it?" Before the song ended, a message would be projected upon her abdomen: "My Body My Choice." The crowd's response was volcanic.
She followed that with Jerome, a blunt verbal punch-out of a former lover (or lovers), then Break Up Twice, a warning to a boyfriend that he gets only one chance to fix things—that song samples Lauryn Hill's Doo Wop (That Thing), which she and her DJ then covered to end the set. (With vocal support from her backup singers, she would also cover Chaka Khan's I'm Every Woman in the next set.)
Lizzo gave her fans plenty of love and attention, bringing a woman on stage to serenade her with a dandy remake of Happy Birthday.
Later, she would recognize fans all around the arena, from the floor to the rafters, based on the handmade signs they flashed or the clothes they wore, her way of saying: You all matter to me. She also had plenty to say about Kansas City barbecue—its savory rewards and its dietary consequences.
She showed off her virtuosity on the flute later in the show, as if to illustrate humbly: "This is just one other thing I do really well." Her troupe of musicians and dancers were given moments to flash their skills, too, including the hot-shot guitarist who delivered a great solo to introduce Tempo.
The show ended with a knockout, two-song encore that prompted more high-voltage singalongs from a crowd that spanned several demographics (race, gender, age): Juice and About Damn Time, a raucous anthem that gets to a significant part of Lizzo's story. "I've been so down and under pressure / I'm way too fine to be this stressed, yeah / Oh, I'm not the girl I used to be  / ,,, I might be better."
Lizzo, born Melissa Jefferson in Detroit, turned 34 in April. She was in her early 20s when her music career started, and she would labor for years trying to get traction in the music world. Her first two albums didn't chart. It wasn't until she released Cuz I Love You in 2019, just weeks before her 31st birthday, that she and her music got widespread attention. It would go platinum and the Lizzo train steamrolled out of the station. 
It's rare—especially for a woman in her genre—to breakout in her 30s. Given her extraordinary talents and personae, it's safe to assume she faced obstacles—externally and internally—that had nothing to do with her music and caused much pressure and doubt. Her platitudes about self-love, self-respect, and self-empowerment spring from that. They are heartfelt, and they resonate deeply among her fans. 
But her perseverance is most impressive and worthy of admiration: her deep, resolute faith in herself and her willingness to do the physical and emotional work necessary to become the icon she deserves to be.