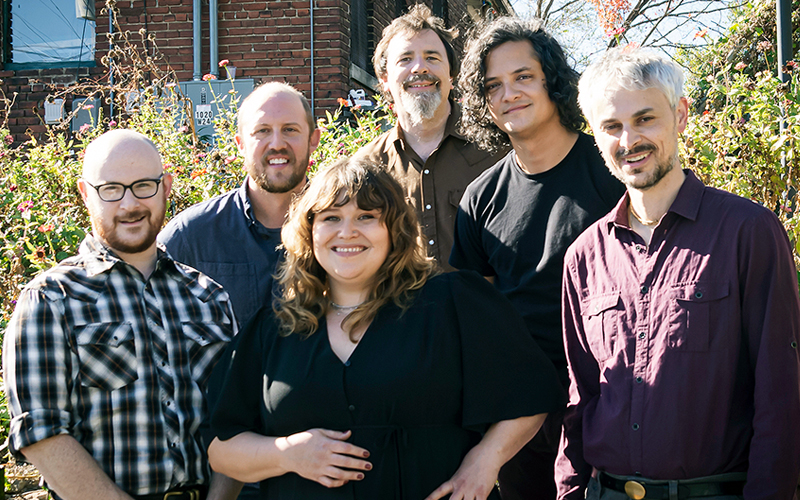 The best bands evolve, continually. They explore new terrains. They move and shift and change course, subtly or otherwise, to avoid repetition and stagnation. They give their fans reason to wonder and anticipate: What's next?
Which brings us to Traitors, the new album from The Grisly Hand, since its inception in 2010, one of the best bands in Kansas City. That year they released Safe House, a seven-song EP bristling with energy, melodies, and inventive songwriting. It defined them, intentionally or not, as some kind of country band—alternative, insurgent, indie—anything but mainstream. 
As auspicious as Safe House was, it was as it turns out, the modest beginning of what has become a grand and consistently adventurous and creative odyssey. Since then, The Grisly Hand has stridently stretched out and explored new genres, infusing each with the band's unique flavors, techniques, and twists.
The impeccable full-length Country Singles, released in 2013, despite its title, proclaimed The Grisly Hand's expansion into music landscapes beyond country. That expansion became more lavish and evident in the next two releases, Flesh and Gold (2015) and Hearts and Stars (2016), which were subsequently released as the double album The Grisly Hand in 2016.
Six years, a pandemic, and lots of family matters (babies) and lineup changes later, Traitors will be released on July 8. It was produced at Element Recording by Joel Nanos, who has produced every Grisly Hand record starting with Country Singles. The band will celebrate with an album-release concert July 9 at Lemonade Park in the West Bottoms.
Nanos' familiarity with the band and its strengths is readily apparent. On Traitors, he again captures the spirit of a group in a place of supreme creativity, inspiration, and fellowship, a band that has graduated and moved on from its roots without forsaking them. Traitors is a panoramic celebration of  The Grisly Hand, an excursion into soul music (from Memphis to Muscle Shoals), the blues, rhythm and blues, '60s and '70s music—including some soulful soft rock (Don't Take This Out on Me)—and a few takes on its reliable fallback, country.
The latest lineup comprises Lauren Krum (vocals and auxiliary percussion); Jimmy Fitzner (guitar, vocals); Ben Summers (guitar and the band's third songwriter); multi-instrumentalist and vocalist Mike Stover; Johnny Nichols (bass, vocals); and Kian Byrne (drums, vocals). Nichols and Byrne (of the Elders) are former Grisly Hand members who rejoined the band this year. Krum's sister, Melinda Pine, provided some guest vocals, Nick Howell applied trumpet on the stellar Don't Wait 'Til Summer, and former band member Mike Tuley played banjo on On the Same Side, one of the record's many fine moments.
Krum and Fitzner, the band's chief songwriters and lead vocalists, recently answered questions for IN Kansas City about Traitors and the band's pursuit of new sounds—its tireless evolution, in other words.
What I like so much about this record is from the first listen of the first song, it is undeniably The Grisly Hand. But as the record progresses, it sounds measurably different from previous records, primarily in song structures but also in other ways. Was that a primary intention when you went into the studio? Or is this more an organic process, an evolution, that was more natural than calculated?
We definitely wanted this record to sound different than our past albums, but we knew that was somewhat inevitable based on the songs. It feels natural for these songs to sound different after such a long break from recording. Element is such a comfortable place for us. We were able to hit the ground running and focus on creating the best song possible. We got better at communicating to Joel what we wanted with each song, and I think he knows us well enough to hear that these songs were different.
What influenced the music on this album, personally and otherwise?
It's several years of songwriting, so we cover a lot of ground—we had babies, we changed up our lineup, discovered a lot of great records. When we started putting the album together we were spending time isolated, so many of these songs were fleshed-out alone, which contributed to the more vulnerable nature of the album. We had to be more independent in our songwriting and then use our time together to make these feel like Grisly tunes. On The Same Side takes a hopeful approach; a love letter to friends after spending so much time away from each other, and we felt that as a band as well. 
Your harmonies are wonderfully sibling-ish. Tell me about that. It's so integral to the magic of your songs.
We have been singing together for 12 years, so that's the least we could do. There were definitely some magic moments vocally on this album. One that comes to mind is recording Jacques The Fatalist. It's hard to describe what it feels like in those high-energy moments, but Lauren used the phrase "rainbow road" to describe it. Having everyone in the band contribute vocally to this record and gaining strong singers in Kian and Johnny made a big difference as well. 
What do you want listeners to take from the album lyrically?
There are some big feelings on this record. Times were tough, and we were asking some big questions and trying to find answers.
Our fans have taught us that our lyrics are open to interpretation and that the sentiment is sometimes the bigger player. In confronting grief, anger, and joy, we can hopefully allow others to do the same. We're also playfully honest about the songs we feel we are referencing. We're always standing on the shoulders of giants.
Learning to set boundaries is a pattern in these songs. Becoming precious to oneself and evaluating what matters is also an undercurrent. Jukebox Money was actually a ten-year-old song that was partially rewritten as a reconsideration from a much different perspective.
What about this album are you proudest of?
We began writing these songs with a different lineup and through a really disconnected period with a lot of change, so to come out of it as friends and better players and make a record that sounds this good, feels wonderful. There was a feeling of being reunited and having a second chance in some ways.
Six years between albums: How did that affect the energy once you returned to the studio?
Was it six? Wow. But in all seriousness, we were excited to be in the studio and to create something to share with our fans. Because Kian and Johnny were in the band in the past, and we have such a history with Joel, it was an easy, open environment, and there was a lot of enthusiasm for tracking and adding depth and beauty. Mike's evolution on keys, and his dedication to supporting these songs continues to be a boon to every record we make.
Why Traitors?
It was something Joel whispered under his breath when we came crawling back to him. It made us laugh really hard. It's such a hot-button word for a collection of introspective, sensitive songs. It's a strong, one-word title, and we often get too wordy. It spoke to our desire to not take ourselves too seriously.