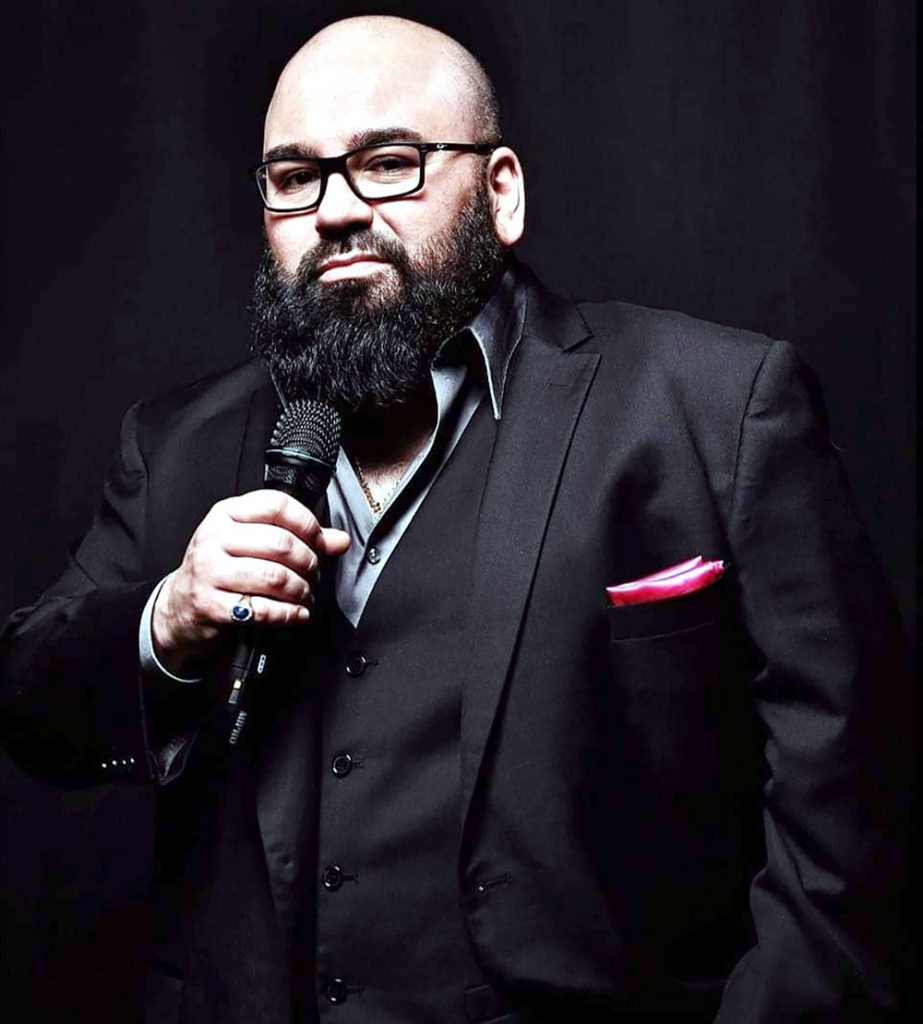 Steven St. John is arguably the most popular personality in the Kansas City sports media. For 20 years, he has been an on-air personality at WHB (810 AM), more than ten of those as host of The Border Patrol, broadcast weekdays from 6 to 10 a.m.
His resume includes gigs as a ring announcer for mixed martial arts and boxing events on ESPN2, Fox Sports Net, CBS Sports, and other outlets. He was also the color commentator for men's and women's basketball for UMKC, his alma mater, which, in March, honored St. John with a Spotlight Award, which recognizes distinguished alumni.
The Border Patrol focuses heavily on all levels of sports, but loyal listeners know it also delves into other areas of popular culture, including TV and film, but especially music.
St. John recently answered questions from IN Kansas City about the vital role music has played on his show, during his childhood, and as a husband and father.
What was your family life like growing up? What role did music play?
It was just me and my mom and dad. We lived in a small house on Jackson Avenue right off Independence Avenue in northeast Kansas City. My dad worked a lot and my mom didn't learn to drive until I was in school, so I was always at home with her.
We listened to music constantly. We moved to a bigger house on Van Brunt Boulevard, then my parents split up. It was very difficult for me to deal with. Music was a big crutch for me. I would lose myself in movies and TV, but especially music, to cope.
What are your earliest memories of music? What bands or performers do you remember listening to?
I pretty much listened to what my mom listened to: Elvis. Always Elvis. Billy Joel, Neil Diamond, Captain and Tennille, Linda Ronstadt, Freddy Fender, Barry Manilow, Frank Sinatra, The Rat Pack, Glen Campbell, Tom Jones, Rod Stewart.
A lot of movie soundtracks: Saturday Night Fever and Grease. Lots of music from the '50s and '60s. My dad listened to Otis Redding, Sam and Dave, Al Green, B.J. Thomas, Janis Joplin, Roy Orbison.
You mention your mother frequently on your show and how important she was to you. Did she play an instrument or sing?
She would always sing to me—she had a lovely voice—but never in public. She was very self-conscious about everything. But she gave me my love of music. To say that she loved Elvis would be a huge understatement. She adored him. By the time I was 3, she had taught me the words to so many Elvis songs, I started performing as Elvis at parties and weddings. She would dress me up like Elvis and I'd sing and dance my heart out when I was 4-years-old until I was maybe 7 or 8.
She would also dress me up as Glen Campbell and I would sing Rhinestone Cowboy. She took me to see Grease at the theater at least 25 times. I'm not kidding. And I'd sit there with her and sing every song. Every song. She loved John Travolta, too.
My mom was my best friend. There were times in my life that she was the only person that I could depend on. She was always there for me. I owe every bit of success that I've ever had to my mom. I love her and miss her very much.
June is Father's Day month. You talk about your dad a lot, too, and he's on the show occasionally. Sounds like he's lived a large life.  This is a very general question, but distill or summarize your relationship with him and how he has shaped and influenced you.
We are really close now. After he and my mom split up, I had a lot of resentment towards him. Then he went to prison when I was 17 and didn't come out until I was 25. Those were a lot of years that I really needed my dad. It was hard for me when he was gone. But it was a lot harder for him.
He's the toughest person I have ever met. He left home at 15, joined the Navy a couple years later, served in Vietnam. He even had a brief fling with Janis Joplin in San Francisco. Years later, I learned that was why my mom hated Janis Joplin and cursed loudly whenever she would hear one of her songs.
He will do anything for the people he loves. He's also hilarious. I get my sense of humor from him. And he's the best storyteller that I've ever heard. He can command any room in any walk of life. I love my dad.
What was the first album you owned? What was the first one you bought (if the two are different)?
It wasn't mine, but I used to carry around an 8-track of the Elvis album Separate Ways. It was my mom's, but I loved it. I loved the album art of Elvis standing in the middle of the road playing his guitar. That sticks in my mind.
But the first album that I remember buying was 1999 by Prince. That album blew my mind in so many different ways. My parents were pretty liberal about what they let me watch and listen to. A lot of my movie, TV, and musical tastes were advanced for my age. So, 1999 wasn't really a staple in the record collections of too many 10-year-old kids, but I loved it.
What are some of your favorite concerts?
If I had to single a few out, I'd say Jack White at the Midland with my sons in 2014. I don't think it can ever get any better than that. The White Stripes at Starlight, Guns N Roses at Arrowhead with Metallica and when they returned to Arrowhead because I had my wife and sons with me. Also, when GnR opened for Aerosmith at Sandstone. As soon as I saw GnR live in concert for the first time, I was hooked for life. Billy Joel on the Innocent Man tour. Every time I saw Prince was like a religious experience. There have been so many great ones. I know I'm leaving so many out.
If you could interview any musician, dead or alive, who would it be and why?
Easy answer. Elvis. I've always been fascinated by Elvis and I could interview him for days and never run out of questions.
The Border Patrol is a sports-talk radio show, but you regularly discuss broader cultural subjects: music, TV, film, etc. How vital of a component is music to the show? Music is an important aspect of the show because early in the morning, people may not be in the happiest of moods because they are driving to work or school. So, if we can play some music that they like, it can help get them going in the morning.
My producer, Jake Gutierrez, does a great job of selecting the bump music for our show. It's a mix of music that I love, some stuff that (co-host) Nate [Bukaty] enjoys, and songs from Jake's catalog. Jake has opened my mind to a lot of great music. Nate loves old-school hip-hop, but he also shares a lot of my musical tastes.
Your older son, Richie, is a working musician. What projects are he involved in? What are his goals?
Richie is in a band called Minor Rewind. They are awesome. All the members attended School of Rock in Parkville together. They are all unbelievably talented and they play gigs all over Kansas City. They also have a good following in St. Joseph.
Richie is an instructor at School of Rock now. He plays and teaches keys, guitar, and bass. He also sings. He has a great work ethic and loves music more than anyone I've ever been around. He wants to be a professional musician for the rest of his life. He just wants to play music. That is his passion.
He was in a Kansas City production of Hedwig and the Angry Inch. What was that experience like for you?
Honestly, it was one of the greatest experiences of my life. He played a pretty big role in Hedwig, including performing a song solo. The cast was a group of such talented people, it really blew my mind.
I think they had around 13 performances at the Arts Asylum and I attended ten of them. I remember having tears in my eyes while driving home from the premiere. He didn't tell me he performed a song solo, so I was shocked as it happened. I told Susan that I was in tears that night because I was so happy for Richie. I realized he was even more talented than I thought. That's when I knew he was going to make it in music. It's not a matter of if, it's a matter of when.
If you had to give up one for an entire month, which would you choose, music or sports?
You may not believe me, but I'd give up sports for a month and the decision really isn't that difficult. Music is a form of therapy for me. I listen to music to relax, help me sleep, work out, get motivated, improve my mood, set the mood. I use music for so many things. Music can transport me to a certain place and time almost like my own personal time machine. It can also strengthen my connection with the people that I've lost in my life. I can listen to Vicente Fernandez and it feels like I'm in my grandparents' basement again. I listen to Elvis and it feels like my mom is with me. Music is such a big part of my life. I'm not sure I could go a few days without it, much less a month.
The bigger rock star: Patrick Mahomes or Elvis Presley?
How on earth can I answer this question? The answer is Elvis, but if Mahomes wins a Super Bowl for the Chiefs, come find me.
Finally, another Father's Day question: Family is also a regular theme on your show. Describe as best as you can what being a father means to you. What role does music play in family?
My wife and I share very similar tastes when it comes to music, TV, and movies, so we were a match made in heaven from the start.
Being a father is absolutely the most important part of my life. I always wanted to have a lot of kids because I was raised as an only child and sometimes it was a lonely existence. My kids mean everything to me. They make everything in my life better. They are my world.
Some of the most special times with them happen because of music. We sing and dance a lot. Selena and Julia put on daily performances for us. I think one of my favorite things to do is to listen to them rehearse or jam when they don't realize I'm listening or they think I'm not home. Music and my family— that's a combination that fills my heart with joy and love.
---
Email Timothy Finn at tfinn@inkansascity.com