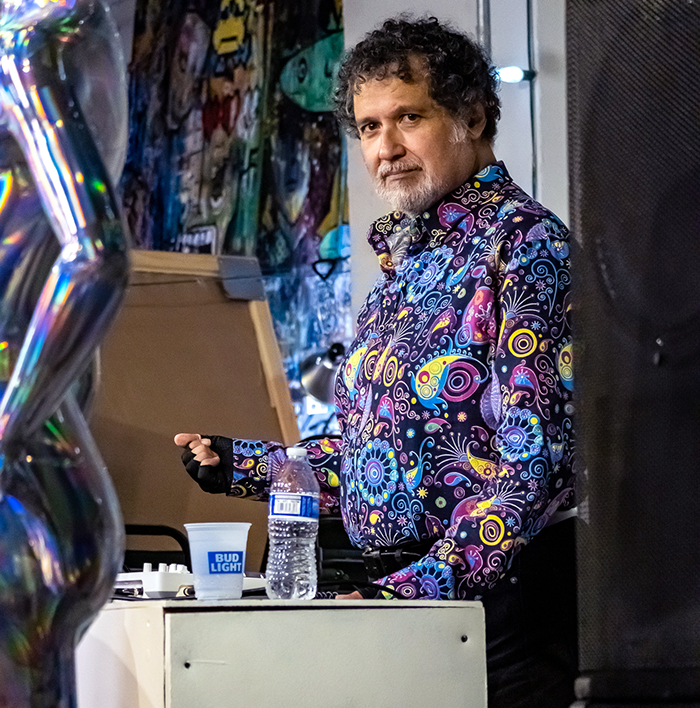 In October, Ray Velasquez returned to the radio airwaves for the first time in almost 20 years. Nocturnal Transmission, the radio show he started in 1983 at KLZR-FM—"the Lazer"—in Lawrence while attending the University of Kansas, was revived by KTBG-FM—the Bridge (90.9), giving Velasquez a new palette upon which to render what he calls "music narratives," using songs drawn from any and every genre and era. 
Velasquez made a name for himself in Lawrence in the mid-1980s beyond his weekly radio program. He also became a popular, go-to DJ at clubs, house parties, and other events. His popularity grew far beyond Lawrence, which prompted him to move to New York, where his DJ career flourished.
Several years ago, Velasquez returned to Kansas City, his hometown, and earlier this year, the Bridge approached the Bishop Miege and KU grad about reviving his popular Sunday night radio show—18 years after its initial run ended. Velasquez recently answered questions from IN Kansas City about the show, his years in Lawrence and New York, and some of his more unusual gigs, which included the funeral of William S Burroughs and a Halloween orgy. 
Who were your earliest music influences?
My earliest musical influence was my father. I come from an extremely musical family. Everybody played an instrument or sang. My father sang and played guitar. Music was at the core of my being since the moment of my first conscious thought. My father would take me to Katz Drugs to buy hit 45s and seven-inch singles from the WHB chart. I would play them on a tiny portable record player for my little sister and the neighborhood kids. It was '60s go-go at my house! I think there is a Super-8 home movie of that somewhere. I adored AM radio. My parents actually befriended legendary broadcasting brothers Mike and Pat Murphy. I think we even attended a few baseball games with Pat Murphy.
Yeah, my dad; he was pretty cool. A blue-collar working-class hero. I miss him.
What was the first album you owned? The first album you bought?
The first album I owned was The Chipmunks Sing the Beatles Greatest Hits from 1964. The first album I bought with my own money was a double 8-track cassette of The Beatles (the White Album).
Your history includes some live performances, including musicals in high school. How did those experiences influence you?
I was fearless when I was on stage. It prepared me for a life in broadcasting and performance. My musical interests are quite broad. I grew up loving Broadway and Hollywood musicals. That's my mother's influence. So, performing in elite high school choirs and musicals came naturally to me. At talent shows I mainly sang Beatles songs and original, angst-ridden teenage rubbish. But, man, I had a blast.
My huge extended family often attended to see the first-born grandkid perform. And my teachers and classmates loved it because my family laughed the loudest and clapped the hardest.
Who and/or what inspired you to play the role of DJ—the person who creates a music experience for others?
I don't think there was any one person who inspired me to become a DJ. It was a natural evolution. I grew up singing, playing guitar, and writing songs. I began working at a record store at 16. My first day was July 7, 1977 – 7/7/77. Talk about an omen! If anything, I think that experience may have influenced my evolution into becoming a DJ. I learned about nurturing an enhanced sense of empathy while dealing with the public. People who came into the record store trusted the opinion of a 16-year-old kid. They knew I cared.
And when I began university at 18, I enrolled in quite a few music history courses, which served to further fuel my passion for music.
You became a prominent tastemaker in Lawrence in the early/mid-1980s, both as a club DJ and on on-air DJ. Talk about the music scene/community in Lawrence at the time.
The Lawrence music scene in the early 1980s was like Athens (Ga.), Austin, Minneapolis, and Seattle rolled into one. To quote a Get Smart! lyric: We were indeed "Berlin on the Plains." What was it like for 19-year-old Ray? Beer, music, sex. We had radio (KJHK), venues (Off the Wall Hall and the Lawrence Opera House), and raging, glorious, youthful curiosity and open-mindedness.
My first encounter with you was at the Sanctuary, a Lawrence club where you held court regularly and drew a big, loyal crowd. In late winter of 1984, you introduced me to R.E.M when you spun Radio Free Europe, and I immediately asked you about the song and band. Within a few weeks, I owned everything they'd recorded. What was that period like for you—having the place and means to expose people to new and underground music in a live setting?
Your question gave me goosebumps, man. If I remember correctly, my residency at the Sanctuary began in the late winter/early spring of 1983. That was shortly before my first professional broadcasting job at 96X in Ottawa, Kansas.
Both the Sanctuary and 96X eventually understood how I could be most effective. They gave me full artistic freedom. And I also worked with a talented crew. David Randall was among them. We remain close friends, and he is now a member of the Kansas City-based band, the Ants. David and my friends at the Sanctuary, KJHK and 96X helped create the Frankenstein-monster DJ before you now.
In November, the Bridge aired an '80s appreciation weekend. Give us your assessment of the music of that decade—now 40 years later.
I loved that era. I rose from that era. The music evolution is difficult to sum up. And I would think it's different for anyone who experienced it. But I'll give it a shot: alternative, college rock, MTV, the Walkman, industrial dance music, house music, techno.
How was Nocturnal Transmission conceived and what was your mission/goal going in?
Nocturnal Transmission was born in the summer of 1983 as a temporary Sunday-night replacement for The Debraining Machine, which was an industrial-music radio show. Originally, Nocturnal Transmission was a collaboration with my best friend at the time, Kim Buie, who went on to do great things in the music biz.
It began as a way to explore quiet music, film soundtracks, and experimental recordings. I don't think I consciously knew it at the time, but what was most important was the emotional content of the show as opposed to the individual songs. It was about music and an emotional narrative and not about songs.
How did it evolve over the years?
Excellent question, and a difficult one to answer. It continues to evolve. I suppose the one constant is that genre matters less than the emotional narrative created. In other words, at any point in Nocturnal Transmission history one might have heard music by New Order, the Beatles, Happy Mondays, Love and Rockets, Jules Shear, the Beach Boys or Cocteau Twins blended with classic or cutting-edge electronic music. What matters most to me is connecting the dots historically, and the resulting emotional content. So, I suppose each Nocturnal Transmission is a fresh composition.
Tell our readers about the Lazer and why it has become somewhat mythical in music lore around Kansas City and Lawrence.
While radio stations were being gobbled up by massive corporate entities, the Lazer remained one of the last family-owned local radio stations in the country. Our programming was bold. And they gave me complete artistic freedom. However, that may have been because Nocturnal Transmission aired well past the bedtime of the powers that be. They were patient with me for ten years. Three of those after I had already moved to New York. My stint at The Lazer began in 1993 and ended when the new corporate owners pulled the plug in 2003.
In October you restarted the show on the Bridge. How did you approach this resurrection? What was the primary intent and were there things you wanted to avoid?
I have likened its resurrection to the Beatles ending live performances in 1966 in order to focus on creating music in the studio. It's beyond artistically satisfying for me. I suppose my primary motivation is self-expression, and sharing music with friends and the world.
What I hope is that it's not an exercise in nostalgia. Some listeners would prefer it to be how they may remember it in the '80s and '90s. The irony is that they may not recognize that it is essentially the same show. It's just a different century.
The music landscape has changed almost beyond recognition since 2003. How has that changed how you do your show?
Change is constant. Every day is a beautiful exercise of creative curiosity. There is so much music from which to draw. In a way, for me and for many of my listeners, we're discovering it together.
In the 2020s, you have a greater wealth of music at your disposal. Does that make it easier or more difficult to keep track of what deserves attention?
It makes it much more difficult! I love the seemingly endless possibilities, but I can spend three days selecting music for a three-hour show.
You were enlisted to provide music for the wake/funeral of former Lawrence resident William S Burroughs in 1997. Tell us about that and what kind of requests/advice you had going in.
James Grauerholz called to inform me that William had passed. He had a few selections picked out, and he left the rest to me. I think the playlist is posted somewhere on Facebook. Perhaps the standout selection was the brooding melancholy of Ry Cooder's Paris Texas.
How long did you DJ in New York and what did those years teach you, about DJing, music and life in general?
I lived in Carroll Gardens, Brooklyn, just four subway stops from lower Manhattan. In some ways it was not unlike living in downtown Lawrence. There were families of varying ethnicities who had lived in the neighborhood for generations, as well as a vibrant community of young, forward-thinking newcomers. Smith Street had an uncanny resemblance to Massachusetts Street in downtown Lawrence. And my neighborhood friends made me feel welcomed and right at home.
It's fair to say that I hit the ground running when I moved to New York. The performance opportunities were wide and varied. I loved it. I had already established loads of longtime friends and professional relationships.
One of my earliest residencies was playing in a lounge owned by John Jellybean Benitez, Madonna's ex-boyfriend and the man behind her earliest recordings. He phoned me when he found out I had moved to New York.
The private events were the most satisfying. I was flown to play events in Tel Aviv, the Turks and Caicos Islands, Mexico, and Bahia. I've often joked, how many DJs do you know from Kansas City who've played weddings from Topeka to Tel Aviv, a funeral, and an orgy? And the orgy was the least interesting gig of them all.
An orgy. Care to elaborate?
It was a Halloween party for a swingers group in New York who had once been on an episode of HBO's Real Sex. It was the most unerotic thing I'd ever witnessed. It was held in a private event space above a rather swanky restaurant in West Chelsea. Hors d'oeuvres were served and cocktails began to flow. Some guests remained masked, but most wanted the full-body sensation. I was glad I wasn't the guy who had to clean up after.
You're back in your hometown. What do you like most about living here? How did its music scene change while you were gone?
There's actually quite a lot to like about living in Kansas City again. It's strange to think that I have not lived here since leaving for Lawrence at 18. But I lived in Lawrence for 20 years before moving to New York.
I suppose my answer may change depending on my mood and the day of the week. Some might say that the entertainment scene has grown significantly over the past 20 years. And in some ways, it has. But I feel it remains relatively conservative. In all my years here before and after my stint in New York, I sometimes felt held back by people who may not have shared my creative vision. Luckily, MOD Gallery has become my creative home, thanks to Brian Ousley. And now the Bridge has welcomed me with open arms and full support, thanks to Bryan Truta. I couldn't be happier.