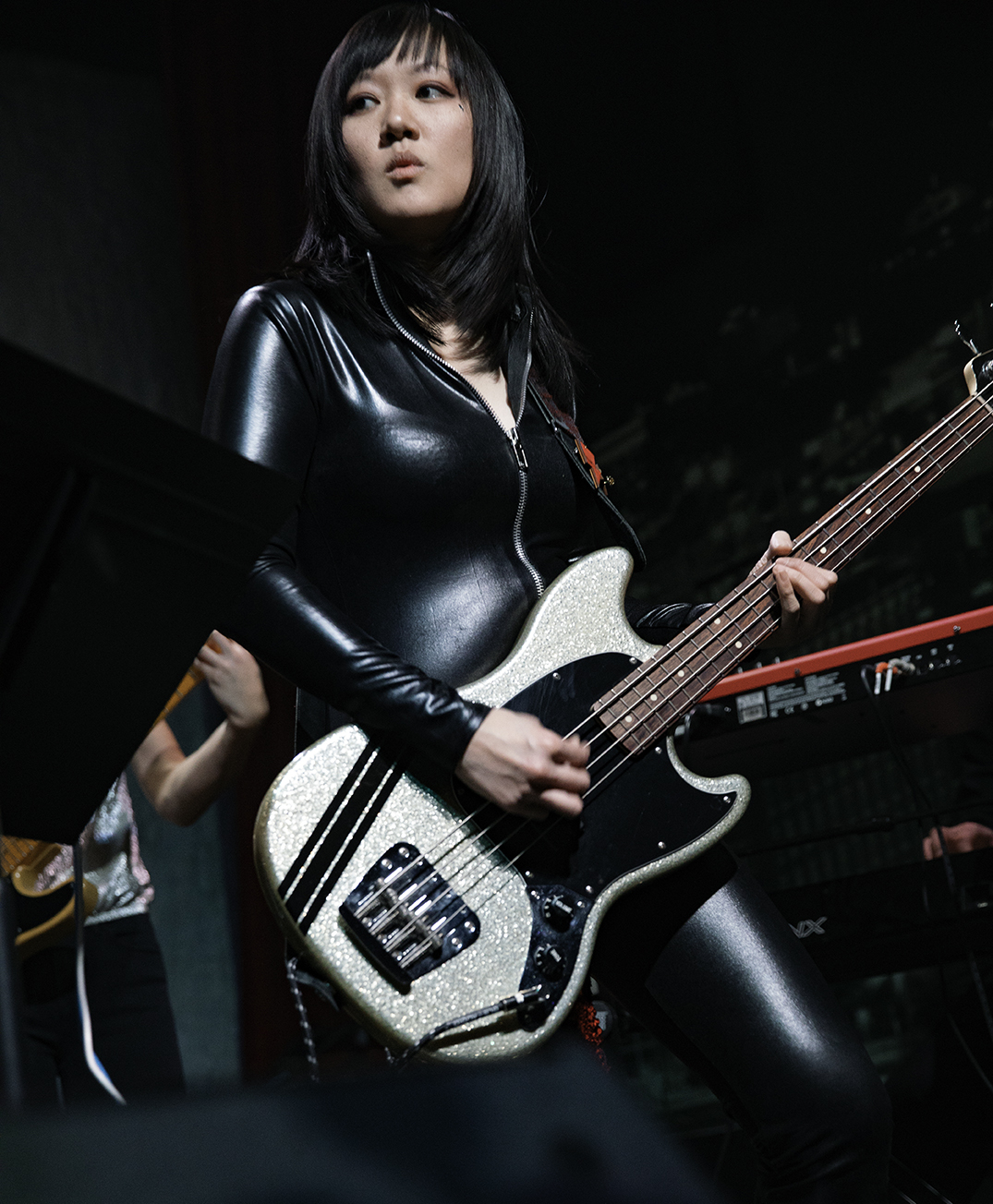 Michelle Bacon entered the Kansas City music scene years ago as a novice and an outsider. She has since become one of its mainstays, a go-to musician capable of filling a variety of roles.
Among the roster of bands of which she is, or has been a member: Other Americans, Katy Guillen & The Drive, The Nathan Corsi Band, and the Una Walkenbhorst Trio.
Bacon also founded and organized The Band That Fell To Earth, a David Bowie tribute band that played its first show a few weeks after Bowie's death in January 2016. That show has since become an annual event. This year it will be presented Jan. 24 and 25 at RecordBar.
Bacon recently answered questions from IN Kansas City about her childhood, about her gradual but steady involvement in the Kansas City music community, and about this year's Bowie tribute.
Give us some details of your childhood: where you were born/raised; where you went to school; what your family life was like.
The first few months of my life were spent in an orphanage in Taichung, Taiwan, before being adopted and finding my family and home in Independence, Missouri.
I was an extremely reserved, studious kid who attended Catholic schools and was grounded in two cultures: that of my mom, who emigrated from Malaysia eight years before I was born; and the surroundings of my dad's/Harry Truman's all-American hometown. It made for a unique, well-traveled, sometimes socially disjointed childhood. My family unit was small and tight-knit, as most of the relatives—save my parents and grandma, mainly—lived all over the globe.
When did music become an interest? What provoked that interest?
I don't remember this, but my parents talk about a trip we took to New Orleans when I was a wee one. I was very shy, but as we walked through the French Quarter, they tell me I couldn't quit gleefully bopping through the streets. I was instantly addicted to all the lovely melodies orbiting around me, and I guess that hasn't stopped.
Did you play an instrument growing up? Were you in school bands?
I took private piano lessons from the ages of 4 through 12. No music programs were offered at either of my schools, the arts weren't prioritized. Part of why I quit piano was because I struggled with fitting in—as many pre-teens do—and nobody else in my school really played an instrument that I knew of. So outside of a few short-lived guitar and drum lessons along the way, I didn't start playing anything in earnest until I was about 20.
Who were the first bands/musicians you started listening to as a child? What was the first album you owned? The first album you bought?
As a kid, I probably listened to classical music more than anything else. One reason: I learned the Suzuki piano method, which involves a lot of ear training, so there was often some Beethoven or Bach rolling in the background at home. My affinity for popular music came a few years later when we got cable and I finally discovered MTV. My first cassette tape was Boyz II Men II. (Bonus: I recently found old sheet music for On Bended Knee in my piano bench). My first CDs:  Green Day's Dookie and Weezer's Blue Album.
Outside of music, what other artistic discipline influenced you most and why?
Definitely writing. My grandmother spent her entire life writing as a hobby, but it wasn't until her 80s that she published her first novel and began winning awards for her poetry.
This happened in the years she took care of my dementia-stricken grandfather, and it was the most inspiring thing to watch while growing up. She encouraged me to find my voice through writing because she believed that my voice could add value to the world. I don't consider myself a naturally gifted writer, but her sentiment stuck with me, and it's a craft I've loved developing over the years.
When did you first join a band? Who was that band, what was your role, and what did they sound like?
I think I was in my mid-20s and barely knew how to play drums at that point, but I started a band with my lifelong best friend and his cousin. We were called Mach Rocket 3000!. We wore ridiculous sparkly/spandex-y outfits, the boys did jump kicks and split kicks, and the music was a frenzied mash-up of AC/DC and KISS. It was as silly as it was entertaining.
What was your first live performance with a band and what do you remember about it?
I played one "show" on electric guitar with an '80s cover band in front of Californos in my early 20s. I think a friend of a friend told me about these guys, and I thought I'd give it a go. I had no real idea how to play that instrument, and none of us knew each other outside of our two rehearsals, I'm still not sure if it was a sanctioned event. A couple days later, the bassist called to tell me the drummer died of a heart attack. I never heard from any of them again.
What was the first significant band you were part of and what was so significant about it?
Playing drums in Deco Auto was significant for me, because it was the first time I felt like music could be, and perhaps had to be, more than a hobby.
I had started writing album reviews for Ink and The Kansas City Star around that time and became much more familiar with the local indie scene as a result. Hearing and then meeting all these great musicians sparked something within me. So that's kind of when I jumped into about every band I could and started learning from so many of these artists I looked up to.
You are content manager at the Bridge (90.9 FM). In 2018 you produced a series in conjunction with an NPR series called Turning The Tables. It focused on the experiences of women in music in our region. As a woman of Asian ancestry working in our music world, what did working on this series reveal to you and what did it confirm?
Music is a male-dominated industry that has historically minimized the accomplishments of women. I wanted to look at that from a local perspective, in a music scene where I've generally felt welcome and treated like a professional.
After hearing the experiences of dozens of women, the series confirmed that many of us felt that same inclusivity from local promoters, sound engineers, media and fellow musicians. But it also confirmed the fact that gender disparity exists. Sometimes women have to work harder to be treated as equals, and sometimes we're exalted for the wrong reasons.
It revealed the subtleties of "otherness" and the challenges women face being viewed as anomalies in the music business. As a queer Asian-American woman living in the Midwest, I've encountered this throughout my life, and it can be tough to speak up about because the damage is often not severe or even intentional. I really wanted the series to facilitate more conversations about how we could move past those perspectives, and I hope it has done that in some small way.
This month, you will present the fifth annual tribute to David Bowie performed by The Band That Fell To Earth. The first installment of this event was scheduled months before Bowie's death in January 2016. In the wake of his death, it took on such a greater weight and gravitas that it had to be moved to a much larger venue. What do you remember about going into that first show, knowing full well that all of the 1,000 or so people who attended would still be grieving over his death? How did that change the dynamics?
Our band was enthusiastic to play together from the start, and to share our interpretations of Bowie's canon with fellow fans. That enthusiasm immediately turned to catharsis when he died, and the sheer timing gave us a huge sense of urgency and responsibility.
His death felt personal and profound to so many of his fans, all of us included. We knew that show would be a place for his fans to congregate, celebrate, and grieve. But the energy in that room felt enormous and unifying in a way we didn't quite anticipate, and a lot of people have told me that it helped bring them some closure. So this has become a meaningful time of year for the entire band; we love getting together to perform these songs and try to make each show feel as special as that first one.
How has learning his music so in-depth affected you?
Bowie's music has been with me since I was a teenager, but even more so since this event began. The familiarity I have with the songs goes beyond learning lyrics and chord progressions; it has become more about digging into the language of all of his musical phases, preserving his art, and honoring his spirit of innovation. It has also helped me sharpen the intent of the annual show, making it as much about community engagement as it is about the music.
Bowie championed outcasts throughout his career, so one main goal for me has been to spotlight marginalized populations in the city through our charity donations. The other is to expose people to the original artists who work tirelessly to create, innovate, and entertain.
Give us some details about this year's show, which is Jan. 24 and Jan. 25 at RecordBar.
We've got a pretty hefty arsenal of songs now, so each night will feature varying set lists and different guest vocalists, which will include some of the strongest soul, pop, and blues voices in the city. As always, we'll have American Sign Language interpretation and video projection.
A few local makers (Kitschup Creations, Lost & Found Design and Two Tone Press) are creating special items for the event. A portion of ticket sales will benefit Kansas City Anti-Violence Project—an organization that advocates, educates and supports the LGBTQ+ community, often those affected by domestic violence, sexual assault, and hate crimes.
What are your favorite Bowie songs and/or albums?
Ziggy Stardust and the Spiders From Mars was my first introduction to Bowie, so it holds a particular place in my heart and feeds my glam-rock proclivities. With all of its beautiful symphonic swells and Bowie's whimsical turns of phrase, Hunky Dory is a long-time favorite. For more than one reason, Blackstar is my album of the decade, and I think it'll endure as one of his most brilliant works.
I go through different phases with his music—and there's so much of it! So lately I've been stuck on Scary Monsters and Station to Station.
Your grandmother had a profound influence on your life. How did she inspire you most?
Every aspect of my life has been inspired by my grandma and her devotion to finding beauty and joy in all things. She was adventurous, luminous, and benevolent. She was that rare person who knew how to make anybody she came into contact with feel valuable and treasured.
I've always struggled with my self-worth, and she was the one person who made me feel like I could actually make a difference. By the time I started working as a musician, she was in her late 90s and had almost no short-term memory. But I know she'd be proud because it brings me so much fulfillment and purpose. I'd hope it could inspire somebody to follow their own path too.
What are the best things about the Kansas City music community?
There are a lot of dedicated, talented artists in Kansas City, but I think that the inclusivity is unparalleled. I entered the music scene while going through a major life change and found sanctuary in it. I also learned so much about being a musician and a music professional through the mentorship of others. I often return to that spirit of community, but it seems crucial to have a system of support and connectivity to share with one another. It drives us to create and instills the confidence to put our passions out to the rest of the world.
---
Want more Timothy Finn?
Check out his weekly online-only content, including his Top 5 Not-to-Miss Concerts in the metro and his revered, rollicking, reasoned reviews and commentary.
Email Timothy Finn at tfinn@inkansascity.com