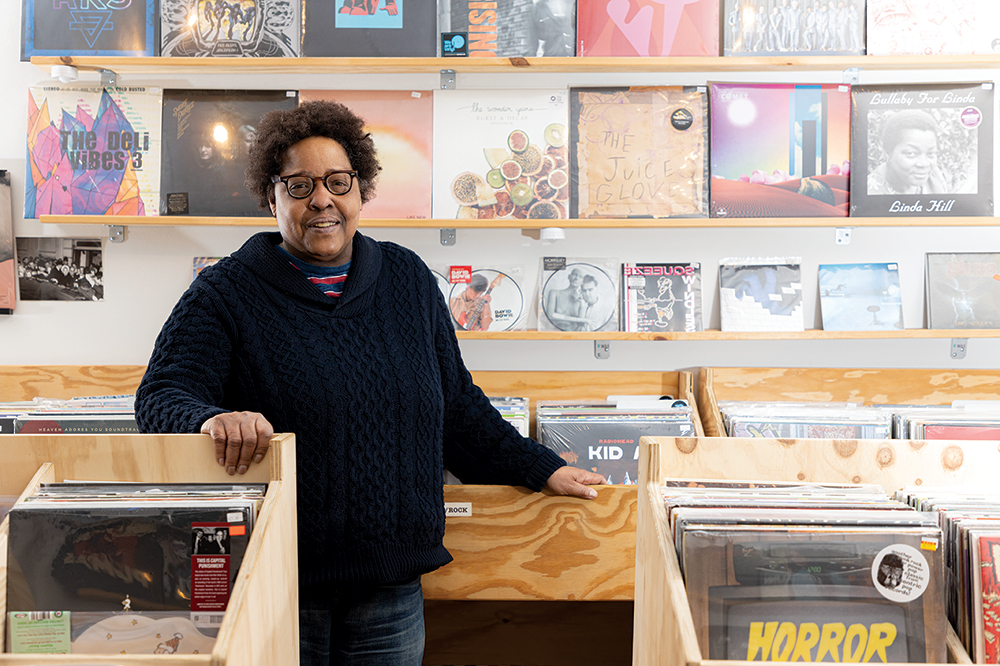 If you frequented the music department at Barnes & Noble on the Plaza before and after the turn of the millennium, you no doubt encountered Marion Merritt, who managed the department for 18 years—from the days when CDs were king through the seismic streaming/on-line revolution.
In May 2014, Merritt opened her own music store, Records With Merritt, at 1617 Westport Road, one that specializes not only in new releases but in box sets and rare and obscure recordings.
April is a big month for all music retailers because of Record Store Day. This year, it falls on April 18 [date has been changed to June 30]. The annual event started in 2008, and each year music stores around the world feature a large array of special releases and rarities produced exclusively for RSD. 
This year's list of limited-edition vinyl, box sets and cassettes includes recordings from Paul McCartney, The Cure, Miles Davis, Kraftwerk, and dozens of others.
Merritt recently answered questions about her store, Record Store Day, and a life spent exploring and enjoying all genres of music.
You grew up in a couple of places. What was your childhood like, and how did where you grew up affect you?
My parents were from St. Louis. I was born in Los Angeles and most of my childhood was split between the two very different cities. Los Angeles was fun, light—the beach, the parks, long rides in the car going absolutely nowhere with the radio blasting, warm weather. St. Louis was a gray, cold shock when I first arrived at age 6. I loved Los Angeles and relished opportunities to return.
When did music become a focus in your life?
When I think back, I have always had music as an important part of my life. I received a transistor radio for Christmas when I was around 8 and that radio was my constant companion, even in the bathroom. 
I owe my deep love of jazz to my mother, who was a fan of Nina Simone, Sinatra, Sammy Davis Jr., Nancy Wilson, Count Basie, Sarah Vaughan, and many more. 
I am from an era where, although some radio stations were limited in their format choices, I never felt like the only music was soul or the Motown sound. 
I listened to KHJ in Los Angeles, where one song was a Jackson Five hit, the next might be from Joan Baez or Chicago or Stevie Wonder. In St. Louis, my radio dial was usually tuned into KSHE, one of the best FM stations in the country.
What were some of the first bands/performers you became enthralled with?
When I was about 4, Elvis was king for me, via his movies. I loved Elton John as much as I did the Jackson Five. 
What was the first album you bought?
My first full LP was Carole King's Tapestry, costing $2.98. I even wrote her a fan letter, using the address that was printed on the back of the album. My first CD was Phoebe Snow's Phoebe Snow.
Classic movies are another medium you love. What are some of your favorite movies and why?
My oldest sister was the real movie buff, so, by default, I grew up going to the movies at least once a week, and our family spent many evenings at drive-in theaters in the summer. My favorite genres are psychotronic films and noir/early gangster, be it silent, American, French, Japanese, Korean, or German noir. 
One of my top favorite films is Berlin Alexanderplatz directed by Rainer Werner Fassbinder, and it may be because I know of no other 13-hour movie I could watch multiple times.
You saw Talking Heads in December 1978 at a long-gone Kansas City club, One Block West. What a time to see them. What do you remember about that show?
One Block West was such a small venue, you could almost touch the band. We were so excited because we had played Talking Heads '77 every day, all summer long. 
I couldn't tell you if it was a great show, sound-wise, but there was magic that night. I don't remember the name of the band, but I do know the openers were from The Kansas City Art Institute. 
We were able to go backstage after the show and there was David Byrne in his long-sleeved, striped shirt. I just stood, silent, while my friend took great photos of the band.
What are some of your favorite live shows?
David Byrne's American Utopia extravaganza at the Kaufmann [May 2018] was a one-of-a-kind, creative, musical, theatrical event. We somehow ended up with front-row/center seats. Watching him dance and interact with his young collaborators was stunning and affirming. 
Next: any David Bowie concert. I remember seeing Jackie Wilson, when I was about 12, and that was a show.
What bands/performers that you've never seen live would you most like to see?
Joni Mitchell, Nina Simone, The Highwomen w/Yola, Dolly Parton, and Paul McCartney.
I first met you when you managed the music department at Barnes & Noble on the Plaza, something you did for 18 years. The record industry went through seismic changes during that period. What did you learn and take away from that experience?
I was very lucky to start working there when CD sales were still very strong, and we kept an inventory of around 35,000 CDs. There were weeks when it was not unusual to sell 200 of one hot title in a week. 
Without a doubt, Napster helped kill the CD business, and once the iPod and other MP3 players became affordable and easier to use, the CD business lost even more customers. Retailers had to learn to pivot and for my store we started promoting DVD and Blu-rays over CDs. 
Did you ever think vinyl was gone forever? And what do you make of its revival?
After the huge CD push, it seemed that the vinyl format would be reduced to people buying and trading used records. 
I had visited a Tower Records in the mid-90s, when I thought the new vinyl market was dead in the U.S., and they had a section for all new vinyl. I could buy a new copy of David Bowie's Low on vinyl, if I wanted to pay what I thought was a high price. Even if we were producing very little vinyl here, others around the world never stopped.
We know how music is heard has always been cyclical, with major shifts in formats—from sheet music to streaming—every 30-plus years or so. The public rules how the music business shifts. We have the choices when it comes to listening to music, and I understand that vinyl is just one form.
Nearly six years ago, you and your partner, Ann Stewart, opened Records With Merritt on Westport Road. What was your philosophy going in, given that there were other stores in the market? What would you say are your store's strengths or specialties
Other retailers did not really factor into the equation. We just wanted to contribute to the vital vinyl community that exists in Kansas City. 
Our philosophy was, and has always been, to be authentically who we are and to offer a unique customer-service experience. We want the people who walk through our doors to not feel that we offer a comfortable, relaxed space where they can talk about music that inspires them.
You have been in the music retail business for more than a quarter of a century. What do you love most about it?
The people. I learn something new about music almost daily from the great people who walk through our door. I think we have created a space where customers, who seemingly have nothing in common, come together and have a sense of community. It is that aspect that makes us most proud and drives us every day.
Respond to this quote from our friend Mark Manning of KKFI (90.1 FM): "Marion often knows what customers are looking for without even knowing them. She did this to me the first time I met her."
It may be an instinct, a feeling, or just the fact that I have been in retail so long. I have learned how to unconsciously read some people. I'm also passionate about music and can't help sharing that passion.
I've heard you are an avid gardener. How does gardening compare to watching a favorite movie or hearing some favorite music?
I would not call myself a gardener, yet. But gardening is one of the few times where I'm not plugged into an electronic sound. Whatever sounds are being created by my surroundings become my natural soundtrack.
Who are some of your favorite recent music discoveries and why?
The young women are creating such strong musical voices and sharing their stories. I try to champion these artists like Tash Sultana, Brandi Carlile, Yola, H.E.R., Black Belt Eagle Scout, Brittany Howard (as a solo artist), Phoebe Bridgers, Les Amazones D'Afrique, to name a few.
April means Record Store Day. What does it mean to stores like yours? What is your typical RSD game plan or philosophy?
Record Store Day is the hardest and yet most gratifying day of the year for us. We are shocked every time that people line up to support us. Yes, it's a big sales day for us. But it's also about seeing the same faces every year who show up at 4 a.m., who have made connections with each other because this is a tradition, a ritual. 
Our philosophy doesn't change from any other day out of the year: Provide an excellent customer experience.  
---
RECORD STORE DAY
Record Store Day was originally scheduled for April 18. The date has changed to June 20. The following local stores will participate in Record Store Day, according to the official Record Store Day web site.
• Brothers Music, 5921 Johnson Dr., Mission, KS
• Josey Records, 1814 Oak St., Kansas City, MO 
• Mills Record Company, 4045 Broadway Blvd., Kansas City, MO
• Records With Merritt, 1617 Westport Rd., Kansas City, MO
• Revolution Records, 1830 Locust St., Kansas City, MO
• Vinyl Underground at 7th Heaven, 7621 Troost Ave., Kansas City, MO
• Vinyl Heaven, 7544 Floyd St., Overland Park, KS
• Vinyl Renaissance & Audio, 7932 Santa Fe Dr., Overland Park, KS
---
Want more Timothy Finn?
Check out his weekly online-only content, including his Top 5 Not-to-Miss Concerts in the metro and his revered, rollicking, reasoned reviews and commentary.
Email Timothy Finn at tfinn@inkansascity.com