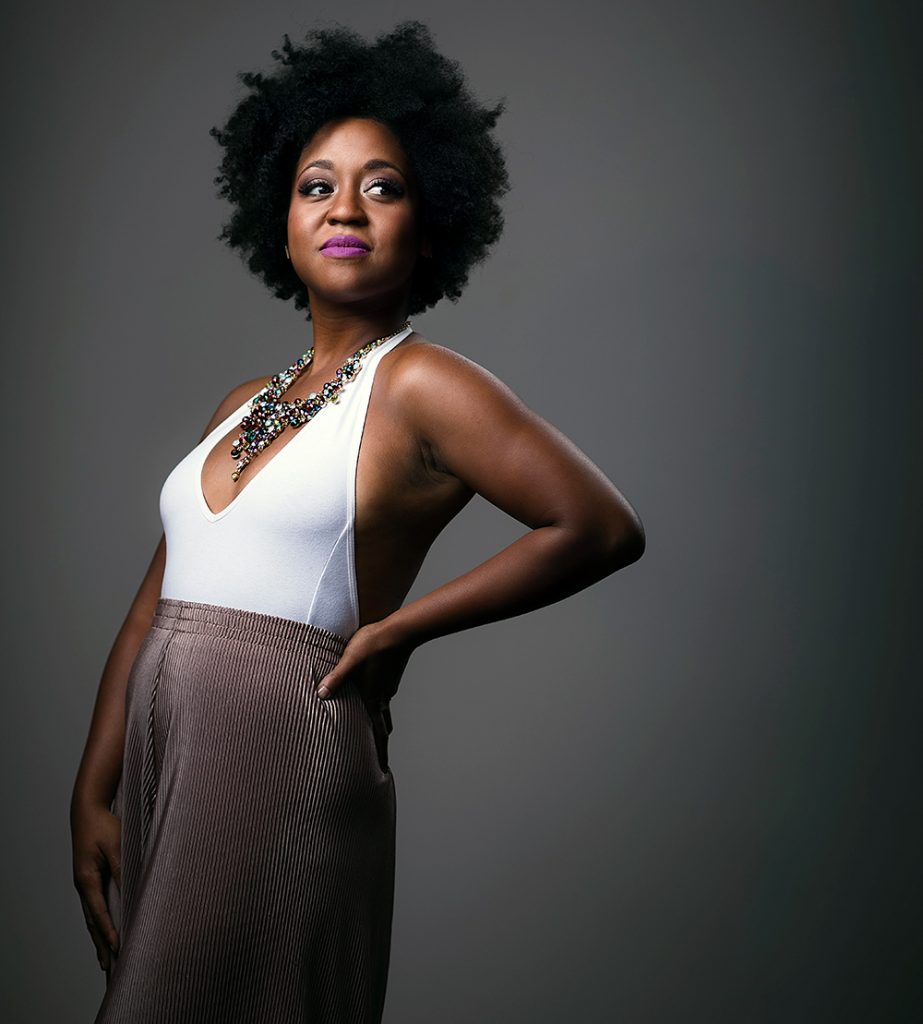 Music filled Julia Haile's childhood, thanks to her family: her relatives who were professional musicians and her mother's fondness for musicals. By the time she was in preschool, Haile was singing in public. While at St. Teresa's Academy, she sang competitively, advancing to state level in a vocal competition. She would go on to enroll at the music conservatory at UMKC.
These days, Haile sings regularly around Kansas City, as a solo performer, as lead vocalist for Hi-Lux, and as a vocalist with The Buhs (pronounced "buzz").
She recently answered questions from IN Kansas City about her childhood, her music career, and being a woman of color in an industry dominated by white men.
What are your first memories of music?
When I was very young, my mom set the words of a poem to music and would sing it as a lullaby. I remember finding the book and seeing the notes she wrote above each word. After that: MGM musicals—movies that were favorites of my mother so they were always on. Singing in the Rain remains one of my favorite musicals to watch and sing-along to. And Gene Kelly and I have the same birthday, so I'm kind of proud of that.
What was your upbringing like? Was yours a musical family?
My family is very musical. My mother's side of the family includes musicians who sing professionally and those who have continued to write and perform all of their lives. Guitar players, a classical music artist, and one cousin—Richard Gumbel, who played with Hearts of Darkness before leaving Kansas City—who can pick up just about any instrument and know how to make it sing.
When did you first start singing in public? Was it something you wanted to pursue or did you need to be encouraged?
I know there's a photo somewhere of me singing a song as part of a preschool or kindergarten gathering. So that was probably first. And even though I've never been a spotlight-seeking individual, my hand always went up when it was time to pick who would sing the solo. I was always encouraged to sing because I think it was clear it's what I loved to do. I wasn't aware of how I was going to do it at such a young age, but it came naturally and was always a part of my life.
You start out listening to what your parents listened to, and then popular music starts to creep into view. My mom loved Paul Simon, Dad loved Earth, Wind and Fire. Not a bad place to start. I did go down a deep rabbit hole when I discovered Ella Fitzgerald—still my all-time favorite.
I listened to everything I could get my hands on. At a certain point we start our personal education to discover what we love. I was open to everything. I still remember calling a radio station at a very young age to find out who it was they were playing at the moment because it was new to me and I needed more! It was Led Zeppelin. A whole new chapter started then.
What was the first album you owned? What was the first album you bought?
Oh, man, I really don't have a good memory of that. Probably something embarrassing. One that I had to acquire when it came out was Erykah Badu's Baduism. I was 12, and I'm pretty sure I lied to Mama Haile about her using profanity so she would buy it for me. Totally worth the lie; her music widened my perception of black music and culture.
What role did music play when you were in high school?
I went to St. Teresa's Academy, which had a great music program. That's one of the first things that made me look at the school a little more closely. I sang in the choir, at church services, and sang in competitions, singing solo and in trios or quartets.
When I was a freshman singing a solo in hopes of advancing to the state level, I was so incredibly nervous. Being judged made me nervous, but I advanced to the next round, and it was a great boost in confidence. My work had paid off. Starting my high school experience with that gave me a lot of confidence.
You attended the UMKC conservatory to study voice. What experiences before that led you to decide to pursue music academically?
I was never a good student. I failed classes and did terrible on standardized tests. But when I came time for college, I saw it as a way to study exactly what I wanted.
I had a lot of experience with UMKC before attending the conservatory. I took voice lessons there as a high school student, my involvement with the Lyric Opera introduced me to performers and directors who worked on staff, and I'd seen many performances on campus. And even though there were classes and concepts I struggled with when I got there, I learned so much about myself and my instrument, which is exactly what I wanted.
You eventually left the program. Why did you leave and what did you learn that was most worthwhile?
I left because I was getting very busy with an actual career in music! And I felt the program was no longer serving me. I knew I was done being in a classroom. It dawned on me that a new type of education was available, and I needed to throw myself into the scene to start learning.
You were a member of one of my all-time favorite Kansas City bands, the Good Foot, a classic-soul cover band. Talk about what you learned from that experience.
That band was a lot of fun! We played a lot of people's favorites and had a great time doing it. I learned what it was like to be in a band. I learned what it was like to engage with an audience as a unit moving together. I learned to speak up. I saw first-hand how much joy a good band can bring to people.
When you're performing in a musical-theater production or an opera, the audience appreciates and applauds you. But when you're a few feet away from someone dancing and singing their hearts out along with you, it feels very different. The connection is stronger. I learned that that connection means a lot to people. It's powerful.
A few years ago, you were part of a collaboration project through KKFI in which you worked with Barclay Martin, one of my favorite songwriters. You two come from very different places on the music spectrum, but the results were wonderful. What was that experience like?
I love Barclay and his approach to songwriting. I loved hearing his inspiration and how he had drawn from specific experiences and was driven by his relationships with friends and family. We had worked together briefly before that show, and, just like the time before, we seemed to instantly flow and connect with what the other was trying to convey. And interestingly enough we came ready to share music that was inspired by people very important to us: a friend of his who had passed and my grandmother. It was wonderful to share those tributes with the audience.
You have worked with so many stellar musicians in Kansas City, including the man you will marry, Tim Braun. Who are some of your favorites?
Damn, what a question. Yes, I've been very fortunate to have worked with some brilliant artists. And lucky enough to soon marry one. A few that come to mind are Ryan J. Lee, Pat Conway, Peter Schlamb, Rick Bacus, MC Reach, Chris Hazelton.
Molly Hammer's voice has brought me to tears; she's so damn amazing. I also continue to be inspired by Hermon Mehari. It's awesome watching your friends build their craft, play their hearts out, and get the recognition they deserve.
How do you choose which music projects you will or won't participate in? (I'm assuming you get asked a lot.)
I do. And I haven't always been great at saying no. I'm always willing to explore and see if things are the right fit, but more and more I want to be a part of things that I believe in and that challenge me.
It's fun to work on something outside my normal genres. I just want to either make sure it's my voice being heard or I'm singing something with a great message or a unique sound. Experimenting is how we grow, but I have a plan for my career and unfortunately I can't lend myself to every project I'm asked to join.
You are a woman working in an industry that is male-dominated at every level. You are also a person of color in an industry that is predominantly white. What do you experience as a minority woman that most people probably aren't aware of? Have things improved at all since you started?
Being a black female in a male-dominated profession has most definitely had its struggles. I've been sexually harassed, I've been overlooked as the leader of a band. I once showed up to sing at a wedding with the Good Foot when two well-to-do white girls spotted me they immediately starting screaming at me to rap for them.
Women, and especially women of color, continue to be overlooked and made to feel less-than—even if you're exalted for being a talented individual.
In recent years I've taken on more of a leadership role with Hi-Lux. I've had to let people know, in so many words, that "Yes, I do know what the (bleep) I'm talking about."
In our Kansas City community we have women who are not only bad-ass musicians paving their way, but who talk about the issues freely and invite others to have the conversation. Michelle Bacon put on the Turning the Tables Showcase last summer, which was a great experience to be a part of: a show of bands led by strong women and a panel discussion talking about the issues we face as professionals. Events like these are one way to keep the discussion open in the hopes the playing field will level.
What do you like most about Kansas City—as a city and a music community?
Everybody is so talented! We cheer each other on, we collaborate, we introduce talented friends to one another, we encourage each other to expand our abilities. And we have loyal show-goers and patrons who believe in the Kansas City music scene and want to see it thrive. There's a casual magic to this scene, and it's pretty dope.
If you were not in music, what would you be doing?
I'd like to think I would have found some other artistic medium to pursue. But who knows. I've wanted to be a lot of things in my life and probably won't stop thinking "what if." And I'm not really done. If a new passion manifests, I'll explore, but until then I'm a musician. I love singing. As long as I find joy in that, that's what I'll do.
---
Want more Timothy Finn?
Check out his weekly online-only content, including his Top 5 Not-to-Miss Concerts in the metro and his revered, rollicking, reasoned reviews and commentary.
Email Timothy Finn at tfinn@inkansascity.com