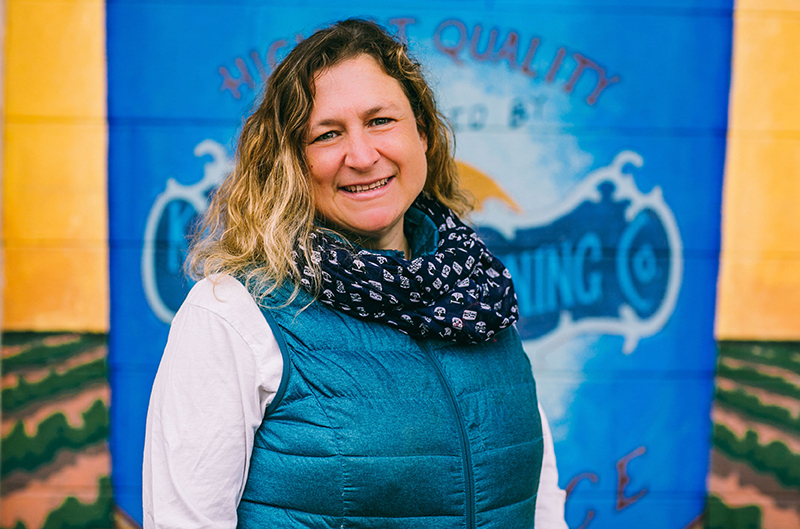 When she looks back on her childhood in her hometown of West Bend, Wisconsin, Jacki Becker recalls an upbringing in which happiness was abundant and music was constantly in the air.
"Our house was where all the neighborhood kids hung out," she told IN Kansas City. "Birthdays were filled with scavenger hunts, creatively designed birthday cakes, and lots of song and dance. We were not wealthy, but my parents made everything we did special. When I watch home videos of myself as a kid, I was always dancing, always moving and grooving."
She would carry that vibe through high school, where she was a champion swimmer, into college, when she fell in love with her adopted hometown, Lawrence, Kansas, and into adulthood, when the world of music became much more than just her profession.
For 20 years, Becker has been the proprietor of Up to Eleven Productions, a promotion company that has brought into the Lawrence and Kansas City markets some of the biggest bands in music, many of them long before they'd earned the status to headline amphitheaters and arenas.
She recently answered questions about her childhood, her long, steady ascent into the music business, some of her early live-music moments, and how she spent much of her pandemic—and the prolonged, grueling withdrawal from live music.
How would you describe your childhood?
I was the oldest of three kids: a brother a few years younger than me and my sister, the great surprise, who is 15 years younger than me. My childhood was filled with a lot of opportunity and love. My dad was a teacher, and my mom basically ran a daycare for all the neighborhood kids. We were able to travel a lot in the summers. You name a state or national park or a historic home/marker, and the Becker family has been there. We never stayed in hotels; we always camped.
I was really skilled at swimming, so my life at around 13 became all about the sport: My mom drove me almost an hour to Milwaukee to train every night after school. I traveled across the country to compete, was a state champion, held a national record for a while, and ended up at the University of Kansas on a swimming scholarship.
When did music first come into your life significantly? Were you or anyone in your family musical?
My grandma on my mom's side was one of those untrained musical geniuses. She could sit at an organ and just play, and she had a voice that soared. However, she really preferred to play alone or with one grandkid on the bench with her, not with a larger audience.
I was raised on show tunes by my mom in the kitchen: My Fair Lady, Fiddler on the Roof, Sound of Music; and by my dad's records on the hi-fi in the dining room: the Eagles' Hotel California, Barry Manilow Live, Fleetwood Mac's Rumors, Jim Croce's greatest hits, John Denver's greatest hits.
Mom wanted to make sure we had music in our lives, so I began playing cello at age 8 and piano at age 10. The orchestra I performed with got to play on the White House steps, and we took first at our state competition my senior year of high school.
Who were your first music interests and who influenced them?
My swim coaches played an integral role. Both [coaches] had epic cassette and vinyl collections, including X, Martha and the Muffins, the Minutemen, X-ray Spex, XTC, the Dead Kennedys, the New York Dolls, Queen.
I would watch MTV, find a song I liked, then walk downtown to our local record store, the Exclusive, and buy albums or cassettes, like Ocean Rain by Echo and the Bunnymen, The Psychedelic Furs, David Bowie's Let's Dance, English Beat's What Is Beat.
What was the first live show you saw? What do you remember about it?
Summerfest in Milwaukee: Cheap Trick. I don't remember it changing my life, but I do remember that once I was able to drive, I was already training in Milwaukee so I was able to go see shows every now and then. The Violent Femmes were from Milwaukee. I remember being at that show and being in class the next day and seeing who else had a brown Violent Femmes T-shirt on. It was like a secret club.
What were the first live shows that really affected you, changed your perspective on music and/or life? Why that show?
Could it have been the few days I did with the Grateful Dead, where I lost my shoes and slept under our car? Could it have been the Boston reunion tour in 1987, when I bought my first black T-shirt, or the Smiths in '86 because Morrissey was so groovy? Nirvana at the Kansas Union because I'd missed the show at the Outhouse (couldn't find a ride)? Was it Day on the Hill with Pearl Jam?
 All those were really important, but I think it was Public Enemy and Poster Children at the Kansas Union that really hit me hard. It was a perfect bill for me. However, no one wanted to see the Poster Children; they were boo-ed pretty much from song one. Then Public Enemy started, and it was loud and sounded really bad. So in one night I learned about crowded shows, angry crowds, and too much bass. But I loved the feeling of being a bit thrilled, a little scared, and bouncing-active all at once. That is what live music meant to me then and carries with me now.
How did you get started down the road to music promotion?
I got hired by Brett Mosiman while writing a short story at Kinko's one night in 1993. He asked if I wanted to book the bands at the Bottleneck. I said yes and stopped applying to grad schools and immediately began to book bands.
So my life in live music mostly began at the Bottleneck. I worked for Pipeline Productions until 1999, when I quit to go on the road. I did tour managing with a few bands, most notably Super Furry Animals, and was planning on starting a new life on the road.
However, when my MC Paul Barman six-week tour got canceled, I had to rethink, and my rethinking was: Why don't I book more shows at all these Midwest venues? So I did. One year working with House of Blues helped me learn the bigger picture of music outside of small clubs, and I began Eleven productions. I wanted to book and grow music from the ground up, which I have been able to with fair success for almost two decades now.
Give us the nuts-and-bolts of the Up to Eleven story, from inception to pre-Covid.
I started Eleven while our time with House of Blues—about 16 months—was drawing to a close in Kansas City. My deal then was that I could continue to book club shows as Eleven while helping book, produce, and run shows for House of Blues.
Emo was just starting to surge, and there was this band from Kansas, the Get Up Kids, who were always on the road touring and wanted to find new places to play. They were crucial in my finding new venues and markets. Add in the successes of Fall Out Boy, Taking Back Sunday, the Used, plus all the indie bands who exploded—Arcade Fire, the Decemberists, Modest Mouse, Death Cab For Cutie— and I pretty much booked everything at the club level around the Midwest: indie, hardcore, and emo and some metal.
What are a few of the hard lessons you had to learn quickly?
To run a successful business from the ground up, you need to be well-versed in accounting, taxes, and insurance. I didn't know anything about each separate city tax or entertainers' tax, so there was a bit of a hiccup in that realm when I started. I am really good with math, so my accounting was solid; I just didn't know all the different taxes that were happening in each city and state I was working in.
You have presented some of the greatest/most-favorite shows I've ever attended. What are some of your favorites?
I feel I need to categorize it instead of making a list. Each year I try to pick 10 to 20 shows that were the greatest each year, but often its not the live show but the whole day that makes a concert important to those in the industry. So often, great shows are the nights spent with your friends in the crew or the band before or after the show.
•       Fugees, the Roots, Goody Mob / March 1996:  My notes in my journal noted two highlights: I dropped Goody Mob off at the Juvenile Detention Center, where and they spoke to kids; it was the first time I ever counted $10,000 in cash
•       311 at the first Jayhawk Music Festival / August 1995: We thought 5000 would attend, 10,000 showed up. It was insane. The wooden barricade broke. It was the largest show 311 had ever played. More than 25 years later, I am the person that 311 wants running point on their shows in the Midwest.
•       Mike Watt at the Bottleneck / November 1997: AKA the day Eddie Vedder came to town. I've written about this show so many times. It was the day that defined that era.
•       The Get Up Kids / July 2006:  Their "final" show at the Uptown Theater was really special – the largest show at the time that Eleven had booked, and it was just so much fun celebrating a band I had on speed dial, one of whom is still my neighbor.
•       Burcham Park:  It's an important space for me. Burcham Park is where I learned how to "do festivals" in my backyard. It's where we did the first Warped Tour (July 1997) and the first time we'd booked something so large. In my journal I wrote: "40 buses. Where do I park 40 buses?" Plus the legendary story of "who threw the Port-a-John in the river.?"  Other events there: Tattoo the Earth, the 'nu-metal-meets-tattoo festival; The Bleeding Kansas Festival and  the Bassnectar show about a decade ago.
•       The Jackpot:  People joked it should be called the Jacki-Pot for all the concerts I put there, including Baroness, Arcade Fire, Of Montreal, The Walkmen …That room was where you played before you got huge.
•       Mumford and Sons: They went from the Reord bar to Sandstone (sold out in a few hours): I got no in-between plays with the band. The Sandstone show was the final day of that tour and we celebrated full-on Kansas style.
•       Arcade Fire: One of the best live bands I've ever seen.First: the legendary show at the Jackpot., then their two shows at Starlight (both were equally magical). Even our show at the Independence Event Center blazed brightly. They know how to feed their fans all the joy they can.
•       Everytime I Die: Hands down the greatest live band of the past 20 years.  Friends have dislocated shoulders, torn ACLs and broken legs being part of their shows.Hard-working guys from Buffalo (N.Y.) who are also published authors, graphic designers and (bleeping) professional wrestlers. My kind of people.
I could mention hundreds more shows that were spectacular: like: Flaming Lips celebrating Liberty Hall's 100th anniversary (2012). Confetti still randomly fall out of the ceiling from that one.
You are the only woman I know running the kind of company you own. How has that been and have things changed much over the years?
Looking back now on how I was treated and how many of the women I hired to work with me have been treated—that's a very tough pill to swallow. Working in live music as a woman can be very toxic, even in 2021.
Ownership in the live-music industry is about 90 percent white male. I am hoping there is more opportunity in the future, and that people of color, trans, women, veterans, and differently abled people will have greater opportunities to start businesses and gain ownership in an industry that rolls primarily in one lane.
I am so very proud to be a person and a company who has helped to bring so many others into the world of live music. I am proud of having struggled for years as a lone woman in the industry, being suppressed and passed by so many times, yet I'm still here finding live acts that blow me away, who I can't wait to book again and see their growth on stage.
Now onto Covid.  What have you done to cope with this grueling estrangement from live music? How did you navigate the most difficult moments?
It's really difficult to put into words what it is like to have something you have nurtured and loved for almost 30 years disappear in a day or two. Someday I might have a grip on what it was like, but I can tell you it makes your heart hurt every day to know that you cannot do your job, that no one is legally letting you do your job, and that if you live somewhere that will let you do your job, you may do harm to those around you. It is not a head space I wish anyone to ever have to be in.
I put most of my energy into feeding my community. Between work with Just Food in Lawrence and World Central Kitchen nationwide, we set up food pantry drive-throughs or chef-created food lines to feed Lawrence and Kansas City. If you have food in your belly, your mind works. If you have healthy food in your body, exercise is easier, mental health is stronger, and wellness ensues. So I focused a lot of my energy on that.
What are your hopes for live music in 2021?
That everyone gets vaccinated and that we stop losing family members, underpaid frontline workers, and educators to Covid. I am good to wear masks forever at this point.
I still worry that the leaps we are taking now could keep clubs from opening later and later. So many of the clubs I work with are barely hanging on, and I want them all to be there.
Hopefully enough shots get into people's arms before we have some festivals or packed indoor events that super-spread, allowing clubs to safely open as soon as they can in very late 2021 or early 2022. Each time we do larger groups, we seem to have to shut down again. Each time there is a shut down, that means what I love the most—small clubs and bands in vans—gets pushed further back. I want music to return but it has to remain equitable.
What has this community meant to you? Why have you made it your home?
The Lawrence community, a.k.a. my home. My brother jokes that he always thought I would be the world traveler. Yes, I have traveled a lot, but I have always called Lawrence my home. Maybe it's the small-town kid in me.
I am now the oldest female-identified player in the Kaw Valley Kickball League. I still swim and compete in the U.S. Masters. Many of these things I do via bike because Lawrence makes biking accessible from one end of our town to the other. Yes. I am the crazy lady in a black T-shirt with stickers all over her helmet heading downtown to a concert or to cocktails outside the (Bourgeois) Pig or a snack on the patio at 715.
Volunteering and getting support from my community is one of the main reasons I've stayed in Lawrence. I've volunteered at the battered women's shelter WTCS, now Willow. I've helped get us bike paths. I've raised money to help fund instruments in school. I believe everyone in our community should have access to healthy foods. I have always made sure my life intersected with charitable work. There is no other way.
What are you looking forward to most?
Eating at all my local restaurants, playing kickball under the lights at Hobbs Park, doing my shopping at our farmers markets. Mostly, I can't wait to get doors open for a $15 show at the Bottleneck or the Granada and watch the line move in. I am ready for my relationship with fans and live music to begin again.
---
Want more Timothy Finn?
Check out his weekly online-only content, including his Top 5 Not-to-Miss Concerts in the metro and his revered, rollicking, reasoned reviews and commentary.
Email Timothy Finn at tfinn@inkansascity.com