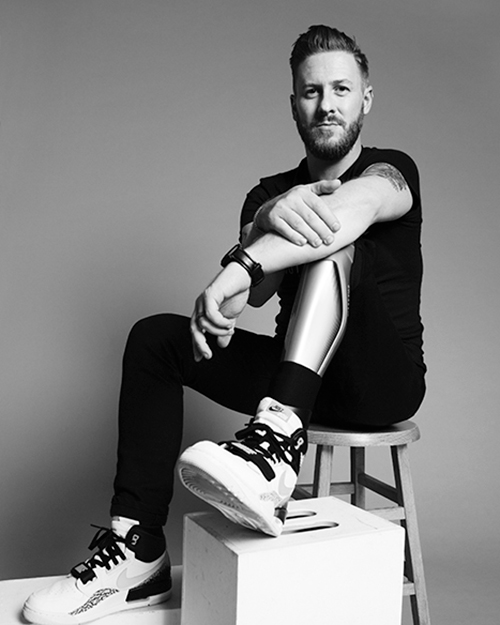 Life dealt Billy Brimblecom Jr. a serious trauma in 2005, but he has emerged triumphant. Brimblecom was a drummer in several Kansas City bands before doctors told him he had cancer—Ewing's Sarcoma—which would require amputation of his left leg.
His friends rallied around him and raised enough money for a prosthetic leg, and Brimblecom hasn't looked back since. Rather, as executive director of Steps of Faith, he now devotes himself to helping other amputees acquire prosthetic limbs.
Brimblecom recently answered questions from IN Kansas City about life with a prosthetic limb, his music history, and his long-time friendship with Jason Sudeikis.
What music do you remember first hearing? How old were you and do you remember how it affected you?
I recall loving the Oak Ridge Boys song Elvira on the radio. The music nerd in me tells me that was 1981, so I was about 4-years-old. But the first music that I remember truly affecting me was Michael Jackson. Thriller came out when I was about 5 or 6, and I was obsessed, just consumed by Michael and that album.
Was yours a musical family? If so, who and how did they indulge in music?
My family was somewhat musical, yeah. My dad was just a big music fan. He always was listening to great music. He took me to see the Jackson's Victory Tour at Arrowhead in 1984. That was amazing. He also bought me my first drum set when I was in 6th grade. My grandma was also musical. She played guitar and piano and was always singing. My uncle used to perform as a singer and guitar player. I remember going to see him play.
What bands, singers or songs/albums inspired you to pursue music as an endeavor?
It was the '80s, so the saxophone was very prevalent in popular music at the time. I was all about Huey Lewis and The News, so I wanted to play the sax. I started that in fifth-grade band, but they made me play the clarinet first. That was a bummer.
What were some of your favorite bands and/or kinds of music growing up?
The music I was listening to at the time I started playing drums always sticks out for me, the stuff my friends and I were listening to and trying to emulate: Def Leppard, Van Halen, Guns 'N Roses. Then came Led Zeppelin, Black Crowes, and Pearl Jam in high school.
When and why did you choose to be a drummer?  Who are some of your favorite drummers?
The summer before sixth grade, I remember listening to the song Wipeout with my dad. I was so taken by the drums in that song, I signed up to play the drums when sixth-grade band started. Once I started playing drums, music basically took over my life.
John Bonham from Led Zeppelin struck me really early on, and to this day he's the most important musician, let alone drummer, to me of all time. I was also a huge fan of Ringo, Stewart Copeland, Charlie Watts. And in my teens/early 20s came Dave Grohl, Pete Thomas from Elvis Costello's band, Prince, jazz guys like Art Blakey and Tony Williams, and R&B guys like Steve Ferrone.
Did you take lessons? Were you in any bands/orchestras in school?
I did take drum lessons here and there starting when I was 14. I'd been playing for a few years at that point so my first few teachers made a big impact on my playing. And I did all the music I possibly could in school: marching band, symphonic band, jazz band, you name it. That started in fifth grade through high school. I attended one year at KU as well. I was a Marching Jayhawk and played in several groups as part of my jazz studies.
You have been in several Kansas City bands. Do you have a favorite or two?
I feel lucky to have played with a lot of bands that have made me really proud and more importantly, made me really great friends. If I was to pick favorites, it would be the Creature Comforts and later Blackpool Lights.
Those bands at one point or another basically included mostly the same people. The Creature Comforts was the band where I made my first real albums and did my first tours. Blackpool Lights was a bit of a continuation of that with some of those guys and we made the album I'm most proud of to this day. And we toured Japan and got to do some amazing things like that.
In 2005, you were diagnosed with Ewing's Sarcoma and, as a result, your left leg was amputated. What do you remember about that time? What did you think your prospects were of playing drums again?
That was the heaviest year, as you can imagine, kind of the "end of Act 1," if you will. And I was only 28. I changed in about every way possible that year. And I can honestly say, all of those changes were necessary and for the better.
It was very difficult and very scary. But I knew that God had a plan, as bizarre as it seemed at the time, so I just tried to keep moving forward.
As for how the drums would work, fortunately it's my left leg, my hi-hat leg, so I figured I'd be able to work that out. And I was right. I was back to playing well way before I was back to walking well. Fortunately you sit down to play the drums.
Talk about the adjustment period for you, first, losing your leg and then getting accustomed to the prosthetic leg. What was most difficult?
I was in the hospital for about a week surrounding the surgery to take the leg. And I say this all the time, but that's because it's true: That whole week was like a weird celebration. I had friends from all over the country come to be with me in the hospital. The nurses had to kick people out every night like it was closing time at a bar. Those friends took the worst experience of my life and actually turned it into something really beautiful. I'm so thankful for that.
But, yeah, after I got home there were some dark times. I really had to mourn the loss of my leg. Grief takes time and I don't like that. But being laid up like that forced me to deal with it all, which was necessary for my healing in every way. The worst part of it was phantom pain, which is very real and the worst part of my life, hands down. That got better but still shows up from time to time.
In retrospect, it was all a pretty fast process: losing my leg Aug. 4, 2005, then starting to learn to walk again that October. All of that while still going through chemo. I'm really lucky.
How soon were you performing again after the surgery?
I played one time at church probably four to six weeks after my surgery. No prosthetic leg yet. I had to use this hi-hat thing called a drop clutch and would open and close the hi-hat by pushing the pedal with a stick. This is lost on non-musicians, but I just found a way to make it work.
Then on Thanksgiving 2005, Blackpool Lights played a show at Record Bar with the drummer who'd been filling in for me. I got up and played the last song of the night. My girlfriend at the time, and now wife [Allison], called it "passing back the torch to its rightful owner." That was an emotional night.
After that my first full show with the band was a couple months later on Valentine's Day, and then we were back on tour in March. I could still barely walk, but I could play, and my band mates helped me load and set up my drums. It was so great.
What do you think the general public needs to be aware of regarding people with prosthetic limbs? Are there general misconceptions that need to be dispelled?
First off, I have a new friend named Wesley Hamilton who's in a wheelchair. He once told me that when people see folks with a disability, they see what those people are missing, what they are less than, and we need to change that idea. For me, losing my leg changed the course of my life for the better, tenfold.
Most importantly for prosthetics, I'd say misconceptions surround the need for them and access to them. My leg not only allows me to walk, it makes me feel normal. I don't hide it, but having this leg effects how I feel in every way. That's huge. It's not just my mobility, which most of us take for granted. And also the fact that prosthetic limbs are expensive and many folks don't have access to them due to no health insurance or terrible health insurance.
I myself had massive struggles getting the leg I needed back in 2006. Prosthetic limbs and mobility are not a luxury, period. If the thing that's holding someone back from walking is money, that's ridiculous and far too common of an issue.
What is involved in using and maintaining your prosthetic?  Are there things you can't do because of it?
For me it's pretty low maintenance. That's not the case for many others. I have a microprocessor above the knee leg. Meaning I lost my leg right above the knee, so the prosthetic leg has to include a knee joint. It's great. I plug it in at night and it allows me to do pretty much all I used to do.
I can't really run with this leg, but that's OK. This is the first leg I've had that can get a little wet, so that's great that I don't have to worry about if I'm wearing shorts in the rain and whatnot. Unfortunately I seem to only get around five years out of these before I need a new one. Thankfully my insurance covered my last two legs.
In 2013, you turned your story into a noble mission: Steps of Faith, of which you are executive director and which provides prosthetics to people who otherwise would not be able to afford them. How many people has the foundation helped during your tenure there?
Steps of Faith is one of the best things to ever happen to me. I got right to work on April 1, 2013, and we've slowly been building it ever since. We have helped just over 250 people to date; 76 of those were just last year. We plan to help 100 people this year.
What has your time at Steps of Faith taught you about amputees and the lives of people with prosthetic limbs?
That with the right tools, we can do anything. We can live, move, and thrive. I don't think of myself as handicapped very often because I rarely feel handicapped. That's all because I have the right tools. This leg is an amazing tool! Every amputee deserves access to the right tools.
You were part of the comedy-improv world in Kansas City for a while. How did that start and what do you recall about those days?  Compare doing that to being in a band.
In the spring of my senior year of high school, 1995, I asked one of my drama teachers if she could get me an interview to be a server at Comedy Sportz. She was friends with Clancy Hathaway, the owner. The next day she said, "write this down" and gave me the address and time to show up. She said, "It's not an interview, it's an audition to be a performer." And that's how I started there.
I was hired in the spring of '95, and started performing in shows late that summer, right as I was starting college. Before I started performing there, I was in a workshop group, like a training class. Our teacher was Corey Rittmaster, and Jason Sudeikis was in the class with me. And those guys are some of my closest friends to this day.
Jason and I and other friends there would do over 30 shows a month. It was a blast. We spent so much time together and became close fast. It's very similar to being in a band in that you're performing with a group, a team. You all depend on each other to pull off the show and give the audience their money's worth.
Comedy Sportz, also coinciding with studying jazz music at KU, taught me a very important lesson: improvisation can be applied to many aspects of life. It doesn't always unfold the way you plan, but you've got to go with it and stay on the path in order to get through it. And if you're doing it right, you're not doing it alone.
You started Thundergong in 2017 as an annual fundraiser for Steps of Faith. Your longtime friend, Jason Sudeikis, has hosted both and brought along many well-known friends. How did you and Jason become friends?
Jason and I became close spending so much time together in our Comedy Sportz days. We were together every day pretty much starting when we were 18 and 19 years old. For a good two or three years. I was living in Lawrence and would often crash at his parents' house, where he was living, when we finished shows because I was too tired to drive home.
We were in each other's weddings, been there for all the big moments. I love him like a brother. He helped raise $30,000 for me when I needed it for a prosthetic leg in 2006. Years later when I got the job with Steps of Faith, I told him about it and how it all worked. I said $30,000 for Steps of Faith would mean we could help well over 30 people! I told him that when the time was right for him, let's come together and create an event that is whatever we want it to be. We make the rules. And with Thundergong, that's exactly what we did.
What have the Thundergongs meant to Steps of Faith and to you?
That event is a dream come true that combines so many things that are important to us: music, comedy, friendship … Kansas City. And all to help Steps of Faith change people's lives for the better.
We throw a big party for Kansas City, and it's all to restore mobility for those in need. For the organization, it's just unbelievable. It has changed the game for us and it's continuing to grow. This past year we ended up raising over $300,000! That's a lot of legs and arms we can buy. This allows us to truly make an impact on more and more people.
You spent several years in Nashville. What did you do while you were there? What did those years do for you as a musician?
We moved to Nashville in July of 2009 so I could pursue more opportunities to make a living as a musician. I had started to play with m any different people in K.C. as opposed to playing in one full-time band like I always had. That was awesome, but I'd hit my head on the ceiling of what I could make happen financially here, at least at that time.
Living and working in Nashville made me a way better musician. It took me way out of my comfort zone and truly stretched me. I was able to play with people I'd admired for a long time, toured a ton, recorded a ton, and I spent six weeks living and working in New York City playing in an Off Broadway musical. It was an adventure for sure!
But it also taught me that most of the gigs I was really gunning for, I didn't really even like. They just seemed like a good job. All of that perspective started to become more and more clear after Steps Of Faith came into the picture music work was less and less. I want to make music I love, with people I love. That's what I did with Trent and Jeff in my garage in 1989. Really, that original fire is what it's still all about.
You and your wife, Allison, founded the band Summer Breeze, a tribute to soft rock or "yacht rock." When did that start? What are some misconceptions people may have about that music?
We put Summer Breeze together in April of 2009, shortly before moving to Nashville. We were gonna do it just one time, for fun. We knew it would be hard but it was so much harder than we expected!
All of that music is basically like R&B slow-jam rhythm sections combined with insane jazz chords and crazy beds of complicated multi-singer harmonies. Most of it is very sophisticated stuff, musically.
I'm in the middle of our audience, age-wise. Younger folks see it as ironic, corny and fun. Older folks just see it as good music from their youth. For me I see both sides since it was all on the radio when I was born.
And yacht rock was a fake genre that has kind of become real now. It's weird and cool, I suppose. It's basically soft-rock music that was mostly big hits from the early to mid-'70s to the mid-'80s.
This April is our tenth anniversary. It's nuts! We are gonna throw a big birthday party on April 6 at Kanza Hall. That band has brought a lot of fun to a lot of people, I'm proud to say, but most importantly it's brought a lot of joy to the seven of us.
And getting to play with those folks as the house band at Thundergong—getting to back all these incredible artists—that's the best.
You were also part of an Elton John tribute band a few years ago. He is on his farewell tour now, which included a stop in Kansas City in February. What has his music and career meant to you?
In many ways that first Elton tribute we did at Christmas 2016 was a big seed for Thundergong. It was so fun and really, moving to bring so many talented friends together to play this music that means so much to so many. I'm still mega bummed…but I actually missed his recent KC show. I just missed the tickets and it was too late. I hope to see him on this tour in another city.
As I said, everybody loves at least some of his music. I mean, Levon? C'mon! That song is gold. He's one of the best ever, and I also believe he's done a lot for championing younger musicians, and also done a lot to really bring good into the world, ya know? He's an inspiring man. A true light.