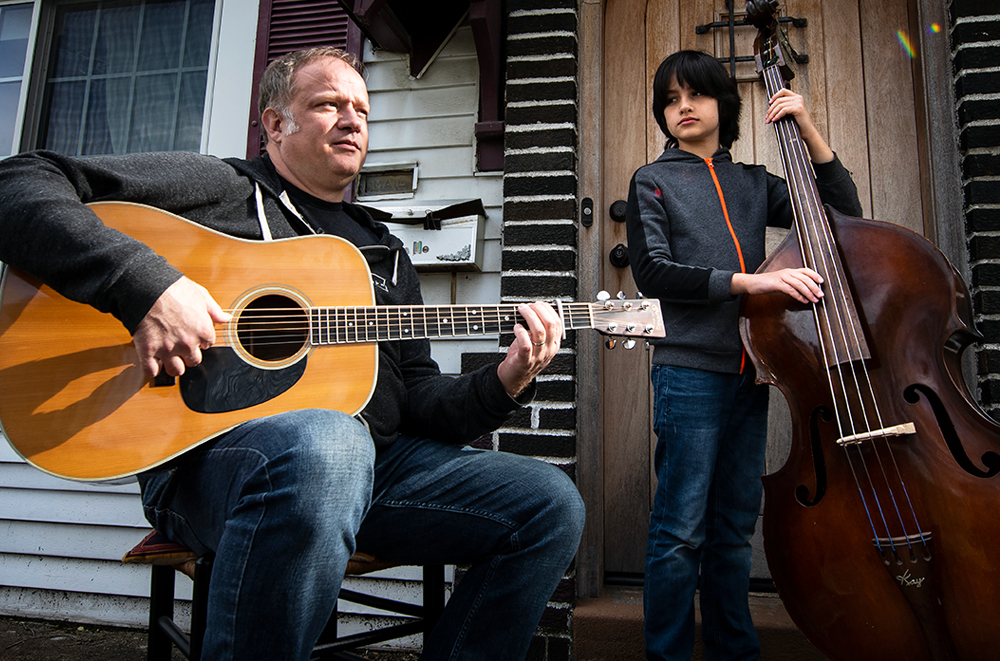 Beau Bledsoe performs in two Kansas City groups that are about as socially distanced as you can get on the music spectrum: He plays guitar and oud in Ensemble Iberica, which plumbs and explores the music of Iberia, a region that includes parts of Spain and Portugal; and he plays guitar in Slim Hanson and the Poor Choices, a true-grit classic-country/honky-tonk orchestra.
As disparate and distant as the bands are from one another, his inclusion makes sense when you consider his upbringing and how it shaped his pursuit of music.
Bledsoe was raised in Arkansas, where his mother directed a church choir and where his grandmother drove a yellow Cadillac equipped with a CB radio and an eight-track player "that always had something good in it. Honky-tonk and hymnals made up much of my early childhood.
His tastes would evolve dramatically: to British heavy metal, then to various flavors of world music. And he developed a fondness (fetish?) for all stringed instruments.
These days, Bledsoe and his wife, Zhanna Saparova, are raising two children in northeast Kansas City, and music is an integral part of their upbringing. Bledsoe recently answered questions from In Kansas City about how his childhood led him into his many music worlds and how he is passing that along to his children. His son and latest music partner, Aidan, also pitched in his two cents on this passing of the torch.
When did music first become a significant part of your life?
Music was a social thing performed in homes and at church, and those were my earliest memories. It wasn't until my teenage years that I rejected all of that music, as any good teenager should, and found my own music.
At around 14, I started playing in a local R&B act with a bunch of older players who exposed me to all kinds of music and lifestyles.
In high school, the classical-guitar instructor from the University of Arkansas at Little Rock, Michael Carenbauer, visited me and I started taking classes after school with him at the university. My homeroom teacher was kind enough to drive me to my guitar lessons every day.
There was also a Japanese eye doctor, Jesse Tan, who lived in Little Rock and was a wonderful classical guitarist and collector. Dr. Tan let me spend hours playing his high-end Spanish guitar collection. Those instruments actually taught me more than many of my instructors.
What were the first guitars you owned?
My first guitar was one of those little Gene Autry painted-cowboy guitars. I later mowed enough lawns to buy a used Sears and Roebuck Les Paul copy that I played for years. In high school I worked at a music store called Stonehenge Music Company and started collecting all kinds of cool instruments and amplifiers. You name it, I had one at some point.
Who were the first bands/artists that you listened to in earnest?
MTV came out in 1981 and reached our market a few years later. This was the peak of the "new wave of British heavy metal" movement, and that was my thing. I had super-long hair, Nike high tops, and the obligatory denim jacket. During that time I was influenced by everything from Led Zeppelin, Black Sabbath, Deep Purple to Iron Maiden and Judas Priest.
When did your interest in world music and other music cultures start and what prompted it?
Our library in high school had a great record collection and that is where I discovered the flamenco guitarist Sabicas and the great classical guitarist Andres Segovia. I bought a second-hand Spanish guitar, and this started my interest in music from other places in the world. I would eventually travel and seek instruction from musicians in other genres.
Who are your greatest inspirations in that music world?
The Roma. They were the first pollinators of so much of the music that exists now. I've had a few Romani teachers from large musical dynasties, and they've had a tremendous impact on me and how I teach my son to be a musician.
Describe the lure of those genres/styles of music.
The guitar can be an express pass to truly intimate environments that often take years of trust to build. In my experience, if you know traditional or folkloric songs, you can get to the dinner table pretty fast and make lasting, life-long relationships. This is how I've been studying music for the last couple of decades. I never know what genre is going to be next. It all just seems to pop out of nowhere, and I've learned to just go with it.
When and why did you move to Kansas City?
I moved to KC in 1993 to attend grad school at the UMKC Conservatory of music. While visiting a friend at the Kansas City Art Institute, I went to a late-night jam at the Mutual Musicians Foundation one night and knew I had to move here. I made my decision on the steps of Nelson-Atkins Museum.
The Poor Choices is so different from your other projects. What does that band satisfy musically that other projects don't?
Slim Hanson is one of my oldest friends in Kansas City, and I've always been a fan of his music. He came to me for some flamenco guitar lessons and I had just bought a Telecaster, so I roped him into starting a country band with me.
I often study and perform music from cultures that are far removed from my upbringing, so no matter how many years I work in those genres, I'm always a foreigner.  My greatest satisfaction with performing country music is that I know exactly what it is. I get all the metaphors, and it's in a language I can understand and sing.
Plus, half of the fun of performing country music is putting on the boots, shirts, and a nice Stetson.
You and your wife are raising two children. How has your upbringing influenced how you raise them?
Music is mandatory. We believe it should be just like all of the other subjects in school, and we make them practice. We don't expect them to be musicians when they grow up, but they will certainly be musical, and they'll know how to make music with other people.
You teach your 10-year-old son, Aidan, and perform with him. What wisdom and advice are you passing along?
What I'm hoping to impart to him is a sense of competence, survival, and belonging. I'm teaching him songs from my childhood; my 6-year-old daughter, Maya, is learning them as well. When they sing songs with me and other people, it gives him a sense of being part of something larger.
Aidan had become quite good at improvising vocal harmony with other singers as well as being a fine bass player. He is fortunate enough to be a bass student of Valerie Bell at the Harmony Project KC located in our neighborhood of northeast Kansas City. It's a wonderful after-school orchestral program that remedies the deep cuts in the arts programs at our public schools. It looks a lot like what I had available to me when I was growing up.
Artists and musicians have special skill sets to deal with times like now, and I want him to have that adaptive attitude. Aidan also has his own checking account and has learned to deal with his own accounting. All of these skill sets will surely help him with whatever he chooses to do with his life.
Let's bring in Aidan for a bit here. Aidan, why did you choose the bass?
My dad brought home a large upright bass when I was very little that belonged to Gerald Spaits, and I was immediately drawn to it. We have many instruments in our house but the bass really stood out to me. I can play a few chords on the guitar, and I love to sing. I would like to learn to play the flute this year.
What are your dad's best qualities as a teacher?
He always corrects my notes if I play my scales out of tune and helps me to act like a professional. He also takes me everywhere.
What are your long-term music plans?
I hope to keep learning more songs and play with more people in my city. I'd like to someday work at an instrument shop and learn to make string instruments.
Beau, back to you. You are one of the founders of the Heartland Song Network. Tell us about that project and its mission.
The idea for this network was born at the 2020 Folk Alliance International Conference in New Orleans. A group of like-minded people from a variety of backgrounds began meeting informally in Kansas City to articulate a vision and create a structure for elevating the art of the song and songwriting.
My personal interest is around the industry side of things. Co-founder Erin McGrane [Victor and Penny] and I have been organizing webinars with industry specialists to address some of the holes in our local music economy, such as publishing and talent representation.
Finally, June is the month we celebrate Father's Day. How has fatherhood changed you?
My first realization was that I was no longer the center. Parenthood does that to you instantly, and it's a profound shift. I found myself moving into the role of mentoring other artists in the last few years, which I assume is just a natural process of aging and being a parent.
---
Want more Timothy Finn?
Check out his weekly online-only content, including his Top 5 Not-to-Miss Concerts in the metro and his revered, rollicking, reasoned reviews and commentary.
Email Timothy Finn at tfinn@inkansascity.com