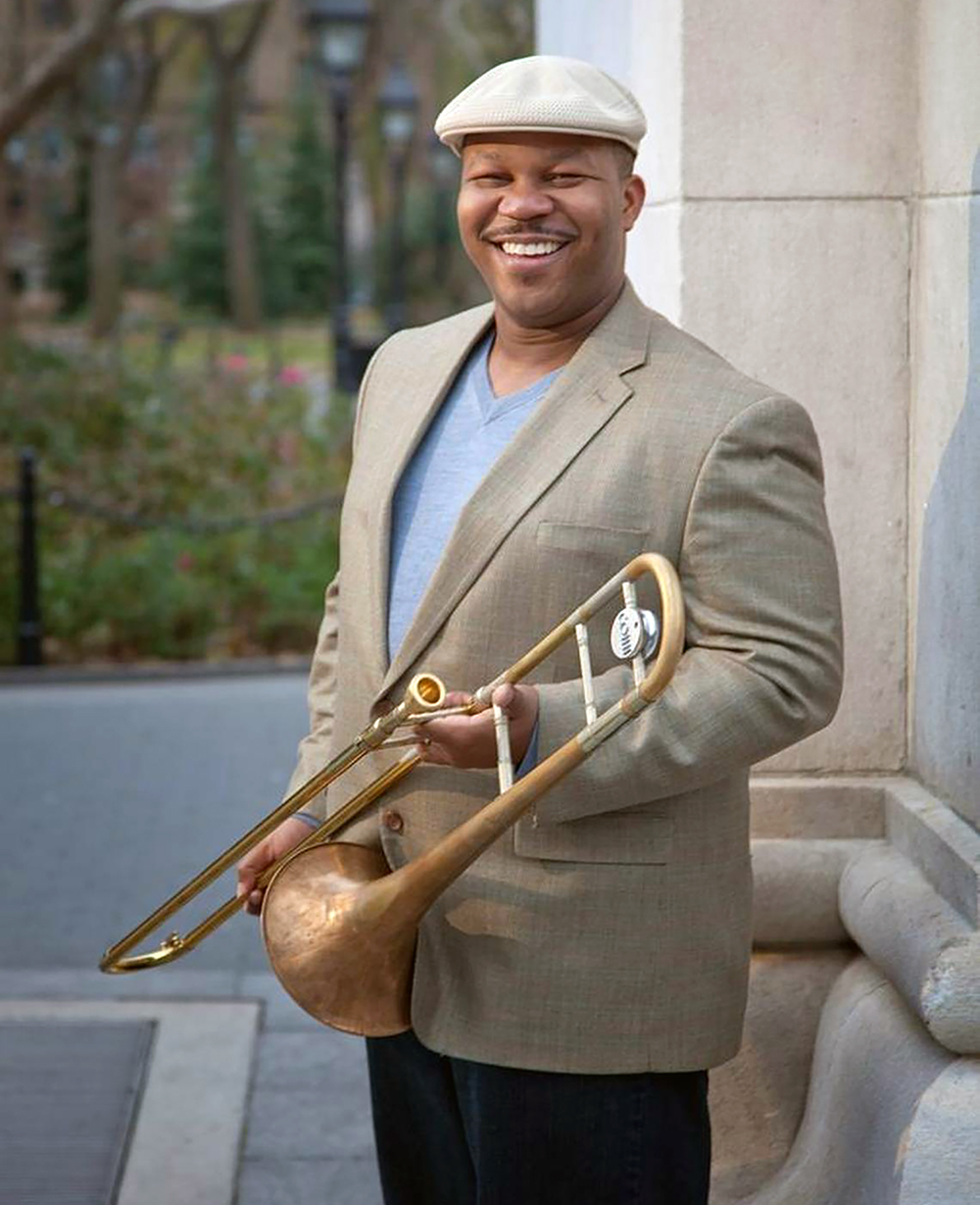 When Marcus Lewis moved to Kansas City about six years ago, he quickly became a big part of its jazz community—big as in a big-band way.
The Georgia native brought with him a resume decorated with glory, including stints with Sugarfoot's Ohio Player and Janelle Monáe's touring band.
Lewis performs around Kansas City in various forms, most conspicuously with the Marcus Lewis Big Band, which can be as big as 22 members. In 2018 he released the full-length album Brass and Boujee, a compelling mix of big-band jazz, R&B, and hip-hop.
Lewis recently answered some questions from IN Kansas City about his career, his time with Monáe, and his perspectives on Kansas City's jazz scene.
How old were you when music entered your life?
I knew I loved music at a very young age, but didn't get started playing until the sixth grade. Listening to music in the house and on car trips was a huge part of my childhood. I used to take a big boom box and break dance in recreational parks because my dad was always playing softball. My parents definitely like music, but I am the first musician in my family.
What kind of music did you listen to growing up?
I listened to a lot of Motown, R&B, funk, '80s pop, and hip-hop.
When did you decide on the trombone and why?
I decided to play the trombone when I was 12. I honestly thought it just looked different than all the other instruments, and when I saw them at parades they were always in the front of the band. I just saw them and knew that I wanted to do that because it looked cool.
What do you like most about the trombone?
I like the fact that the trombone is very different than most other wind instruments and is the closest sound to the human male voice. It can get certain nuances that other instruments can't.   
Do you play any other instruments?
I don't really play any other instruments well. I dabble at the piano enough just to write and arrange music. But a goal of mine is to get better at piano, bass, and drums so I can have a better understanding of music and how it all works together.
You've got college degrees in music. How did that prepare you for a career in music
Yes, I got my undergrad degree in jazz performance from Valdosta State University [Georgia], and my master's in trombone performance from the University Nebraska-Omaha.
College was important for my development because it help me learn how to play, how to practice and learn the theory behind music. It helped me build some relationships and a network of musicians who I still work with today. It also helped me develop a concept for playing and how I teach my students today.
You spent a chunk of time in Atlanta. What did that time do for your career?
I was in Atlanta for four to five years. Atlanta is really comfortable for me because I'm originally from Georgia. Atlanta was where I really got my first big gig, with Sugarfoot's Ohio Players. It's where I met some really key players in the development of my career. I released my first CD while I was there.
Also, it's where I started to do a lot of recording and did some really great gigs with Aretha Franklin and Quincy Jones to name a few. I met Janelle Monáe and joined her band, which was probably the biggest jump in my career to date.
Talk about your experiences with Janelle Monáe. What have you learned from touring with her?
The Janelle Monáe years were really great. We got to do some really cool things, like play at Madison Square Garden, the White House numerous times, the Sydney Opera House, the Grammys, American Idol, Saturday Night Live, the Letterman show, and the list goes on. I also got to meet and perform with Prince!
I learned so much from this experience and just visiting and experiencing different cultures and walks of life. I also learned what touring life was really like, how to live with nine other musicians with different personalities and get along with them.
When and why did jazz become your genre of choice?
This one is easy: Jazz just really resonated with who I am as a person. I feel like it is the truest form of self-expression, musically, out of any genre. Jazz is protest music. Jazz is freedom.
When did you start to incorporate hip-hop into your music?
Not obviously until a year ago when we started Brass and Boujee, but it's always been there. There are a lot of similarities between jazz and hip-hop. The rhythm, the culture, always going against the grain, and I like that.
You teach at UMKC and teach privately. What do you like most about teaching?
The thing I like about teaching is sharing and learning at the same time. No one can know everything, so it's cool being a teacher and the student at the same time, if that makes sense. I also love to teach to inspire. I feel like teaching is less about giving knowledge and more about inspiring someone to seek more knowledge themselves.
Talk about your various band configurations: as a big band, trio, etc. How do they differ and what are the merits of each?
I have a lot of band configurations from trio, quartet, quintet, all the way up to a 22-piece big band, if you add strings.
Jazz is definitely freer with the fewest players. If you are playing trio, the conversation that you're having on the bandstand is much more free because you only have two other relationships to deal with and interact with.
Honestly, quintet is probably my favorite small-group setting because I usually use myself and tenor saxophone and a rhythm section. I love the sound of trombone and tenor together.
I also believe the more musicians you have working together can be a much more powerful statement then just a trio. This is why I enjoy the big band sound so much. As far as merit goes, the only thing I care about is that we are playing the music at the highest level possible.
Which band or musician would you most like to collaborate with?
I can't name just one here! If I had to do three it would be Wayne Shorter, Kendrick Lamar, Brian Blade.
Talk about Kansas City, its music community and its jazz scene?  What do you tell musicians who aren't from here about K.C.?
The jazz scene has a tremendous number of great players, and they all seem to be very nice and pushing the music forward. I think there are a lot of good things that are coming out of K.C. right now. I tell musicians who don't live here that this is a great scene and the quality is so much like any large city, such as New York, L.A., Atlanta, Chicago.