Review presented by UMB Private Wealth Management
There's an album review from the New York Times in 1990 with the headline, "Can a Woman Do a Man's Job in Schubert's Winterreise?" Composed in 1827 using the poetic texts of Wilhelm Müller, the 70-minute song cycle was originally written for a male voice and details one man's descent into his own personal hell in the freezing cold after being spurned by his one true love.
Despite the trend toward more female singers tackling Winterreise (Winter's Journey), it was this Times writer's belief that it's de rigueur for a man to exclusively sing this piece, as if it was just settled science. His response to the question that the headline posed as he reviewed mezzo-soprano Brigitte Fassbaender's recording drips with so much condescension that it borders on parody today. "To get straight to the point," he says, "this is no material for a woman. Can we discuss this like civilized people?"
How about we get straight to this point: Joyce DiDonato is no ordinary woman. And the Kansas City diva is no ordinary performer.
Her accompanist on this journey, Yannick Nézet-Séguin, returned to Kansas City and the Harriman-Jewell Series on Thursday night after conducting the Philadelphia Orchestra at the Kauffman Center in September. When I talked to Nézet-Séguin this summer, he described himself as "more of an occasional pianist" who nonetheless loves settings like these, suggesting to DiDonato that they collaborate on Winterreise last year. "It's something that is, you can imagine, a really special project for both of us," he says.
His confidence that Franz Schubert's cycle of 24 songs would benefit from her perspective was richly rewarded in front of a captive audience in the intimacy of the Folly Theater. For nearly three centuries, we've known what this rejection was like for the protagonist. But what about the woman in the relationship? What does she feel, if anything? This point of view is what DiDonato sought to portray, and she did so brilliantly.
Before the first (and longest) song of the cycle, "Good Night," a single line appeared on the screen above the piano where the full house could follow the English translation of the German text: "I received his journal in the post." In DiDonato's interpretation, she doesn't throw this goodbye package in the trash, forget him, and move on. She takes it hard, almost like she sings these words ceaselessly as a type of penance.
Not only is DiDonato one of the finest mezzo-sopranos on the planet with extraordinary technique, she is a skilled actress from her time in opera. She channels the overpowering melancholy and frigid despair that her ex pours out, right from the opening song: "The girl spoke of love, her mother even of marriage / Now the world is dismal, the path veiled in snow."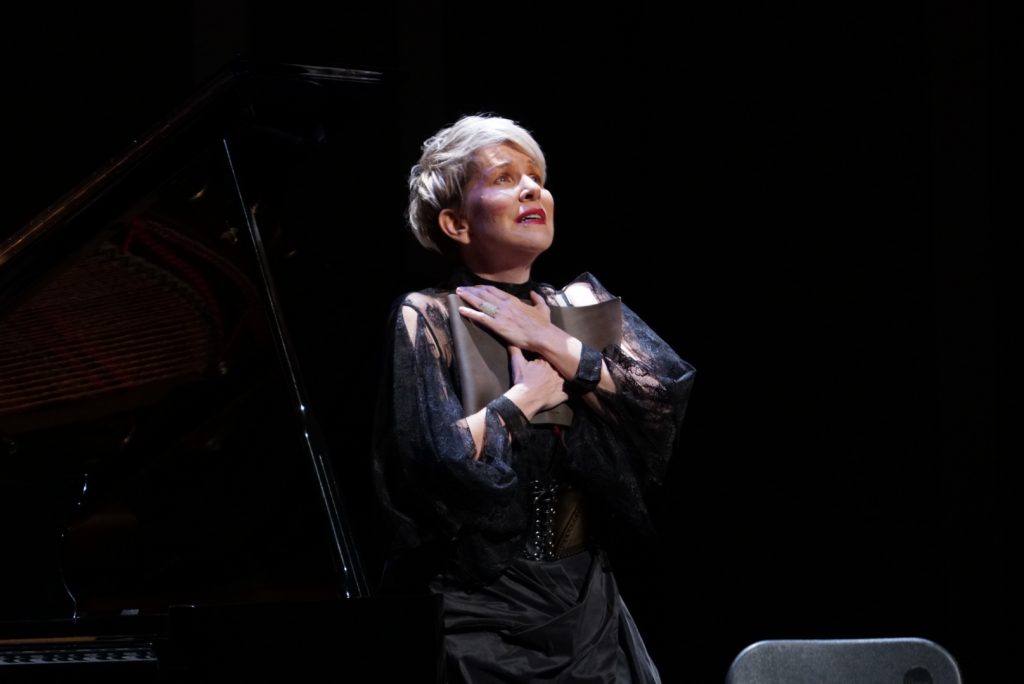 By the fourth song, "Numbness," the man's state of mind is bleak and dreary as he trudges mournfully through a desolate winter scene. His soul is essentially empty as he writes, "My heart is as good as frozen; within it her image gazes coldly / If ever my heart thaws again, her image too will melt away."
At numerous stages of the performance, DiDonato clutches the journal close to herself, enveloped in the anguish. His torment is hers, and it's written on her face.
As is appropriate, Schubert's music for this set is anything but cheery and uplifting. The majority of the songs are in doleful minor keys, and even in the ones that are in major keys, such as "Dreaming of Spring," the rays of light that try to pierce through the darkness are either fleeting or bittersweet.
By the time we reach the finale of Winterreise, "The Organ Grinder," the jilted man is totally dispirited and the weariness and solitude all but claim him. We get the image of a poor organ grinder (or "hurdy-gurdy man" in other translations) who keeps on playing without much hope and who nobody cares to notice except a kindred spirit: our man on his sad winter's walk. Before she began this last song, DiDonato finally put down his journal she had held all night.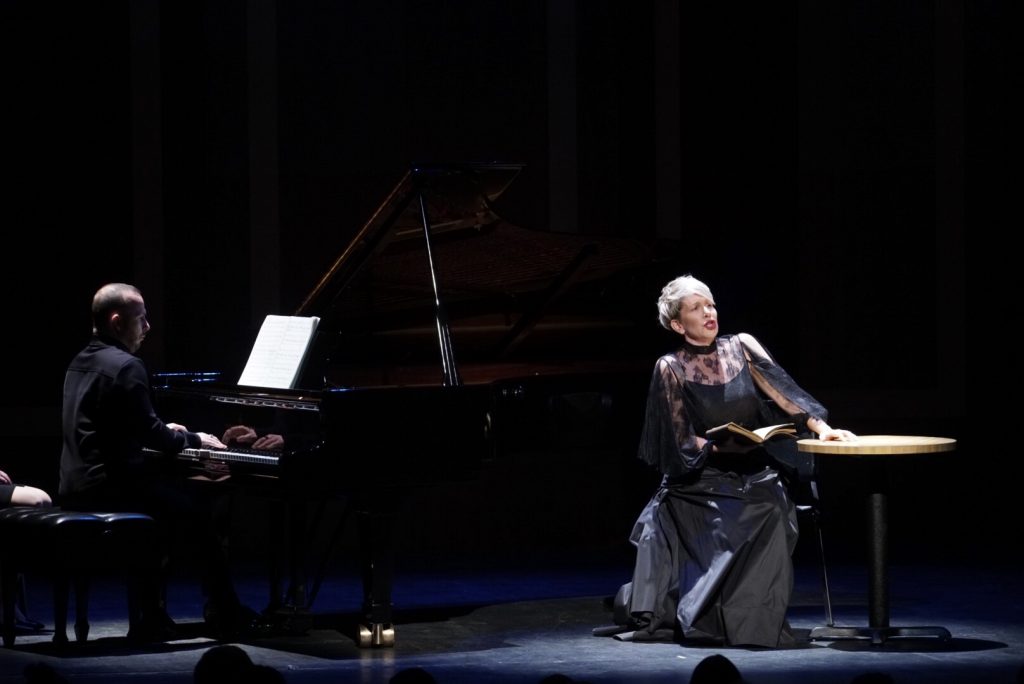 The DiDonato/Nézet-Séguin pairing is inspired, one of those special nights where you rarely get to see two musical superstars pull off a work of this magnitude. DiDonato put everything she had into this music, showing her theatrical side with a voice that is peerless as ever. Nézet-Séguin told her as they started rehearsing that this music, this story, must speak to her, and she clearly heeded his advice.
Schubert's piano accompaniment is just as crucial. The trust has to be high with both performers, and the mood has to be on point. Whereas some pianists in Winterreise can be as subtle as a marching band, Nézet-Séguin did stellar work, forceful when necessary without being intrusive and clunky. I noticed even softer articulations from him than you usually hear that were so delicate and so right within some of the quiet moments.
I kept thinking that the world should hear this, that there should be a Winterreise recording with these two and it would surely be greeted with much more praise than Fassbaender's did years ago in the Times. Amidst multiple curtain calls, DiDonato and Nézet-Séguin shared two long embraces that showed just how much this partnership meant to them.