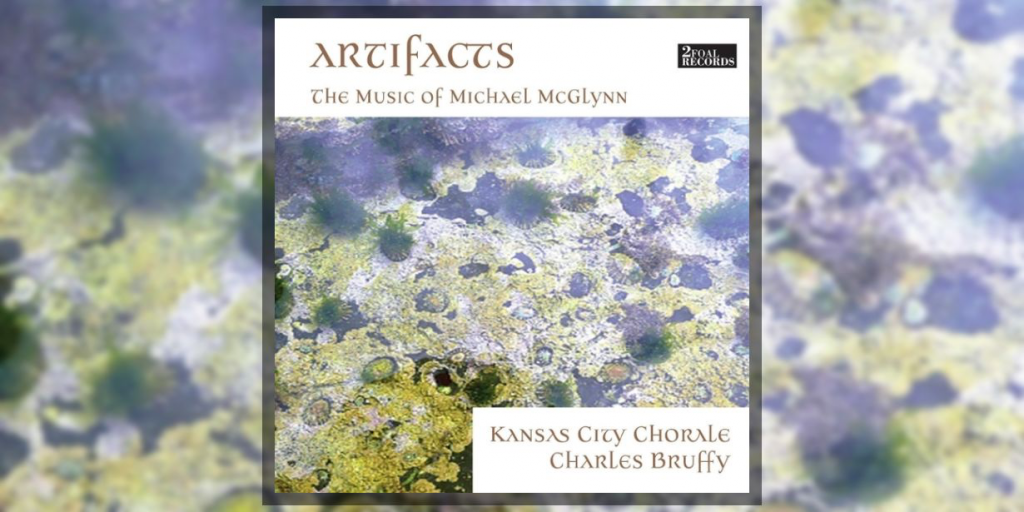 Just as the music of Ralph Vaughan Williams evokes images of the English countryside, the choral music of Irish composer Michael McGlynn can instantly transport the listener to the Emerald Isle. McGlynn's arrangements of traditional songs and his original compositions demonstrate an admiration for his heritage while integrating strikingly beautiful modern sonorities.
McGlynn and his choral group, Anúna, have been important music-makers in Ireland for more than 30 years and have recorded 17 albums. The Kansas City Chorale is a regular performer of McGlynn's choral works and it's only right that they've recorded what is essentially a one-stop shop of his music for both longtime fans and the uninitiated. In Artifacts: The Music of Michael McGlynn, the Kansas City Chorale further asserts itself as one of the most skilled, polished choral ensembles in the country under the laudable direction of Charles Bruffy.

The first song on the disc, Geantraí, exemplifies this mix of traditional and modern, and it's one of several works expertly sung in Gaelic languages. The title means "song of joy" or "merriment," and the melody contains the driving triplet rhythms you would associate with an old Irish jig. But it all culminates with a rich forte-piano chord that is right at home in the 21st-century universe.
Songs like An Oícheand Song of the Windare a deeper look into McGlynn's sound world. A composer who embraces tonality, McGlynn employs lush chordal structures in these slower works that are stunningly executed by the Kansas City Chorale here. Although not quite as dense harmonically as his American contemporary Eric Whitacre, McGlynn's music is nonetheless a showcase for groups who can ace those thick chords and tone clusters, and KC's singers are more than up to the task.


McGlynn's arrangement of Jerusalem for women's chorus features the single-most astonishing vocal entrances on the album, and it's one of many songs that give individual singers the opportunity to shine. I hesitate to leave anyone out, but allow me to mention a couple. Mezzo-soprano Julia Scozzafava's voice reminds me of the great Jennie Tourel as she does superb solo work inIllumination. Soprano Sarah Tannehill Anderson is also a standout in Pie Jesu, composed in memory of the victims in the 1998 Omagh bombing during the Troubles in Northern Ireland, and The Wild Song. Listen to the incredible control the chorus has in The Wild Song, singing wordlessly at pianissimo as they accompany her.
One of McGlynn's wistful originals on the album is entitled One Last Song, but it actually isn't the last track. That would be reserved for McGlynn's arrangement of the ever-popular Danny Boy, and normally I'm not a fan of the song because of its tendency to get overly treacly and maudlin. But I have no such concerns about McGlynn's treatment of the tune: quieter, more restrained, and with lovely use of his characteristic tone colors. It's the most Irish song of all, but there's more to Ireland than that song. And the Kansas City Chorale proves it with this wonderful collection of McGlynn's music.