Presented by Equity Bank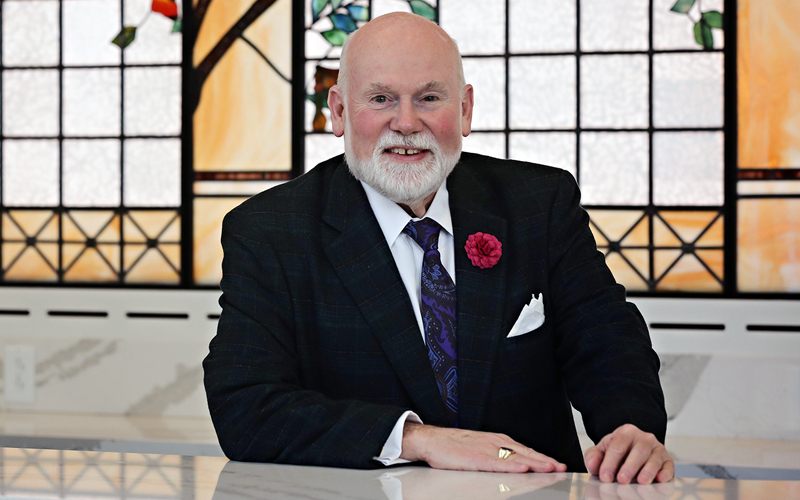 Brian Williams has been busy. Very busy. Since becoming development director for Folly Theater, Williams has helped raise over $13.5 million for capital improvements, the endowment fund, artistic programming, and general operations. But that's not all.
In October 2022, the Folly finished a head-to-toe makeover, including new theater sets, carpet, stage curtains, flooring, chandeliers, technology, and arts experiences by renowned regional artists. "Check out the fabulous stained-glass panels by Kathy Barnard on the Balcony Lounge," says Williams.
With a law degree from Notre Dame and a lengthy legal career as a commercial litigation attorney, Williams felt the call to do something new in 2015 after a year of personal losses.
"I believe in the transformative power of the arts to build a healthier, stronger, more vibrant and diverse community," says Williams. "The arts lift our spirits, salve our wounds, and bring us together through our shared experiences. My work at the Folly combines my passion for the arts with my love for history. As Kansas City's only remaining 19th-century theater, this iconic cultural jewel has witnessed and participated in our city's development over the past 123 years." 
"On June 4, I will be hosting my 9th-annual garden party, Eat, Drink & Be Jolly for the Folly," says Williams. "This festive gathering of about 200 friends features a fried chicken lunch served in individual picnic baskets, with live jazz music and refreshing libations among the hydrangeas and other blooms in my garden."
How are you changing the world, one cocktail party at a time?
The life motto of my late partner, Steve Metzler, was "Changing the world, one cocktail party at a time." Since his death in 2015, I've done my best to carry forward his commitment to bringing together diverse friends, old and new, to support worthy causes. In mid-December, I invited a couple hundred friends to help me celebrate the holidays—a tradition that began before Steve and I met 30 years ago. Studio Dan Meiners does an amazing job decorating my home (and the tent behind the house) to create a warm and festive ambience, and Lon Lane's Inspired Occasions helps welcome everyone with delicious hors d'oeuvres.
I also enjoy opening my home and gardens for a variety of patron parties and other events. In addition to the Folly Theater, I've hosted events for Kansas City Repertory Theatre, AIDS Walk, and KC Care Health Center, to name a few. I enjoy creating a welcoming space for interesting friends to gather and share their passion for making the world a better place for everyone.
What prompted you to exchange the legal world for the arts?
I was a passionate supporter, volunteer, and board member of several arts organizations during most of my 30-plus years of practicing law. In 2014, I lost my mom, my favorite aunt, and one of Steve's closest friends, all within a four-month span. When Folly board president Pete Browne invited me to discuss the opportunity to join the Folly team in the fall of 2014, I was already thinking about doing something more meaningful and community-focused with the balance of my career. Steve had been on the original Folly board that restored the theater in the early 1980s, and he had a 35-year love affair with the "Grand Lady of 12th Street." In fact, Steve and I were honorary chairs for the Light the Lights benefit for the Folly when they installed the new marquee sign in 2011. Steve was very excited and supportive of my decision; little did we know that he would die just three months after I started.
How does the recent refurbishment position the Folly to go forward as a treasured cultural asset?
This project included all new theater seats that are wider and more cushioned; a state-of-the-art assistive listening system installed below the floor; new lighting and brass handrails in the theater's east lobby, grand stairs, and Balcony Lounge; a beautiful new Balcony Lounge with a full-service bar and new seating; and refreshed dressing rooms and backstage areas. We also installed a tremendous amount of new technology, including permanent cameras that can record or livestream performances, enhanced sound and video capabilities in the performance hall, a new sound systems and speakers for the lobbies and dressing rooms, digital monitors in the first-floor lobbies, wi-fi boosters, and interactive video conferencing camera, monitor, and speakers in the Joan Kent Dillon Lounge. 
As part of the renovation, we have installed a wonderful collection of art by renowned regional artists. These include our 1989 bronze sculpture by Ed Dwight; nine beautiful and engaging paintings by Rita Blitt; historic photographs by Orval Hixon; and photographic reproductions of two lively and engaging murals by Thomas Hart Benton. We are striving to provide our patrons with an immersive arts experience from the moment they enter our historic jewel-box theater that is, in and of itself, a work of art. 
We believe that our transformational renovations, together with the $3 million in infrastructure improvements we completed in 2017, positions the Folly well to serve downtown, greater Kansas City, and the broader region as an arts and cultural tourism destination.
Have you ever performed in public? Sang, played an instrument, danced, acted?? If you did, how did it go?
No, I have never performed in public. In fact, I don't even perform in private. I used to sing in the shower, but the city threatened to shut off my water.