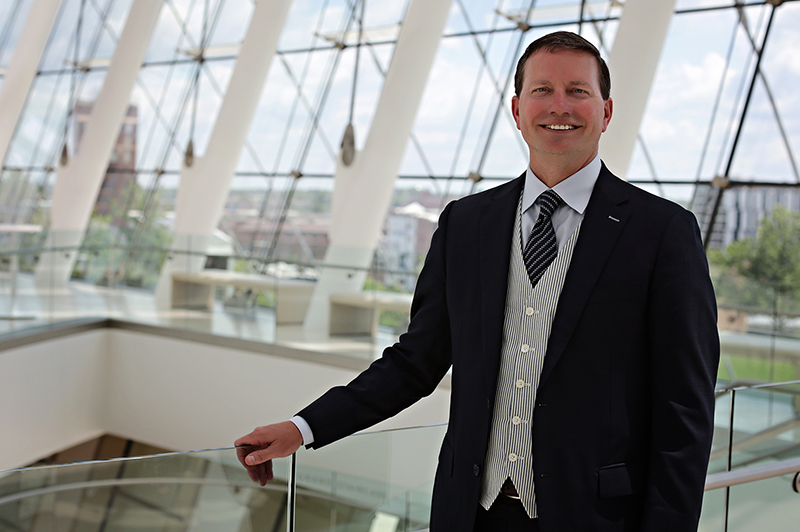 Clark Morris wears two hats and wears them well. He is the vice president for advancement at William Jewell College in Liberty and also the executive and artistic director for the Harriman-Jewell Series, a performing-arts presenter of international renown.
In 1965, the Series' first performance introduced Patricia McBride and Edward Villella of the New York City Ballet to Kansas City audiences. A newbie operatic tenor, who eventually bloomed into the Luciano Pavarotti we all knew and loved, debuted in Kansas City through the Series in 1973.  Discovery, quality, and variety remain the tenets of the series, founded by the late, great Richard Harriman and Dean Dunham, Jr.
For the past 30 years, Morris has been at the helm, discovering new talent while maintaining the quality and variety that Kansas City audiences have come to expect. Morris grew up in Savannah, Missouri, and debated at William Jewell, where his fraternity advisor was Richard Harriman. Little did he know that he was preparing for his life's work: spotting talent, negotiating contracts, managing financials, and calming pre-performance jitters.
Find the details of the 2021-22 Harriman-Jewell season at hjseries.org. Read on for the talent he wishes he had. . . 
In college at William Jewell, you started working with Richard Harriman in the Fine Arts Program that eventually became the Harriman-Jewell Series. What are some important lessons you learned from him—about finding talent, running a successful program, dealing with creative personalities, or working with people?
I was extraordinarily fortunate to get to work with Richard and be mentored by him at Jewell and then for the first 20 years of my professional life.  Richard had exceptional taste and a refined style, yet he valued all people and taught me to treat everyone with dignity and grace.  One of the most important lessons from Richard that has served me well in dealing with artists and working in the performing arts is to always be calm and don't let the circumstances of the moment overcome the value of the people around you.  An artist or an agent may be tense, but if you maintain a graceful and calm disposition, it tends to put them at ease and then they enjoy working with you.  Richard understood that artists are under pressure to put it all on the line on the stage and if he could remove any stressors, it increases the likelihood of an enjoyable performing environment for the artist and for the audience.  Richard became well known around the world by making the show about the art and not about him.
Do you have a not-ready-for-primetime performance talent, maybe bongo drums in the car or singing in the shower?
[Laughs] I can sing well enough to not embarrass the people around me in church or at a concert when the artist invites the audience to join in. Dancing is where I am woefully under-talented and any attempts for my body to move in an artful way are hilarious and often dangerous.  I have a special appreciation for humans with the gift of movement and I love dance because it is so far from my giftedness.  My wife has this dream that we will take dance lessons, and I remind her that she does not have an eye for future talent. 
After missing in-person performances during the pandemic, Kansas City arts lovers are eagerly anticipating the new season of the Harriman-Jewell series. Can you preview a few highlights for us?
Kansas City, I'm right with you and can't wait to get back in the concert hall next season.  I couldn't be happier with the lineup we have, beginning in October with the exceptional violinist Joshua Bell with pianist Alessio Bax, performing in our opening gala performance in Helzberg Hall at the Kauffman Center, and being able to present Joyce DiDonato's latest project, Eden, a thrilling artistic creation that we've co-commissioned with the University Musical Society at the University of Michigan.  We also will continue our mission of debuting artists to Kansas City, such as countertenor Anthony Roth Constanzo and cellist Sheku Kanneh-Mason.  I'm looking forward to being in the hall with these artists and with our audience.
You have nurtured the Harriman-Jewell series for 30 years as it has nurtured a love of musical culture in Kansas City. How has the Kansas City area nurtured you back?
I love Kansas City and couldn't imagine living anywhere else.  My wife and I have been proud to raise two boys here and have so many good friendships and neighbors.  We love food, and of course, barbecue, I'm a Big Green Egg convert and smoke meats trying to duplicate the divine from the likes of Joe's Kansas City and Q39 and all the other exceptional Kansas City joints. The Restaurant at 1900 is one of the more recent spots that nurtures my soul with outstanding cuisine in a cultured and stylish environment. I'm passionate about the Chiefs and Royals; I think Patrick Mahomes and Salvador Pérez are good representatives of our Kansas City community to the world.  I appreciate the Nelson and the American Jazz Museum and the WWI Museum and so many other special experiences right here in our town.  I know I'm blessed to be nurtured by so many good people, to witness their love for each other and for this community.   Thank you, KC. I can never repay all you've given me.