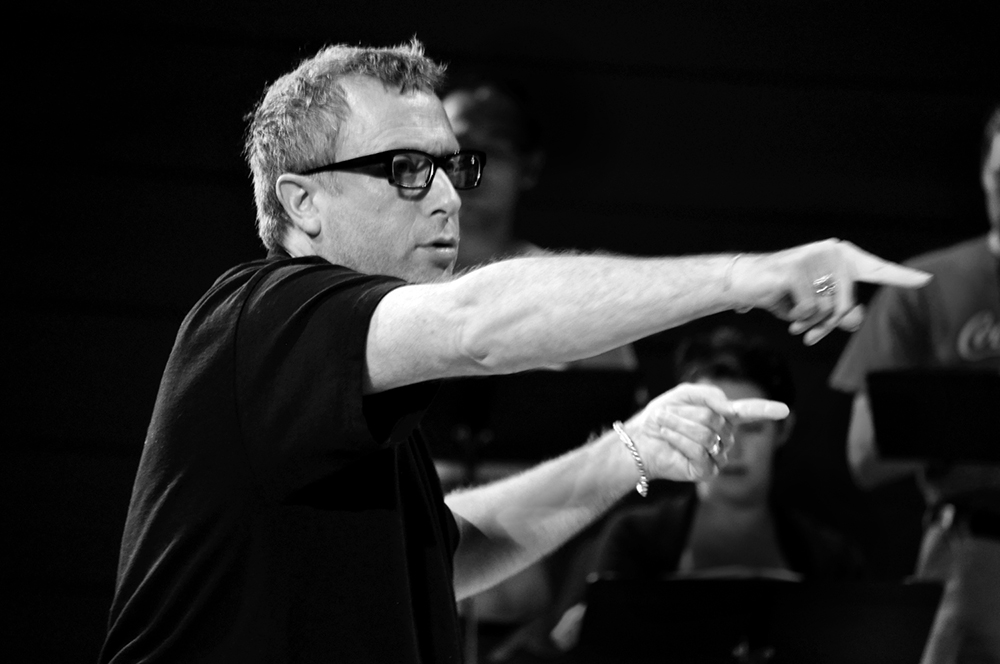 Five-time Grammy Award-winner Charles Bruffy started out as a tenor soloist, yet he soon learned—and appreciated—the power of voices together. He became artistic director of the Kansas City Chorale in 1988 and has taken choral music to wondrous places. Known for his passionate and imaginative renderings of the classics and his joyful embrace of new music, Bruffy enjoys an international reputation for excellence.
INKC: You grew up in the area, went to Missouri Western University for undergrad and then the Conservatory of Music at UMKC. You've performed all over the world. What is it about Kansas City that makes this home?
Bruffy: They say that home is where the heart is and my heart is certainly here, and has been since I moved here almost 40 years ago.
After my work at Missouri Western, I had the good fortune of studying with inspiring and challenging teacher/mentors at the Conservatory that laid my foundation. People like Eph Ehly, Inci Bashar, Leroy Pogemiller, and Olga Dolskaya Ackerly. I wasn't a conductor when I came to the Kansas City Chorale back in 1986 but when that opportunity to sing and conduct presented itself, I jumped at it. Those singers provided a laboratory for me to practice my skills and more importantly, to realize my passion. I would say that our success is due to the earnest work towards creating honest, inspiring, entertaining, and rarified art, and a wonderful and loyal audience base that has followed us and enabled us to grow for 37 years. The generosity of both individuals and the funding community has provided encouragement and the financial support to reach for our goals. This city loves the arts, and it shows through its incredibly generous giving.
INKC: When many people think "choral music," they immediately go to church in their minds. And yet the human voice was the first musical instrument and it remains a fascinating way to create sound. How are you and the Kansas City Chorale exploring the possibilities?
Bruffy: Whatever talent I have as a conductor is the product of my genes, my upbringing, my mentors—Robert Shaw was a major influence in my development—and of course working with an ensemble of remarkable talent. I strive to create a literal family, where 24 singers become an organic whole. We work together so much that we become a part of each other's lives, celebrating personal joys, successes, pains, and sorrows. The sound we make is the product of the extremely close, almost spiritual connection that each singer has with the others. It's hard to express, but when you hear us sing, you can sense the intangible chemistry that is undefinable but certainly always present. The human voice is wildly capable of creating a myriad of tones, emotions, colors, passions. It can go the full range of an orchestra, extremely low, extremely high, soft, and loud. We don't just sing, we sculpt in the air.
INKC: What qualities do you seek in a voice for the Kansas City Chorale?
Bruffy: Three main things—and it's not just the voice!
Of course, one's voice is the basic element. Any singer wishing to join the Chorale is expected to have a high level of quality in their singing—a voice that is exceptional in tone, pitch, expression, and precision. I look for voices that are well-suited for solo performance, as well as strong contributors to their section as ensemble singers. They must be malleable, flexible, and capable of morphing into any style we sing.
Musicianship: Things like technical knowledge, sight-reading skills, language and diction skills, interpretive skills, stage presence, artistic sensitivity.
Commitment: Preparation, promptness, dependability, professionalism, and a commitment to the Chorale's mission and vision.
And perhaps most importantly, I must feel they will share and contribute to our musical family. You can have the best voice in the choir but it's a deal breaker if you can't join the team.
INKC: The Kansas City Chorale's new CD, Artifacts: The Music of Michael McGlynn, features songs that seem to emanate from the Irish landscape, boast of long-dead heroes, mourn the loss of loved ones, echo ancient Irish monks. McGlynn says "The inspiration behind my music is very grounded and earthy," and yet it can reach the sublime. What drew you to his music?
Bruffy: All of the above! We have been singing McGlynn's music for many years, and I always wanted to "put it on vinyl," make it permanent, which we were able to accomplish through the generosity of Kansas City's funding community. Incredible songs like Jerusalem and Pie Jesu touch the very soul, where songs like Fionnghuala and Cúnnla, wonderful old Irish folk tunes and stories, lighten the spirit and just bring joy. The album was beautifully recorded by our engineers at Sound Mirror at the acoustically wonderful space at St Peter's in Kansas City, Kansas. I am so very proud of this piece of work. And I hope maybe folks at the Recording Academy will think so too!